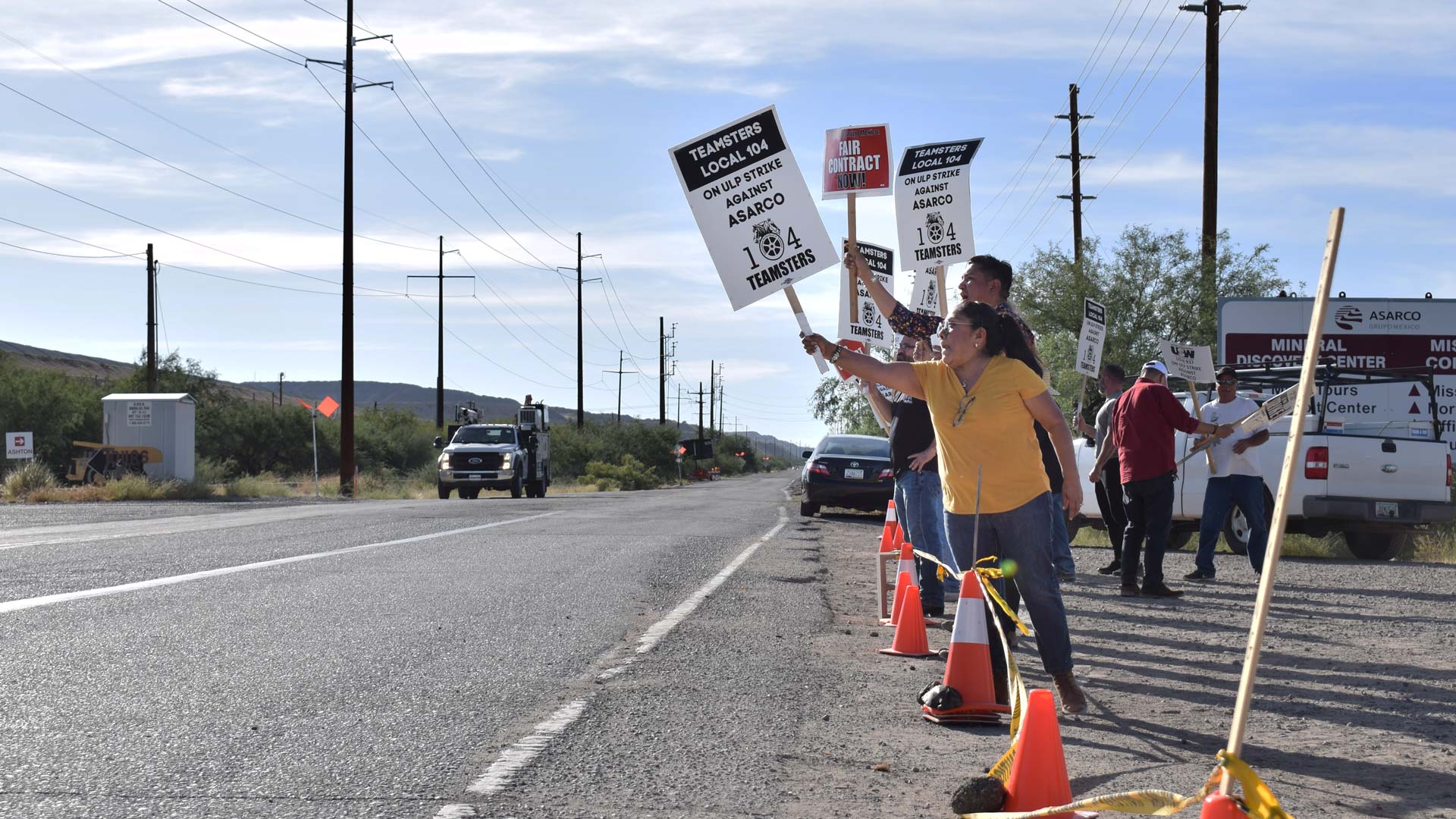 Striking workers picket outside the Mission Mine in Sahuarita on Oct. 16, 2019.
Jake Steinberg/AZPM
More than 1,000 striking copper mine workers across Arizona are digging in and bracing for an uncertain future.
The unions representing the workers called for a strike after they saw a four-year contract proposed by Asarco. It would have included no wage increases for most workers, frozen pension plans and more than doubled health care deductibles.
"For the past nine years, these workers haven't seen a pay raise," said Karla Schumann, secretary-treasurer of Teamsters Local 104. "They're working in some of the most difficult and dangerous conditions out there, and it's just unfathomable and untenable to do that to these guys."
Asarco is owned by the Mexican conglomerate Grupo Mexico. It operates four mines in Arizona, including the Mission Mine in Sahuarita and the Silver Bell Mine in Marana.
Strikers picketed Wednesday along Pima Mine Road outside the Mission complex, the perfect vantage point to see who was coming and going. Leering strikers hurled insults at vehicles leaving the mine.
Mike Jarrett, a member of United Steelworkers, has spent most of his career 12-year career at the mine crushing boulders. He said he doesn't empathize with those who chose to keep working.
"I'm not going to associate with anybody that crossed the line, which is sad because a lot of them are friends that I've known for years," he said. "Everybody's got their own excuses. I don't really care what they are. You're shooting yourself in the foot if you cross the line, in my opinion."
He said going on strike wasn't a hard decision, but it was a stressful decision. It's added a lot of uncertainty to his life.
"Am I going to be able to find work while I'm on strike? How long is it going to last? Who's ultimately going to stick through it with you?"
Robert, a teamster who asked that we not use his last name because he fears retaliation for his decision to strike, started working at the mine in January because he wanted to make more than he could as a diesel mechanic. He said his plans to buy a house and start a family with his wife have been put on hold.
"It really sucks that we can't. You know, we were planning our future. That's why I came to work here. Instead of wrenching and being an on-the-road mechanic, I could just work at one job, work my 20 years and retire," he said.
He said his wife has a medical condition that would complicate a pregnancy. If he has the higher out-of-pocket costs, he said they won't be able to afford prenatal care.
"Our benefits were great. My wife was able to go to the doctor and get everything taken care of, and it really did not impact our financial life," he said.
The Pima Area Labor Federation has planned food pantries for families affected by the strike.
Romeo, an operating engineer who also asked that we not use his last name, is the sole breadwinner for his family of four. He took a job at the mine two years ago to bring home more money than he could working at Home Depot. He works in the filter plant, a job that often leaves him with black copper concentrate coming out of his nose.
"It's just a part of the job," he said.
They had to cancel their cable, internet and Netflix subscription, and are relying on savings and family help. He said his wife convinced him to strike.
"She was the one that said, 'You better not cross.' You better stay strong with the union. We're all a family, the ones that don't cross."
Union representatives didn't want to speak specifically about what they'd want to see in a new contract because they said it could influence negotiations.
Asarco did not return requests for comment.