The Sunlink streetcar has been in operation 5 years.
Meredith O'Neil/AZPM
Tucsonans who live or frequent the downtown area are familiar with the sound of the Sun Link streetcar, which first started connecting the university and the Mercado districts five years ago.
One of the early advocates for the streetcar was Steve Farley. He told The Buzz that when streetcar discussions began, critics said it was a waste of money.
"There was a lot of opposition initially because whenever you have a large piece of expensive infrastructure that nobody has ever done in their city before, people don't know what it is, they just know that it is expensive," Farley said.
---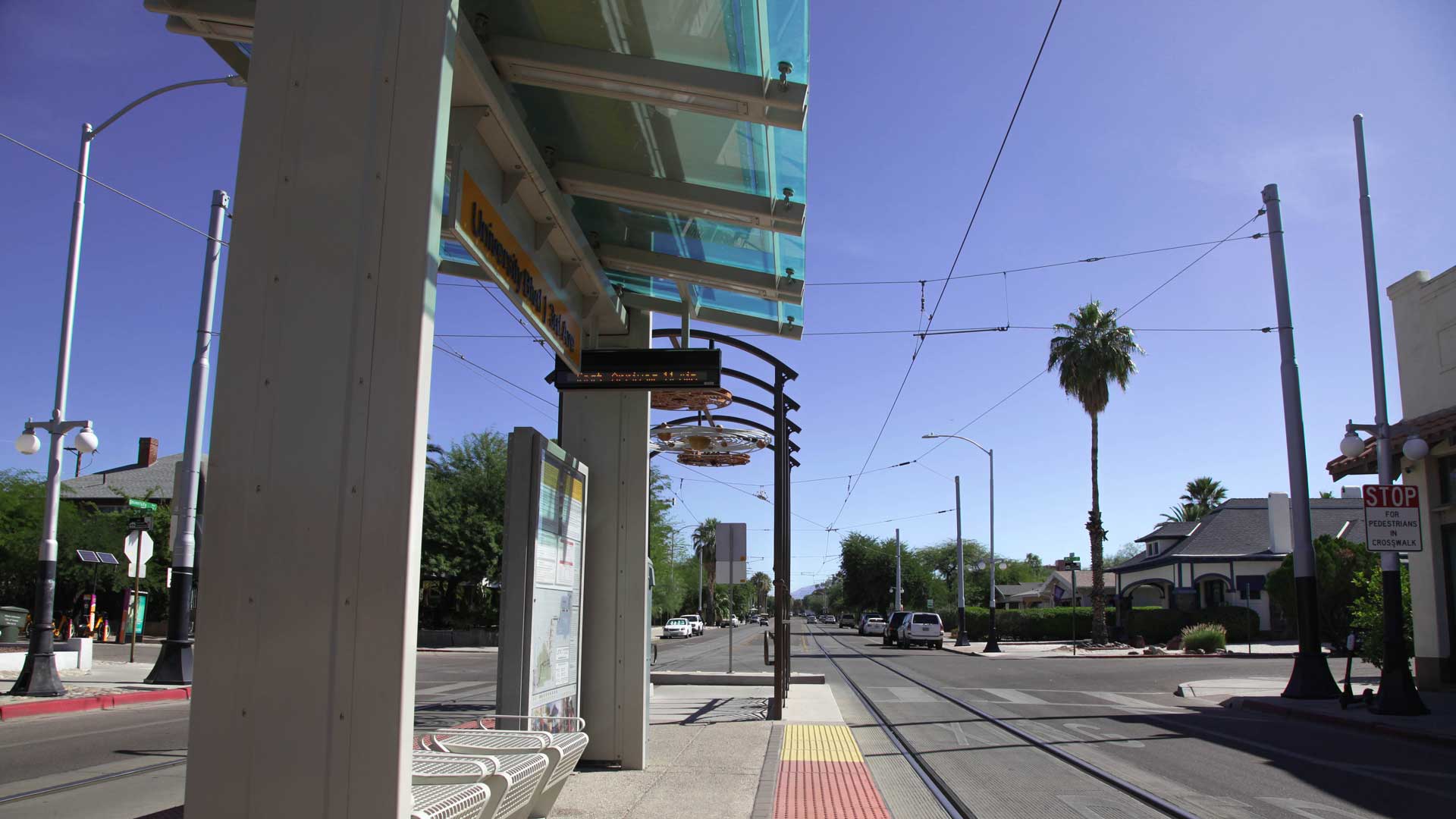 VIEW LARGER The Sunlink streetcar stop on University and 3rd Ave

Meredith O'Neil/AZPM
Bob Walkup was mayor of Tucson when the streetcar project began. It was picked up by Jonathan Rothschild when he took office.
"I had some very mixed feelings at that time, not that it ultimately wasn't good for downtown, but those construction pains are always difficult," Rothschild told The Buzz.
---
The current streetcar route runs about 4 miles between the University of Arizona and west side of I-10. Ridership data shows it consistently moved about 950,000 a people a year.
Riders and many others in Tucson would like to see the streetcar expand. Farley said the original design included other routes, like up Broadway Boulevard. He wants to continue those plans, including lines to the Tucson mall and airport.
"I'm very optimistic about the chance of us actually doing it with local and private funds. Because if you do it locally and privately you could build it for about a third of the cost and about half the time that we did with the federal funds," said Farley.
The current line was largely financed by a federal TIGER grant, which came with strings attached, including all the cars and rails had to be made in the U.S.

The Buzz
airs Fridays at 8:30 a.m. and 6 p.m. and Saturdays at 3:30 p.m. on NPR 89.1. You can subscribe to our podcast on
iTunes
and NPR One. See more from
The Buzz
.