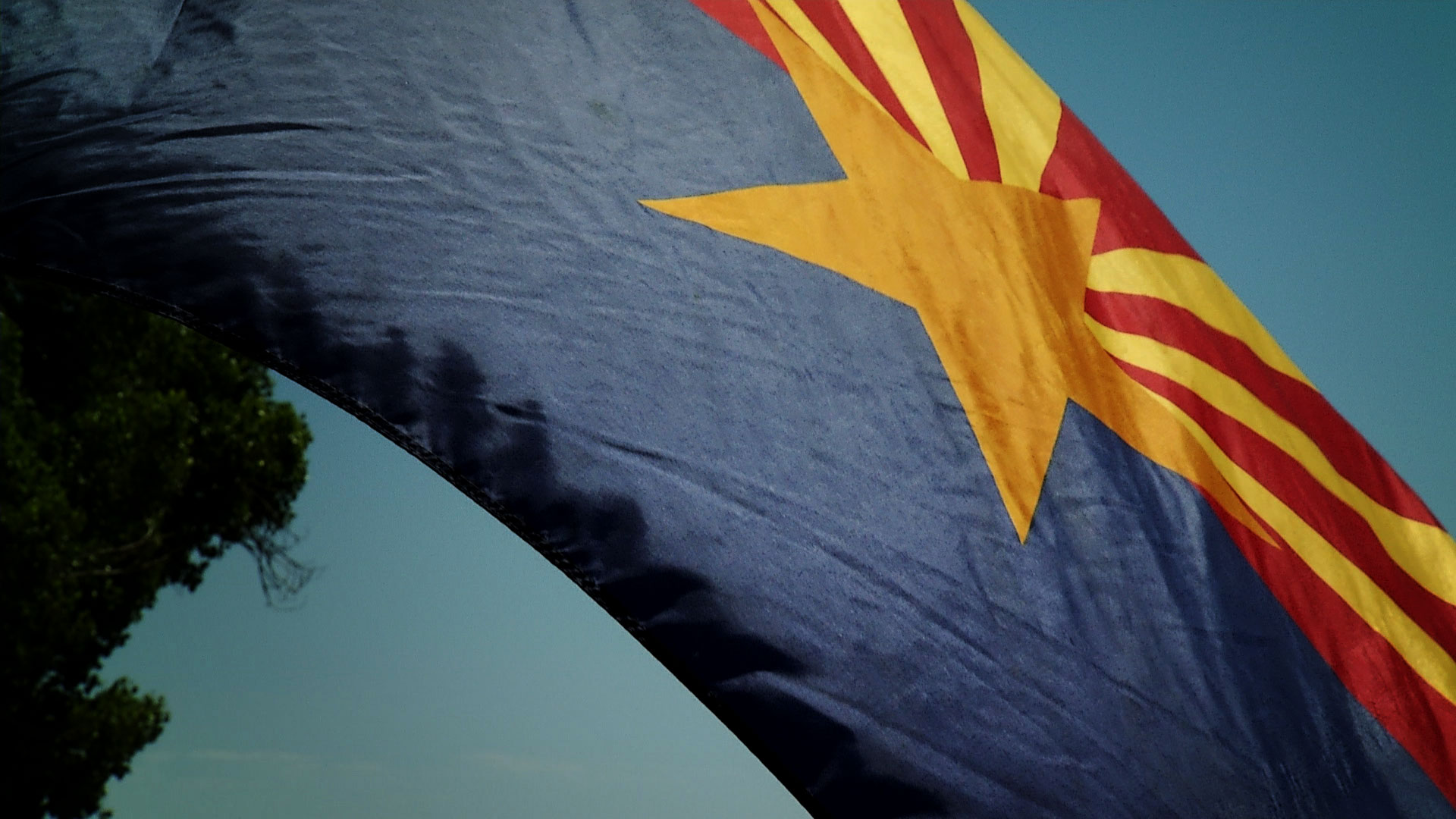 The Arizona flag waves in the wind on a flagpole in Willcox.
AZPM Staff
An Arizona survey released Monday reveals residents' top policy concerns are water, education and health care. While the poll demonstrates canyons of disagreement between Democrats and Republicans, it also points to areas of overwhelming consensus.
The poll from the Morrison Institute for Public Policy at Arizona State University surveyed 975 Arizonans this summer. The sample was balanced to reflect the state's demographics. Respondents were asked only about issues and not candidates.
Eighty percent of Arizonans said water is an important issue. Nearly two thirds said the greatest threats to the state's water supply are population growth and drought. The 19-year drought has coincided with dropping water levels on Colorado River reservoirs, which supply water to many Arizonans. A report released last month from the Kyl Center for Water Policy said a groundwater recharge policy that has allowed the state's suburbs to grow is unsustainable.
Kyl Center director Sarah Porter said the real threat to Arizona's water supply is mismanagement.
"It's understandable that a lot of people think population growth correlates with an increase in demand," she said. "But we've learned that we can add a lot of population and with continued good management we can not have a correlating increase in demand."
Nearly two-thirds of Arizonans said the state government needs to do more to prepare for climate change, but with a 40-point difference between Democrats and Republicans. Over 80% of all respondents believe they use water efficiently.
Public education also ranked high in residents' priorities. More than two-thirds of Arizonans support increasing school safety and pay raises for teachers. Fewer than half said they'd be willing to be taxed an additional $200 if it would improve the system as a whole.
Fewer than half of Arizona high school graduates meet the requirements for entry at a state university, according to the Arizona Board of Regents. Despite that, 60% of respondents believe Arizona's high school graduates are similarly or better prepared to succeed after graduation than the rest of the country.
"It is possible that perceptions do not fully match reality when it comes to education topics," said Rounds Consulting Group president Jim Rounds in a published analysis of the poll.
Seventy percent of Arizonans said affordable housing is an important policy issue. According to the National Low Income Housing Coalition, a minimum-wage worker in Arizona has to work 57 hours a week to afford the average one-bedroom apartment. Republicans were more likely than Democrats to say the supply of affordable housing is adequate.
Republicans were also more likely to say immigration is an important policy issue. Sixty-nine percent of Republicans support deporting all undocumented immigrants, and 63 percent said they feel less safe because of undocumented immigrants living in the state. An analysis by the academic journal Criminology found undocumented immigration generally leads to a reduction in violent crime.
Latinos were much more supportive of climate change issues, child care and private school tuition assistance.
Lisa Urias, CEO of the Phoenix-based market research firm Urias Communications, said the median age of Arizona Latinos is 30, which has implications for the state's politics.
"Things change when you hit that age and you become much more engaged and aware of everything that's impacting you," she said.
Urias said turnout among Latino voters is increasing, and Arizona politicians will need to adjust their language and positions if they want to appeal to Latinos.
One of those issues is immigration. Latinos are less supportive of deportation and more supportive of making it easier for immigrants to come to Arizona.
"With a lot of the younger Latinos, their parents were the ones who were the first generation to migrate here. And they're the ones who have been doing all of this work in the community, sacrificing, and doing the very difficult job to create a better life for their kids," she said.
Economically, more than three quarters of Arizonans said they are the same or better off compared with this time last year.
Rural residents were largely in line with the rest of the state. However, they reported being worse off financially than in prior years.
The issue on which most Arizonans agree: gun background checks. Eighty-two percent of respondents support requiring background checks for all gun purchases, including 80% of Republicans.
Charles Katz, director of the Center for Violence Prevention & Community Safety at ASU, said the numbers were surprising for Arizona, which has a strong tradition of gun ownership. He said the state Legislature is out of step with its residents.
"Most of our legislators are in the opposite step with the public on this issue," he said. "The electorate and voters are going to have to determine if it's important."