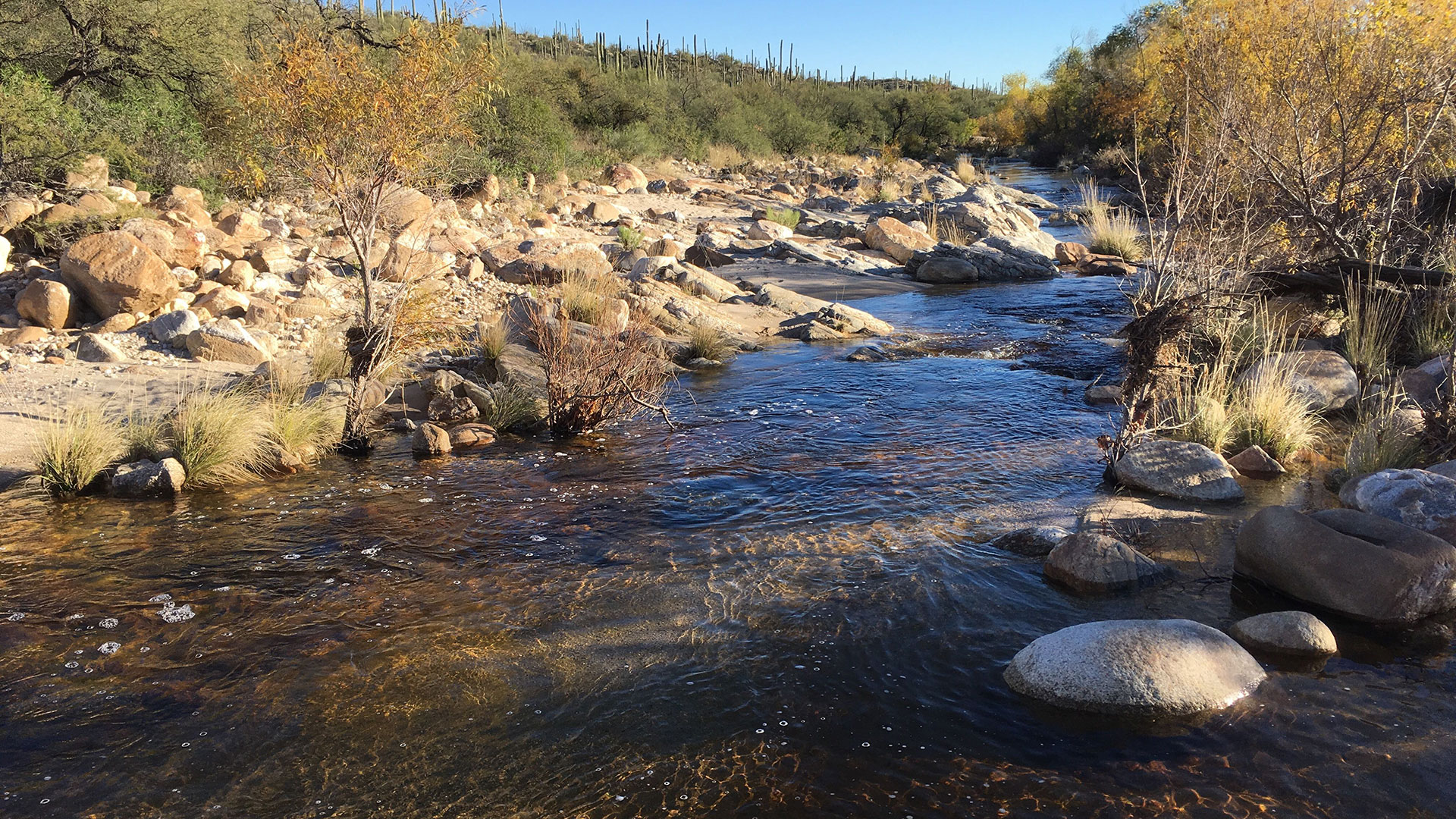 Sabino Creek flows after a recent heavy rain in December 2019.
Ariana Brocious/AZPM
Since 1972, the Clean Water Act has been one the nation's bedrock environmental laws intended to protect common resources — like water, air, and wildlife.

"The Clean Water Act basically says if you're going to pollute water subject to jurisdiction you have to get one kind of permit, and if you're going to fill it, you have to get another kind of permit," said Justin Pidot, an environmental law professor at the University of Arizona.
He said litigation over jurisdiction of the Clean Water Act — essentially which waters the regulations apply to — has been going on for years.
"No one thinks that the bird bath or swimming pool is a waterway that is subject to federal jurisdiction, everyone agrees that the Mississippi River is, and where do we draw the line in between?" Pidot said.
And in Arizona, most of our waterways fall into that gray area.
"Washes, arroyos that are very significant at certain times of the year when there's rain and the like, but are dry for much of the year," Pidot said.
The Trump administration's new Waters of the U.S. (WOTUS) rule will eliminate those so-called "ephemeral or intermittent" waterways from regulation under the Clean Water Act. The Arizona Department of Environmental Quality estimates that will reduce protection of state waterways, lakes and ponds by up to 93%.
That will include places like Sabino Creek in the Catalina Mountains.
Looking upstream Sabino Creek on one of the bridges at the popular recreation site in Tucson in early winter.
Ariana Brocious/AZPM
On a mild winter day, Nicole Gillett and I watch the creek flowing fast from a heavy rain earlier in the week. Leaves are changing color and the wind moves lightly on the surface of the water as hikers pass by. Gillett, conservation advocate with the Tucson Audubon Society, said Sabino Creek is emblematic of why desert dwellers love Tucson.
"It's a rare place to see desert flowing water and we love to come out here and enjoy it. And it's also very important for the birds and wildlife that live here in the desert," she said.
Gillett said it's also an example of what's at stake. Her group is worried about all the waterways getting excluded from Clean Water Act.

"So we of course can still work to protect them but we will no longer have any federal regulations to do so, and in Arizona, that is the only tool we currently have to regulate surface water," Gillett said.
Earlier this year, the Trump administration repealed a 2015 rule put in place by the Obama administration that sought to clarify which waterways fall under the Clean Water Act. Critics of that rule said it gave the government too much power to regulate wetlands and small streams. Law professor Justin Pidot said it's hard to evaluate that argument because the rule hasn't been in place long, and several states, including Arizona, never adopted it.
"So there's certainly debate around that, but a lot of the debate is really political in orientation," Pidot said.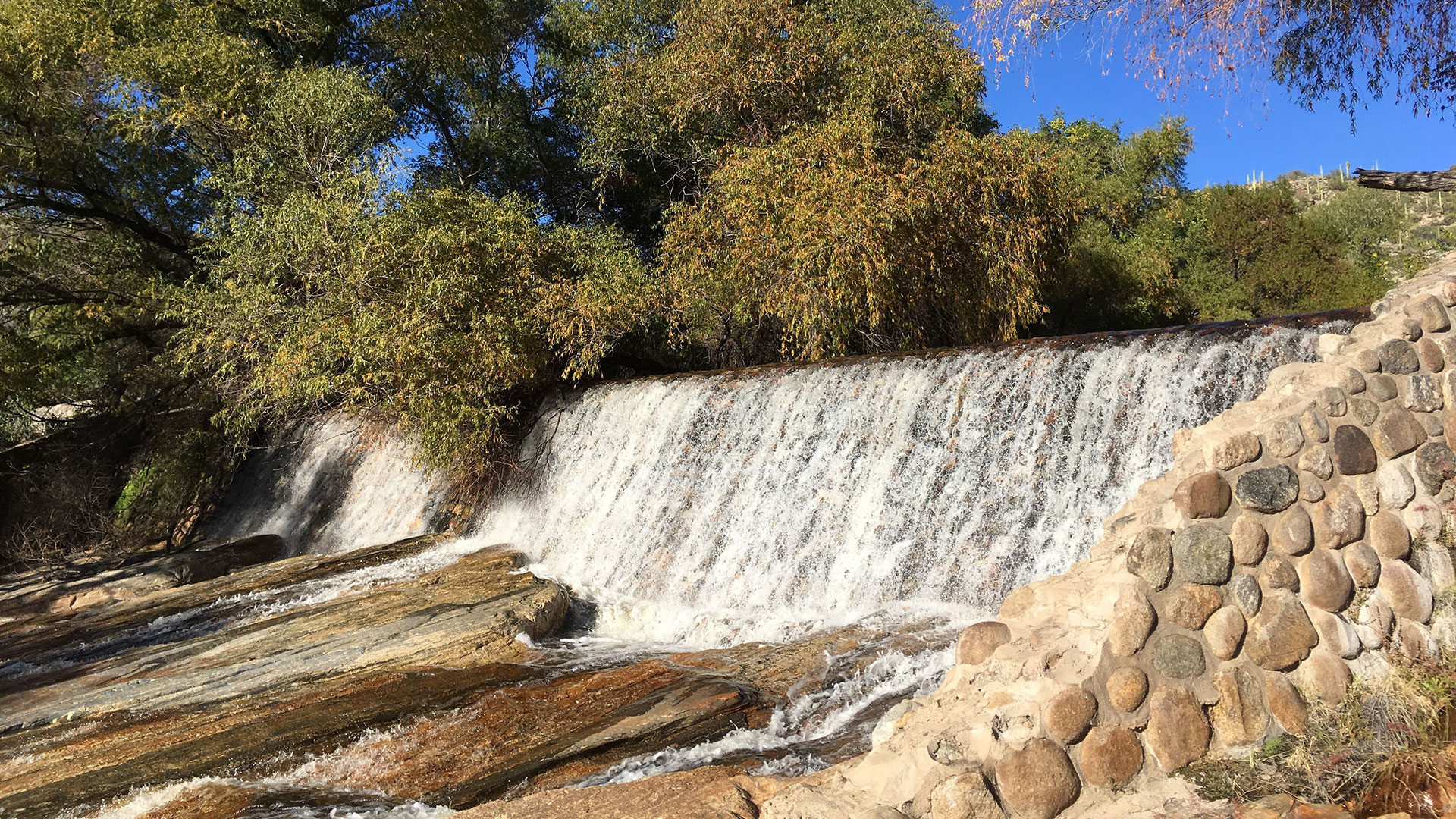 Water flows down the face of Sabino Dam after a heavy winter rain. Intermittent waterways like this one will lose federal protection under the Clean Water Act under a new rule put forward by the Trump administration.
Ariana Brocious/AZPM
The EPA says the rule change will clearly differentiate between federally protected waterways and state protected waterways. But Pidot said it will be "radical surgery" to the Clean Water Act.
"As a result, we know there will be legal challenges, for sure, and I think there are good odds that some of those legal challenges will succeed," he said.
Pidot said the Trump administration may be preparing for litigation by using a two-step process: by repealing the Obama rule first, and then implementing its own new rule, so long as the first repeal stands, federal law will return to the 1986 interpretation of the Clean Water Act.

In June, Pima County Board of Supervisors Chair Richard Elias testified before a Senate committee about how the rule change would adversely affect the health and welfare of his region.
"It eliminates protections for virtually all of our watercourses, needlessly jeopardizing our drinking water, our watersheds, our agricultural producers, and numerous tribal nations," Elias said.
Gillett said it's unclear exactly which waterways will still be regulated, and whether those who hold permits for pollution discharge or dumping operations in the state will continue to follow those guidelines voluntarily.
"So, a lot is unknown. A lot will have to be decided probably in court once this goes in, but one thing we do know is it's going to become very unclear for everyone involved," Gillett said.
Pidot and Gillett said there's plenty of room for states to step in and regulate, but it will be up to Arizona to do so. In letters from state officials to the EPA, Arizona states its support for the new rule and welcomes the power to decide how most of its waters will be regulated.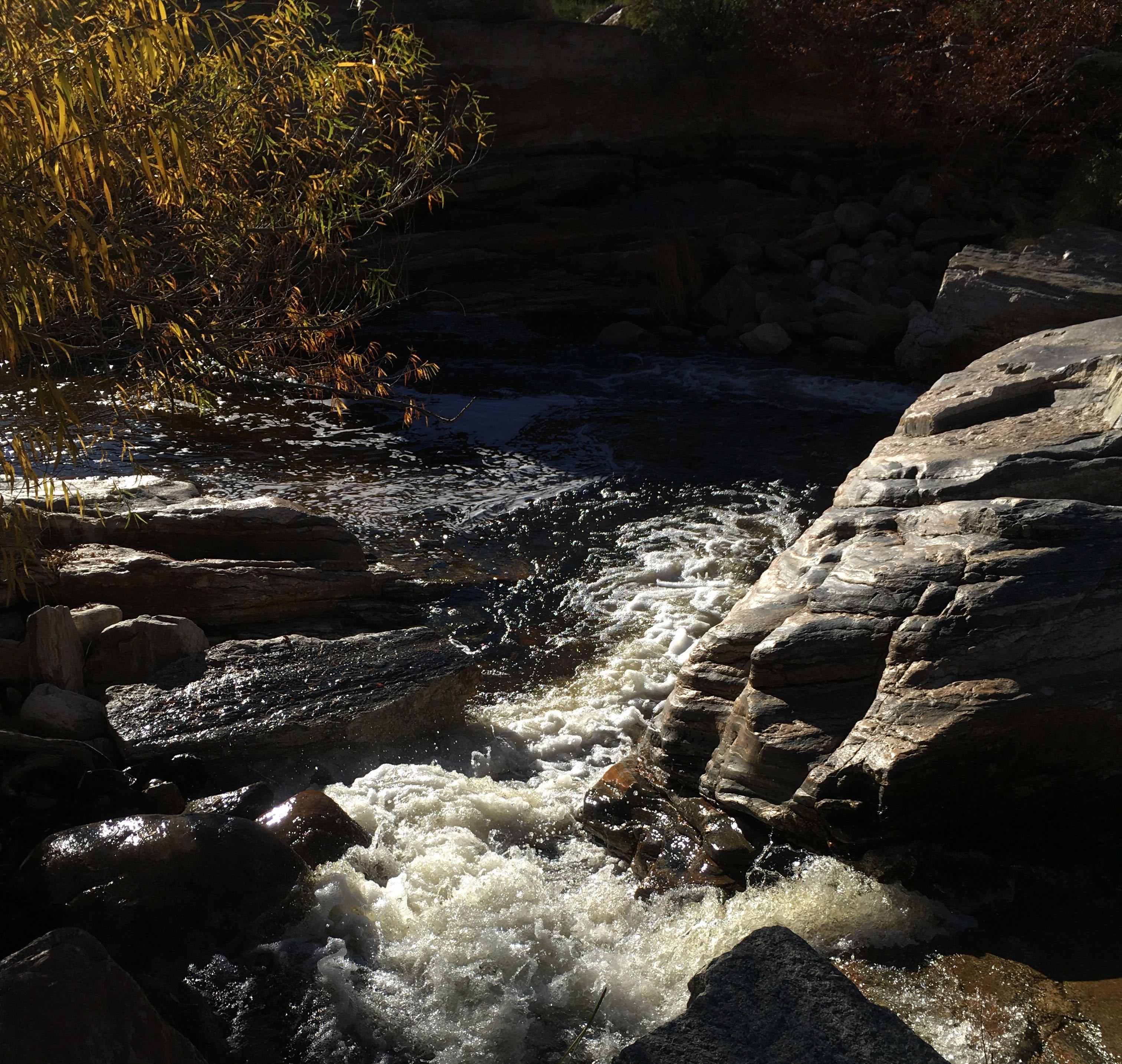 VIEW LARGER Sunlight hits Sabino Creek on an early winter day.

Ariana Brocious/AZPM
The state does not currently have a regulatory program to protect surface water quality but is beginning a process to develop its own "Waters of Arizona" rule. ADEQ is soliciting public feedback on those regulations.
ADEQ recently abandoned a similar process to take over one aspect of permitting under the Clean Water Act that applies to dumping in streams and waterways after stakeholders roundly criticized the effort.
The Trump administration's new rule is expected to be published early next year.