Voices for the Cure 2012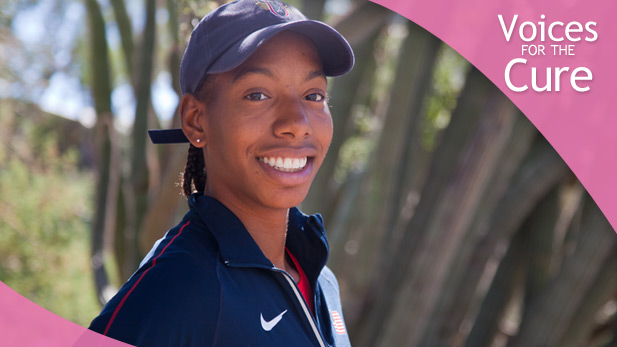 University of Arizona student and 2012 Olympic silver medalist Brigetta Barrett

Matt Ehrichs
When 21 year old Brigetta Barrett says that her life has been a roller coaster ride, she is telling the truth.
She grew up in New York, and faced some hard times along with her mom and two sisters before the family moved to Texas. Brigetta's dedication to academics and athletics brought her to Tucson, where she studies Media Arts at the University of Arizona.
Last summer, Brigetta went to London to compete in the high jump at the 2012 Olympic games - and she brought home a silver medal. It meant a lot to Brigetta that her mother, Lottie Barrett, was there to cheer her on, because all the while that Brigetta was training for the biggest event of her life, her mom was in a battle with breast cancer.
Listen:
Sisters Terri and Amanda
How would you tell your loved ones the news if you were diagnosed with breast cancer?
Amanda and her older sister Terri are very close, growing up in an Arizona family that placed strong emphasis on togetherness and the importance of faith. These qualities were put to the test in 2006, when Amanda first became aware that something might be wrong during a self-exam.
Her battle and her subsequent journey to healing would be very hard on Amanda, both physically and spiritually - but she never had to face it alone...
Listen: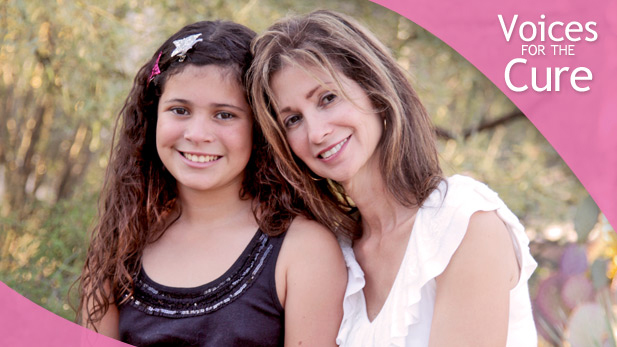 Enterprising youngster Tiana Molina with her mother, Vidette
Tiana Molina seems pretty much like your average 11 year old. She's very bright, but a little shy, and she's just starting to make the important decisions about the young woman she will become.
It was about a year ago that her mother told her that a friend was receiving treatment for breast cancer. Like most kids, Tiana had lots of questions about what might happen -- but unlike most kids, she decided to find a way to make the situation better.
She organized a fundraiser to help women all across Arizona afford the mammography that could potentially save their lives. Tiana raised her school's awareness, and made a lot of new friends along the way. Here is Tiana talking with her mother Vidette about how it all started, while Tiana was watching a football game on TV with her dad, Rick...
Listen: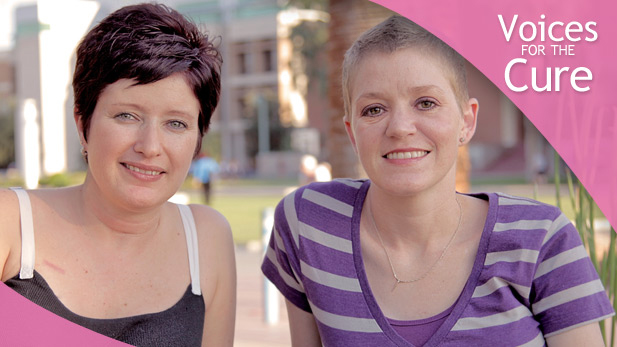 Survivors and friends Rebecca Kerr and Mareya Bullard
Mareya Bullard and Rebecca Kerr are vibrant young women, and close friends who can talk to each other about anything. But only a year ago, they were each separately dealing with the fear, frustration, and pain of breast cancer, as well as its often devastating treatments.
In forging their friendship, they also forged a way to help each other face their uncertain futures. Today, both Mareya and Rebecca are very happily cancer-free. They still bear many scars from what they went through, but they also bear confidence, beauty, and some amazing strength...
Listen:
Voices for the Cure 2011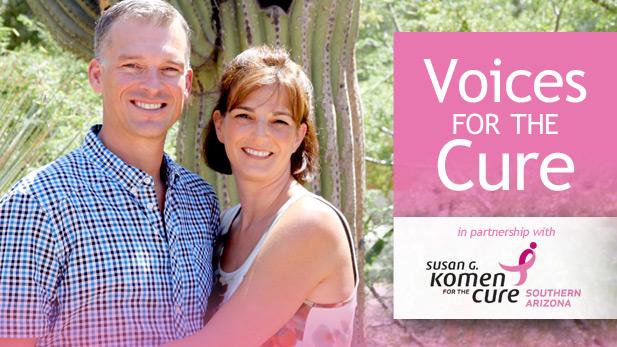 Family physician and cancer survivor Dr. Marty Giles and his wife, Robin

Matt Felix
When breast cancer strikes, even someone with a doctor's training may have to go through a process of acceptance to face the facts. And, men need to be just as vigilant as women for the early warning signs.
Breast cancer survivor Dr. Marty Giles went through the most difficult experience of his life with help from his wife Robin, as well as their two young children and an extended group of family and friends. Here, the Giles share some personal memories of what happened ten years ago...
Listen: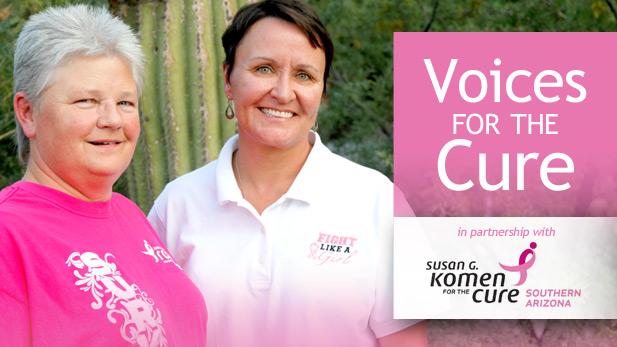 Tori Crisione and Sherri Hitchings

Matt Felix
BRCA-1, deleterious mutations, and double mastectomies - fighting your cancer means having to learn a new language, and making the hardest decisions of your life.
Cancer survivors Sherri Hitchings and Tori Crisione stand together bravely and deliver some very straight talk, sharing perspectives on the things that they both gained - and lost - from the tough choices that saved their lives...
Listen: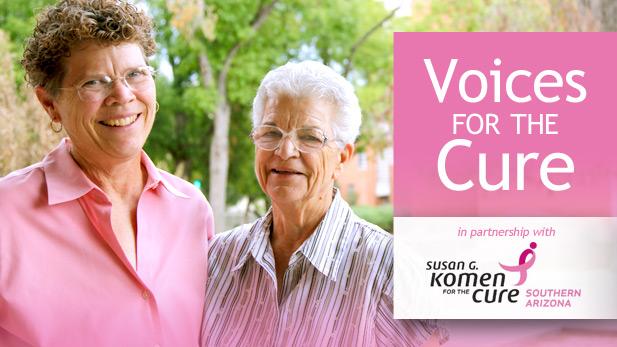 Janice Welchert and her mother, Rosemarie

Matt Felix
Sometimes, upon receiving a diagnosis of cancer, the hardest part can feel like how to tell your family.
Janice Welchert received her diagnosis in June of 2007, which was less than a year after the death of her sister Marian from a different kind of breast cancer. But, using Marian's example, Janice was able to face the whirlwind of emotions that every cancer patient must confront with both bravery and grace. Here, she shares her memories of the experience with her mother, Rosemarie...
Listen: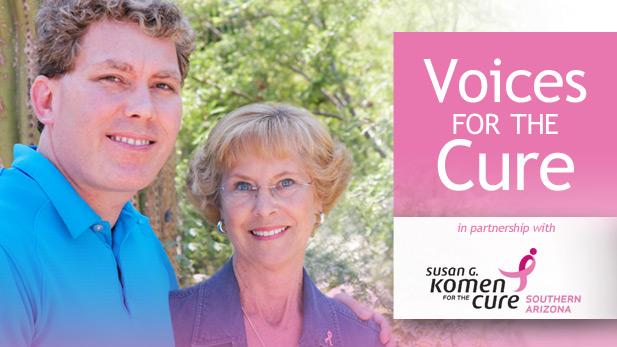 Craig Fones and his mother, Genice

Matt Felix
About 1% of all breast cancers occur in men, but often an array of societal factors can prevent them from acknowledging the threat, or even seeking treatment when the time comes.
After receiving his diagnosis, Ken Fones, a school counselor, coach, and local businessman, made it part of his purpose in life to spread the word that it's not just women who are stricken with the disease. Ken died in October, 2010, but here his son Craig and wife Genice carry on Ken's mission by sharing their own moving story of love and loss...
Listen:
Special thanks to producer Matt Felix for his work on the 2011 series of Voices for the Cure.