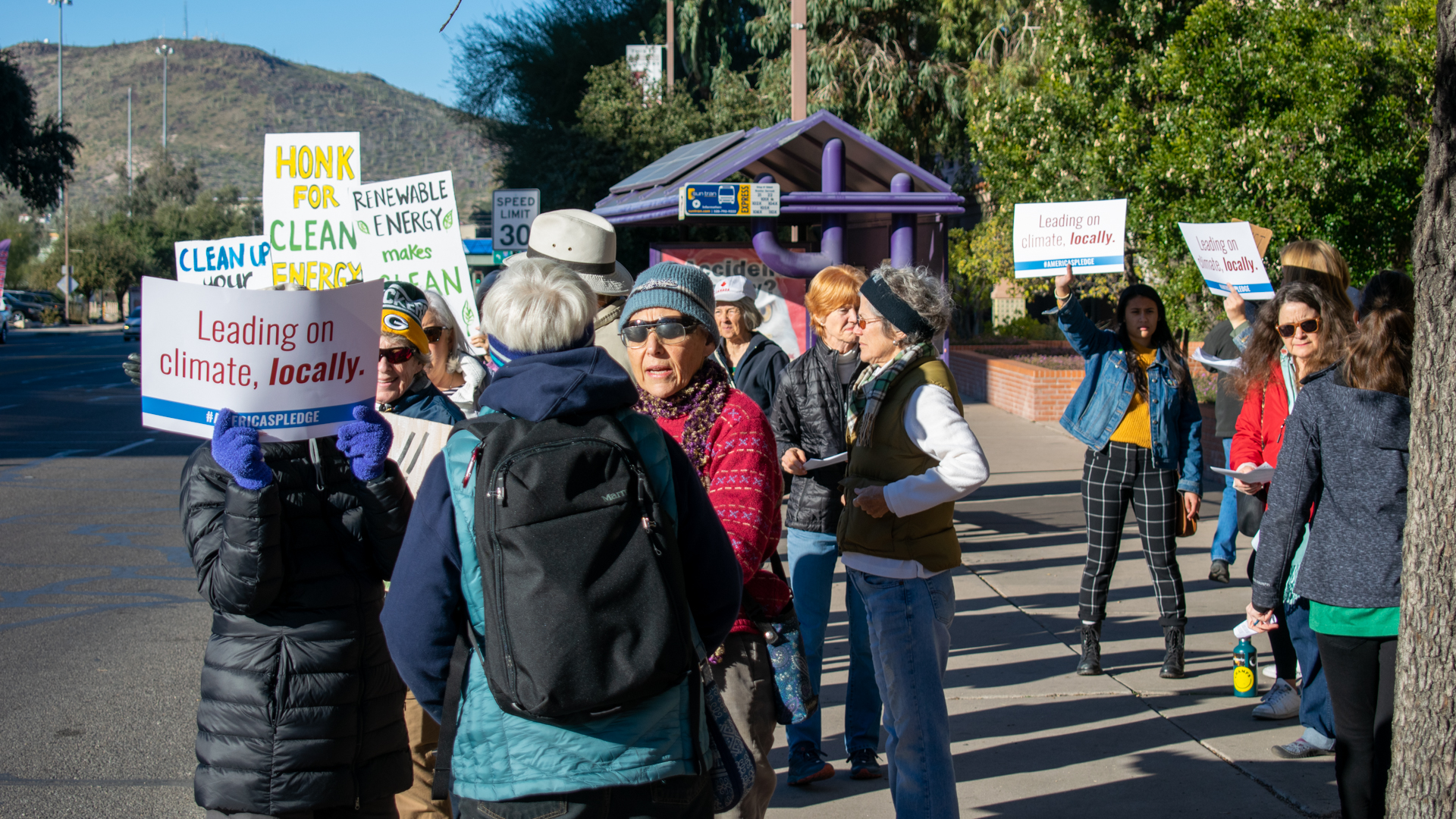 More than 20 people protested Tucson Electric Power's proposed rate hikes outside of the Arizona State Office Building in Tucson on Jan. 13, 2020.
Jake Steinberg/AZPM
A score of protesters testified to the state's utility regulator Monday against Tucson Electric Power's proposed rate hike.
TEP is requesting the Arizona Corporation Commission approve an 8% rate increase to cover the cost of the utility's recent investments, including the purchase of a 182 megawatt combustion engine at the H. Wilson Sundt Generating Station in Tucson as well as the 550 megawatt Gila River Power Station Unit 2. Both are powered by natural gas.
The investments are part of TEP's plan to move away from coal and toward renewables like wind and solar. But amid dire reports from the United Nations and unprecedented wildfires in Australia, climate advocates say TEP isn't moving fast enough.
"Tucson Electric Power is making a conscious decision to invest in fossil fuels, and we need to be having a clean energy transition immediately," said Stella Heflin, a student at the University of Arizona and Tucson co-lead for Arizona Youth Climate Strike.
Burning natural gas emits about half as much carbon dioxide as burning coal. TEP spokesman Joseph Barrios said natural gas is important in the transition to renewable energy because wind and solar generate energy intermittently.
"If a cloud passes overhead the production of local solar resources goes down very quickly," he said. Natural gas plants allow TEP to fill in the gaps and provide a stable supply of electricity.
But opponents questioned the wisdom of investing in new fossil fuel infrastructure when renewables are becoming price competitive.
"People tend to think of fracked gas as a bridge fuel. And while it's true that it can be more flexible, it's just not necessary. We have the technology with solar and storage to move beyond that," said Catalina Ross with the Sierra Club. "It's a short-term band-aid."
Barrios said TEP analyzed the potential costs of going all in on renewables, including reviewing proposals for solar and battery storage options. But the result would've led to even greater rate increases for customers.
"It would cost twice as much to build that system and it wouldn't provide all of the services that we actually need to continue providing power to customers," he said. "We understand that they want more renewables, they want more wind and solar, and we want the same thing. And we are working to achieve that."
Barrios said TEP's renewable energy resources will double by the end of 2020 as recent investments go online. That includes a solar array and battery storage system in Tucson, and two wind farms in New Mexico. TEP's goal is to reach 30% renewable energy generation by 2030.
Not all of the testimony was in opposition.
Robert Lamb serves on the advisory council for TEP's Integrated Resource Plan, which lays out how the utility plans to diversify its energy portfolio.
"In the face of uncertainty, there's a need for developing a generation and delivery system that's very robust," he said. "Natural gas provides a much more robust fleet against the variance and uncertainty inherent in the deployment in a large scale of renewables."
Many in the packed meeting at the Arizona State Office Building in Tucson said the rate increases would harm people with low or fixed incomes.
"My family lives in poverty and I know many other families live in poverty and it's not helping us whatsoever," said Jason Snellings, a student at Paulo Freire Freedom School, which took a field trip to the meeting.
TEP will make its case for the rate hike during the five-week evidentiary hearing process. The first hearing is Jan. 16.