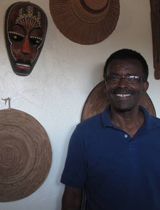 Amanuel Gebremariam, the founder and proprietor of Zemams Ethiopian Cuisine in Tucson (PHOTO: Bria Dolnick)
The New Americans series is written, recorded and produced by Bria Dolnick.
Amanuel Gebremariam has deep gratitude to the United States for giving him a chance to build a new life. After escaping Ethiopia's civil war, Amanuel came to America through the United States Refugee Resettlement program in the early 1980s.
For the past 17 years, he has been serving up his mother's recipes at his Tucson restaurant, Zemams. Independent radio producer Bria Dolnick talked with Gebremariam about the path that led him to establish his eatery located on Broadway Boulevard near Treat Street.
Listen:
Who is Bria Dolnick?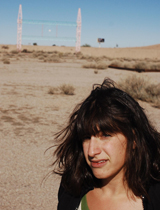 Bria Dolnick currently works as a refugee/school liaison for the Arizona Refugee Resettlement Program, and she is a graduate student in the University of Arizona's Language, Reading, and Culture department. She learned much about making audio documentaries studying at Duke University's Center for Documentary Studies, interning at Chicago Public Radio, and tinkering around a bunch. Bria grew up in Chicago and studied political science at Beloit College. She currently lives in Tucson with her boyfriend, cat, chickens, and honey bees. You can listen to some of her other stories at prx.org.