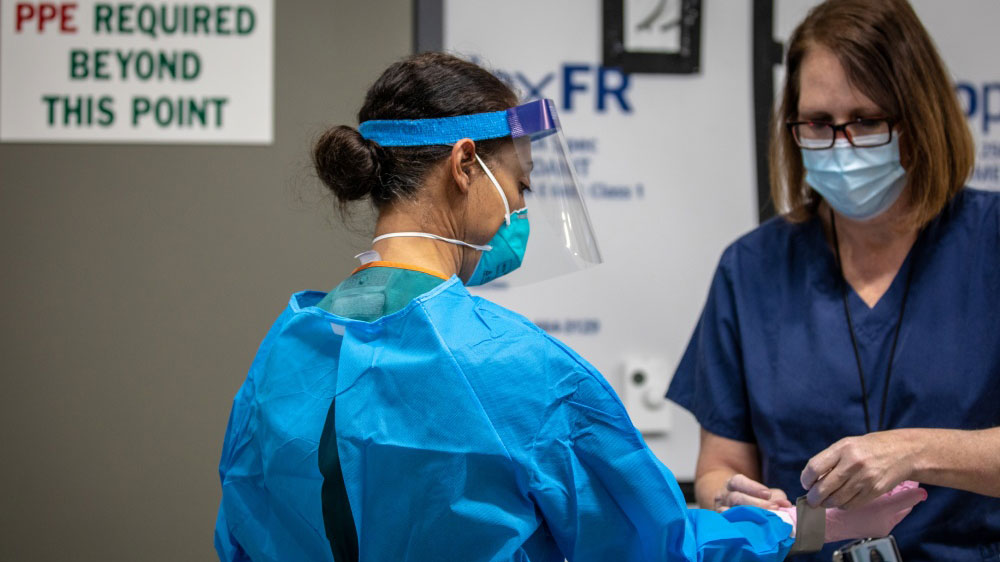 VIEW LARGER Photo dated April 17 of United States Public Health Service Commissioned Corps helping with personal protective equipment in Detroit.

Miguel Pena/U.S. Army
Pima County hospitals are preparing for more patients as Arizona approaches the expected peak of the pandemic curve. But one Tucson nurse said medical staff still grapple with ensuring they're protected.
Alex requested only her first name be used and the name of her hospital withheld for fear of putting her job in jeopardy.
"One of the biggest challenges I'm seeing right now is more staff getting sick with COVID-19, or just getting burnt out," she said.
Six of her colleagues have tested positive for the virus so far. Alex said that number could be low, because the facility doesn't test nurses unless they exhibit all the symptoms of the virus. Those who feel sick are told to use paid-time-off hours to quarantine at home.
Gear like N95 masks and face shields help protect against the virus. But Alex said it's not clear how long the supply of those materials will last.
"We are being told to put [masks] in a paper bag, carry it with us, but make sure you don't touch it because you could contaminate it," she said. "And here's a face shield that you're also going to reuse, that the manufacturer recommends not reusing multiple times."
That leaves supervisors to decide what equipment goes where.
"People who are distributing the supplies, we are left with having to more or less determine who is quote-unquote worthy of getting a face shield," Alex said.
Alex said nurses are told to reuse protective equipment for as long as possible to preserve the supply. Usually that means they're worn through five shifts or until the device no longer seals shut. Protective equipment shortages are happening across the U.S. Alex said while Pima County has released data on the number of ventilators and beds needed, there's still little information about the stockpile of staff protective gear.
She said she and colleagues worry whether the items they're using are still protecting them, and that could impact how they perform their duties.
"You're constantly worried about your mask not fitting, or this is the 15th time I've worn this mask in the last 48 hours," she said. "Am I safe? Once that becomes a burden, you're no longer able to function at your highest level."
She said she feels supported by her facility, but transparency about the supply would cut down on staff fears.
AZPM asked hospitals in Tucson about that gear. Banner Health said they are closely monitoring their supply. St. Mary's Hospital said it was implementing conservation measures consistent with federal health guidelines. Tucson Medical Center did not respond to requests for comment.