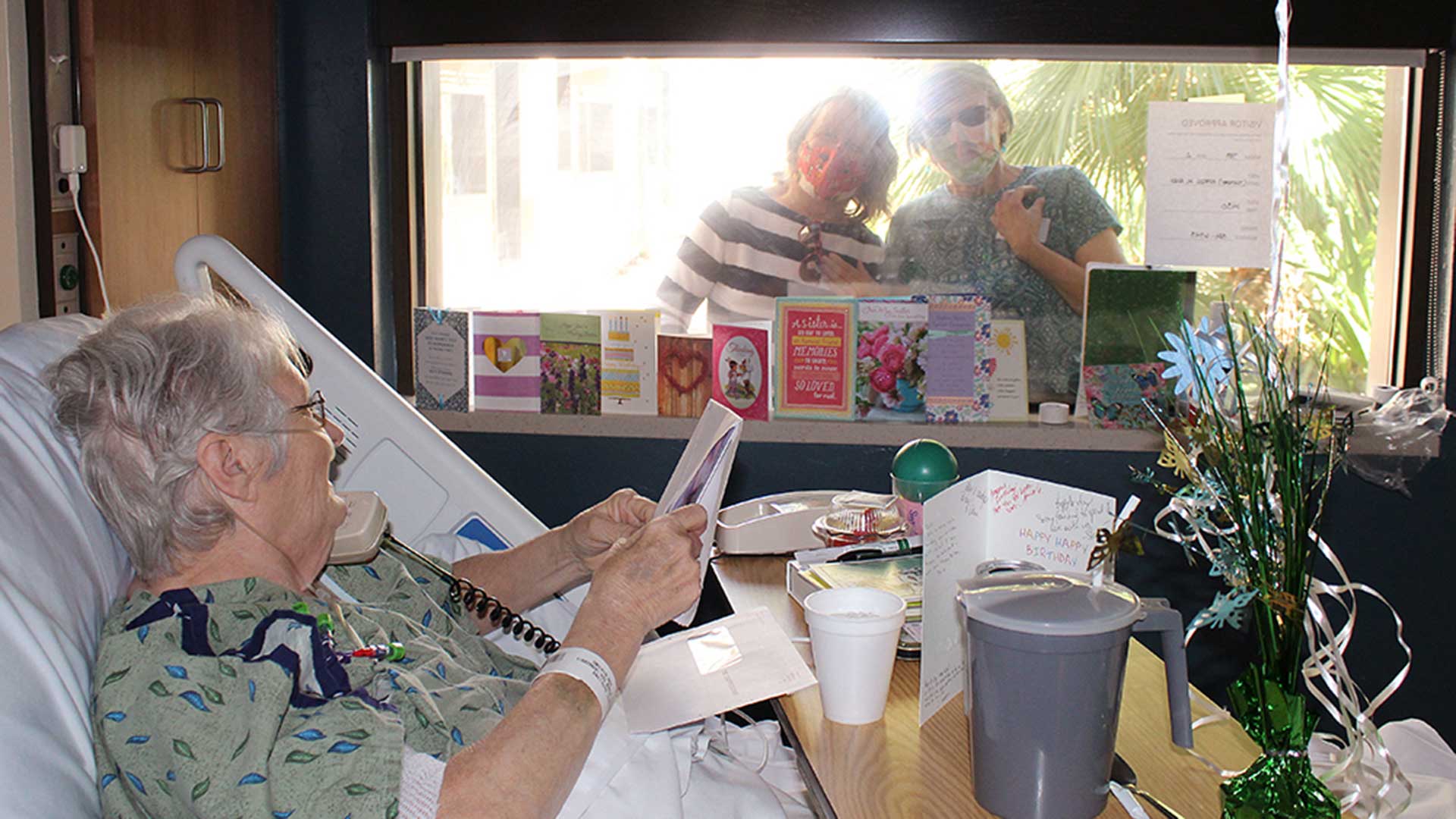 Deborah Ann Resner and Monika Carothers visit TMC patient Ruth during the COVID-19 pandemic, April 14, 2020.
Courtesy of Tucson Medical Center
After nine days at the Tucson Medical Center, Homer "Pete" Cass received visitors, not through his hospital door, but at his window.
Rick Cass and his mother, Leanora "Beth" Cass, scheduled a "patio visit" through Pete's nurse. Rick said the pair sat on the patio outside Pete's room and called him. He said everyone was excited to see each other through the window.
"He was happy — a big smile. He sounded more positive probably than he has since he's been in there, and it's been nine days," Rick said Wednesday about his dad, who is in his seventies. "It definitely uplifted his spirits a little bit."
Judy Rich, the CEO and president of Tucson Medical Center, said 95% of the hospital's patients are on the ground floor, which puts the hospital in a special position to offer these patio visits. She said they started by trying the visits in one unit and then expanded them to the rest of the hospital the week of April 12.
When the COVID-19 pandemic started to ramp up in Arizona, the hospital barred most visitors from entering the building. With that and the increased amount of personal protective gear hospital staff must wear during the outbreak, came a lack of connection.
"There's an incredible isolation that comes with being in the hospital," said Rich. "We are wearing a lot of personal protective equipment. Sometimes our patients have a hard time seeing our faces — seeing our smiles."
She said to enforce social distancing the hospital schedules patio visits by appointment through the patient's nurse. During their time slot, visitors will meet a staff member by the northeast entrance. Rich said most of the visitors will be escorted around the exterior of the hospital to their loved one's window.
For those visitors who do need to come into the building to access the window, staff members take their temperatures and give them a surgical mask for the walk to the patio.
Rich says at this time there are no age or size restrictions on the groups of visitors that can visit patients with exterior-facing windows as long as everyone is social distancing. She guessed groups would range from three to four people to accommodate the size of the window. If it meant walking through the hospital to get to the window, she said children would not be allowed to visit.
Rick Cass said along with catching up with his father, he and his mother heard updates from his dad's doctors, who helped them get on the same page about his father's health.
He said his father's hospital stay is unrelated to the new coronavirus, and they plan to schedule another visit soon.
"It made him feel good. It definitely made us feel good, even though it was through the window, to be able to see him — him able to put his hand up, and my mom put the hand up. I think it was helpful for both him and us."