Karyl and Kevin Wilhelm's first date was a night of peace in the midst of war.
The two Air Force soldiers—he a fighter pilot, she an aerovac paramedic—had met in the tense days before the Gulf War began. That night, as darkness descended on the Saudi desert, they roasted hot dogs over a fire and danced to the music of a battery-powered radio.
After that, Karyl recalls, "I had no doubt whatsoever. We were making plans to get married within two weeks, and we've now been married for 20 years."
They stayed busy during those 20 years, raising three dogs and two children and moving everywhere from northern Japan to southern New Mexico in search of better opportunities. But something was missing. They kept seeking the peace they felt that first night—until they found Arizona's wine country.
*
Karyl wasn't used to seeking peace. Assertive and independent since her teens, she'd left home after graduating from high school at 16 to reconnect with her estranged father.
When that didn't work out, she left Texas for Florida, where she attended college full-time while tying fishing lures, singing telegrams and working as an Air Force Reserves paramedic to support herself.
In 1990, she volunteered to serve in the Gulf War. Fifteen days after arriving at her Saudi Arabian post, she met Kevin Wilhelm, a shy Colorado farmboy flying OV-10s with the 82nd Airborne, and the two fell instantly in love.
Though the war would separate them for its duration, Kevin wrote to Karyl daily in a journal and the two reunited soon after his return to the U.S. They found that war had changed them both, and Kevin especially.
"He saw the thick of things—the fires, the smoke, the bodies littering the fields," says Karyl. "He wasn't the same man I'd met. He saw things he didn't talk a lot about."
They married four months after their reunion, and set about building a life that would heal their wounds.
Kevin became a fighter pilot instructor. Karyl completed her biomedical engineering degree in fits and starts, as the family moved to a new post every few years, and then chose to put her dreams of medical school on hold.
When Kevin's time away from the family took its toll, he found a more permanent position in Tucson and the family settled into an Oro Valley subdivision. But suburban life was "suffocating," says Karyl.
"Kevin started to realize that much of what he was feeling was the strain of living in a fishbowl," she says. "For a farmboy, that's hard."
On a weekend drive in search of land and space in 2003, they discovered the grasslands of Sonoita and Elgin—and soon traded their home for 20 acres in the golden hills of wine country.
"It wasn't until after we bought the place that we discovered it's the only American Viticulture Area in the state," Karyl says. "So the farmboy turns around and says, 'How hard can it be?'"
*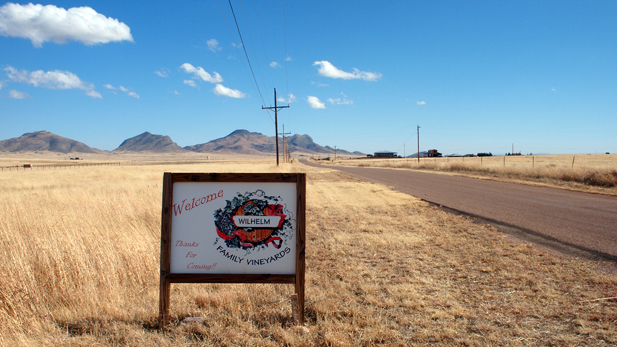 The Wilhelm family found peace and closeness in Arizona's wine country.

Gisela Telis
Becoming winemakers would prove harder than the Wilhelms imagined.
For 16 months, Kevin, Karyl, then-10-year-old son Kristian and 9-year-old daughter Kassandra lived in a 34-foot fifth wheel while building their own home and planting the first grape vines any of them had ever grown.
With tender vines to tend and a winery full of equipment to master, the Wilhelms couldn't leave their homestead for more than a few hours at a time. Karyl quickly realized how little they knew, and how badly that needed to change.
"We had no idea what we were doing," she says. "One day, I thought, 'Holy cow, if we're going to do this, I need to learn some more.'"
So Karyl enrolled in the University of California at Davis Winemaker's Certificate Program, a series of five 10-week courses designed for wine industry professionals. The program is so rigorous that 75 percent of its enrollees drop out before completing it.
Karyl turned the focus and love of science she'd once intended to apply in medical school to her classes in wine chemistry and viticulture. She finished the program two and a half years later, becoming Arizona's only UC Davis-certified winemaker.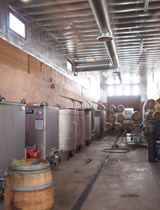 Steel tanks in the Wilhelm winery have names like Garth, Seth and Maximus. "We name our vehicles too," Karyl says. (PHOTO: Gisela Telis)
The Wilhelm Family Vineyards officially opened in 2008. In three years, they've built a following through tours, tastings, and an annual "Patriot Salute" wine festival benefitting the Wounded Warrior Project, which provides support to wounded service members.
This year alone, the Wilhelms have sold approximately 25,000 bottles of wine and secured local distribution through Costco. But the vineyard's greatest benefit, Karyl says, is the peace and closeness it has brought to her family.
"It hasn't always been easy, but it's been good for us," she says. "It's been good for our children because they've experienced firsthand the work ethic you need to start a small business, the times when you're tired but the work still needs to get done ... you become cohesive and learn respect for each other."
Those lessons and the renewed joy and confidence she and Kevin feel make all their choices—however crazy at the time—worth it, she says.
"So I didn't go to medical school. So my life is different from how it might have been if we'd made other choices," Karyl says. "But what's wrong with the way it is? Not a damn thing."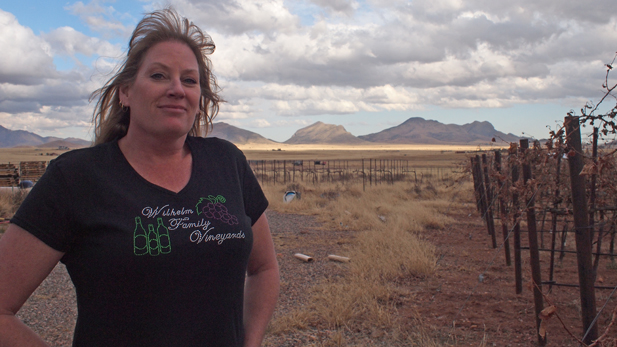 Karyl Wilhelm says she learns something new every time she ventures into the winery or vineyard.

Gisela Telis