Story by Fernanda Echavarri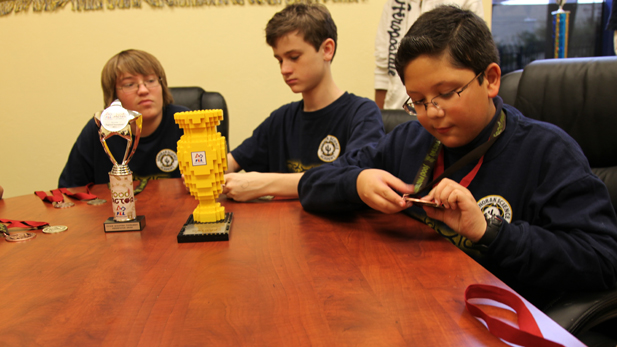 PHOTO: Fernanda Echavarri
Sonoran Science Academy student Jose Hernandez (far right) shows off one of his medals.
A team of middle-schoolers from Tucson's Sonoran Science Academy will be the first Arizona charter school to ever compete in the International First Lego League Competition.
The competition asks students nine to 14 years old from all over the world to build a robot out of Lego parts and computer software that can perform certain tasks, research a topic that is a real-world challenge, and show good teamwork. As part of the competition, students must share their findings with other students at their school and with the community at large.
Tucson's "Team Toxic" will take on the challenge with considerable research experience under its collective belt.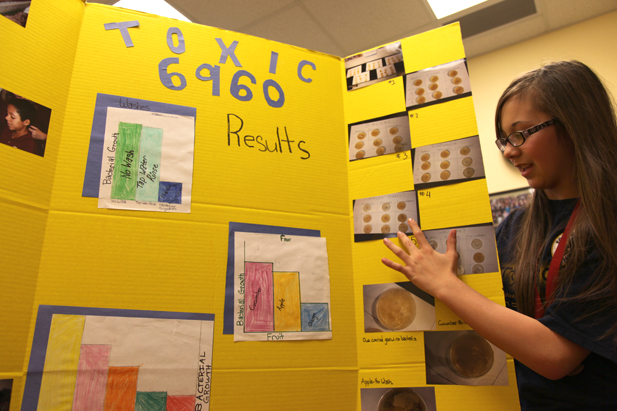 PHOTO: Fernanda Echavarri
Kate Ciaramello, 11, shows one of the many posters used to explain the team's research methods.
Team Toxic is: Emma Galligan, 11; Nathan Vandivort, 12; Zakaria Lamri, 12; Liam Koenneker, 13; Robert Gauthier, 13; Jose Hernandez, 12; Quincy Lyons, 12; and Kate Ciaramello, 11.
These middle-schoolers worked together for months collecting produce from local grocery stores and doing lab experiments with bacteria to explore food safety, this year's research topic. Through their research, they found that the wax layer applied to fruits and vegetables to keep them looking fresh can trap bacteria.
"Not washing fruits and veggies grew the most bacteria. A quick simple rinse under cold tap water grew almost as much bacteria as not washing them at all and the ones washed with warm soapy water, a little bit of lemon juice, baking soda and vinegar grew almost no bacteria," Lyons said.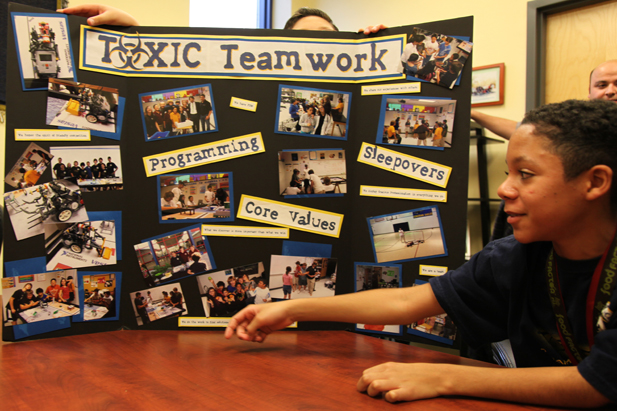 PHOTO: Fernanda Echavarri
Students spent months working on these projects and put together a collage of their adventures, which 12-year-old Quincy Lyons shows above.
Team Toxic also built a robot that was programed to move around, and showed a true sense of teamwork, said Pam Vandivort, the team's research coach and science teacher. That unity is what made Team Toxic stand out from other state winners and landed them an invitation to the world finals.
Galligan said the team is "like a group of brothers and sisters, we're really close."
There were many times the students worked on weekends and held sleepovers where they expanded their research and rehearsed their presentation to the judges--with the occasional break to play a soccer video game.
As part of their presentation, the students dressed up like fruit bats and fruits.
"They wanted to show that it's not fruit bats we should be scared of, it's the bacteria that can grow on produce we should watch," Vandivort said.
Throughout the competition the team was carefully watched on and off stage to make sure there was friendly competition and unity, because core values are big in the First Lego League, the coaches said.
So at the beginning of every meeting the students took turns and recited those core values:

1. We are a team
2. We honor the spirit of friendly competition
3. We do the work to find solutions with the help of our coaches and mentors
4. What we discover is more important than what we win
5. We share experiences with others
6. We display gracious professionalism in everything we do
7. We have fun
8. We are …Team Toxic!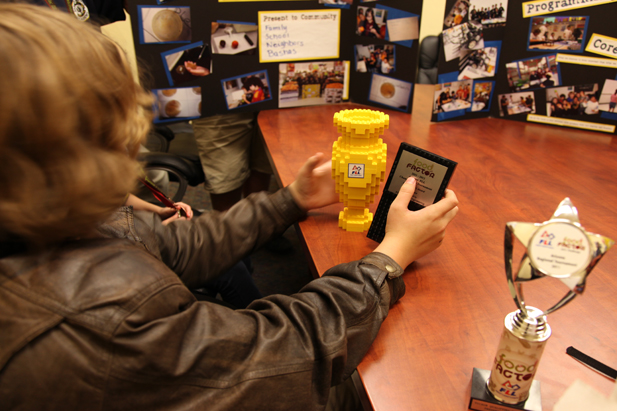 PHOTO: Fernanda Echavarri
Nathan Vandivort holds the state trophy while other students explain the process of their research.
The team hopes to put together a website showcasing their research, findings and tips for properly cleaning fruits and veggies.
And on April 25, the students will be in St. Louis competing against more than 80 teams from different countries.