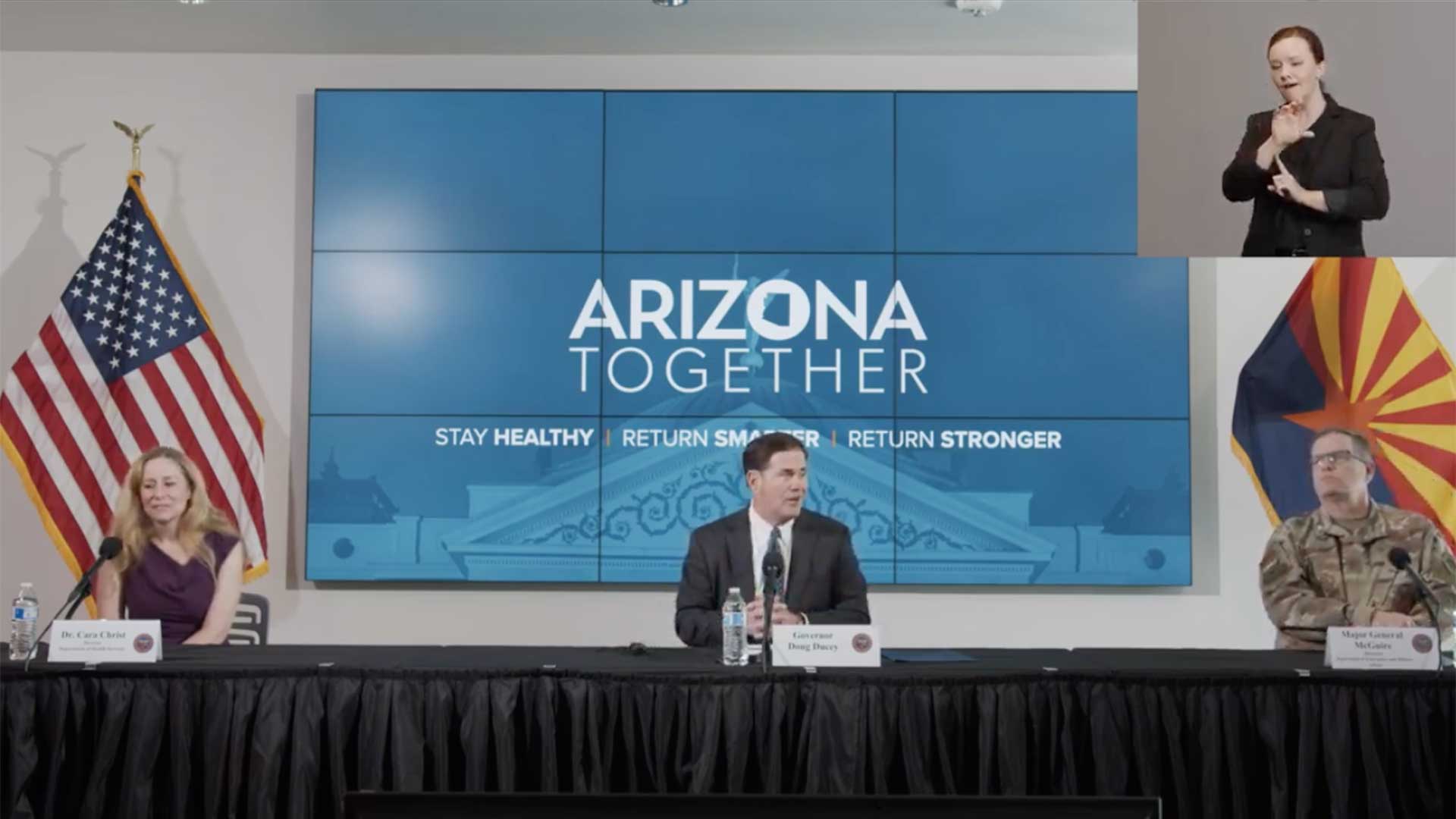 Gov. Doug Ducey delivers an update on the state's COVID-19 response, May 20.
Office of the Arizona Governor/YouTube
Arizona Gov. Doug Ducey in a Wednesday briefing painted a picture of a calm transition as the state reopens, saying the state is still in "Phase One" of that return.
Ducey again emphasized the trends he has been citing in his initial moves to lift restrictions on the state's businesses, including 14-day downward trajectories in influenza- and COVID-like illnesses and a decrease in the percent of cases to tests.
The number of cases has not followed that same downward trend, which Ducey said is a result of an increase in testing.
Ducey said the state continues to have hospital and ventilator capacity in the event of a surge in cases.
Little more than a week after restaurants were allowed to resume dine-in services, Ducey said Arizonans were using common sense and that the state's "plan is working." Health officials have emphasized that any change in the spread of the virus, based on the lifting of restrictions, won't become evident until weeks later.
Health Director Cara Christ repeated that the state is starting to expand testing in long-term care facilities, some of which have been the sites of devastating outbreaks. Christ didn't offer any numbers of what the state has done since they first announced the expansion of testing.
In response to a reporter's question, Ducey defended the state's initial response in long-term homes, saying "this is a widespread virus," and that early testing focused on the front-line at those facilities.
Christ acknowledged that the state is only now implementing testing of all residents and employees, but said the state has been focusing on long-term facilities.
"We've been in the facilities, what we're doing now is doing broad-based testing of everyone," Christ said.
The governor also said next steps include establishing a plan to return to educational activities like summer camps and resume school in the fall.