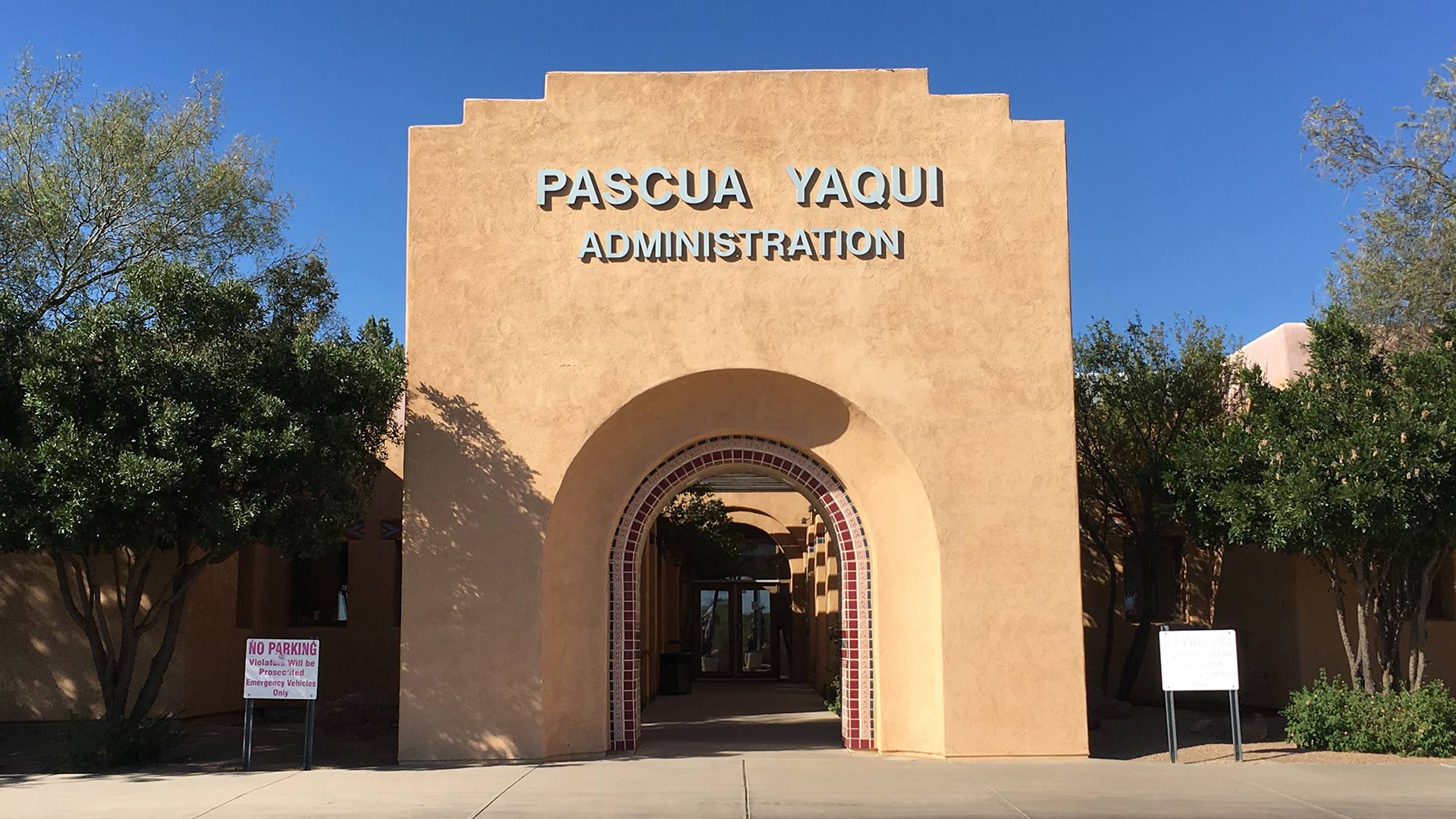 VIEW LARGER The administration building of the Pascua Yaqui Tribe.

Emma Gibson/AZPM
The Pascua Yaqui Tribe said it's receiving approximately $27 million in coronavirus relief nearly two months after President Donald Trump signed the CARES Act.
The CARES Act allotted $8 billion to tribal governments across the United States in March. The Navajo Nation, one of the tribes hit hardest by the pandemic, received $600 million.
Chairman Robert Valencia said in an interview Thursday, May 28 that the tribal council is deciding where to distribute the funds now, but a portion will go toward COVID-19 testing, supplementing people's lost incomes and resuming some social services.

"We're doing the immediate impact funding right now, then we're looking at what do we anticipate the needs to be throughout the rest of the year so that we won't run short and we'll be able to provide some relief," said Valencia.
He said the tribe is preparing for the repercussions of a possible second wave of cases later this year.
The tribe's main sources of revenue, its casinos, closed down at the start of the pandemic in Arizona. He said the one thing the aid won't be able to offset are the lost revenues.
"We really, really appreciate the funding that we got, but it's going to add up," said Valencia.
As of Monday, Casino del Sol was scheduled to reopen Wednesday.
Though Arizona's stay-at-home order was lifted, the tribe's is still in place till June 26, and as of last Tuesday, 31 members have tested positive for COVID-19 and two people have died.
Monday also marks the tribe's general election, in which the next term's tribal council will be selected. The new council will then select the four members of the tribe's executive branch, including Valencia's successor. Valencia and 59 other people are running for a place on the council in this election. Depending on who is elected, the tribe's response to the pandemic may change.