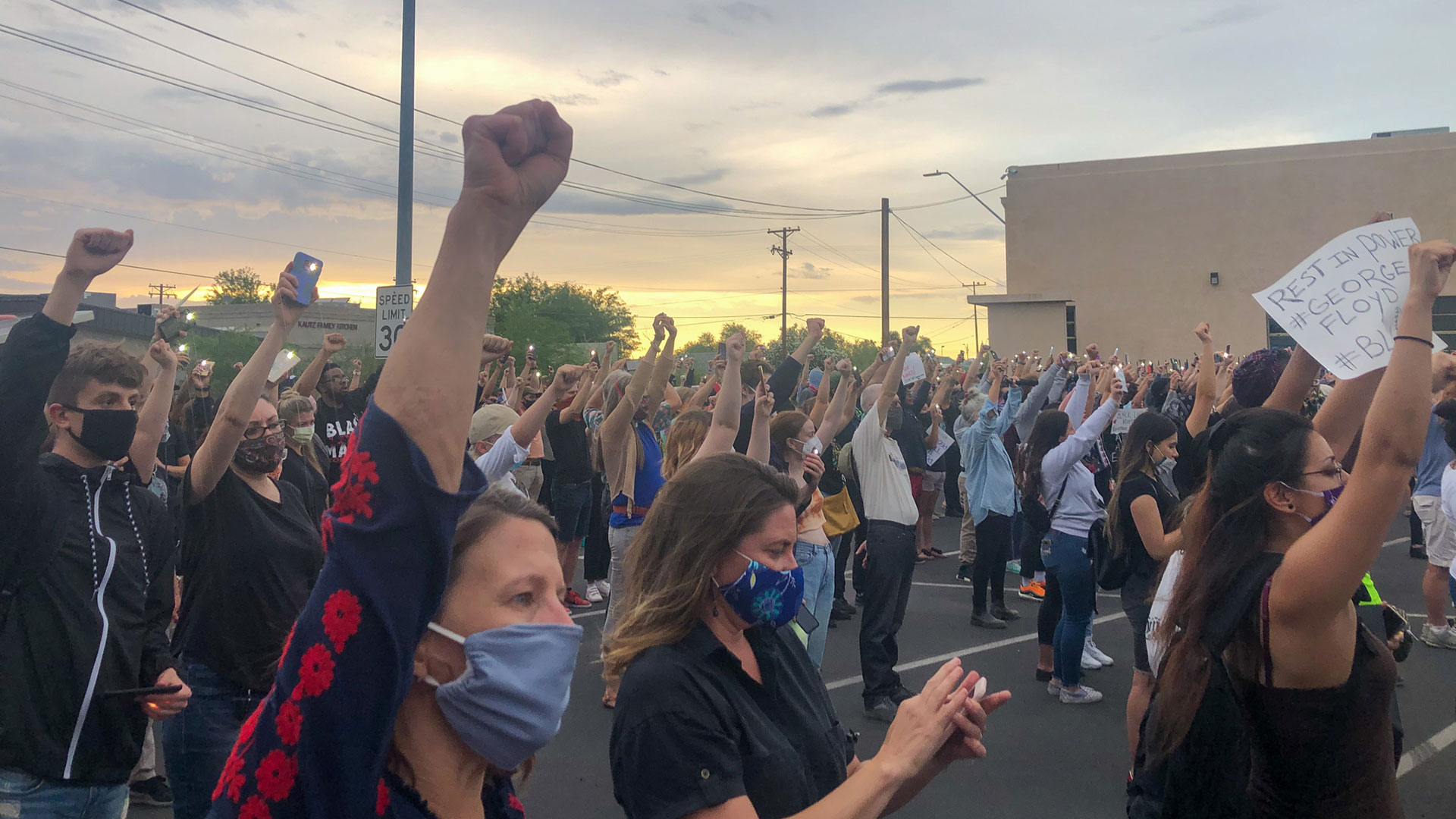 About 500 Tucsonans attended a vigil for George Floyd and other black people killed by police on June 1, 2020.
Jake Steinberg/AZPM
A vigil for George Floyd and other black people killed by police across the country drew about 500 Tucsonans to the Dunbar Pavilion African American Arts and Culture Center Monday.
The candlelight vigil was organized by the Tucson NAACP, whose members urged peaceful demonstrations in the wake of Floyd's death. The vigil follows a weekend of protests in Tucson that led to 19 arrests and at least $200,000 in property damage. Many of the demonstrations were peaceful and nonviolent.
Organizers called for increased civilian oversight of the Tucson Police Department, the hiring of more black officers and the removal of those with a history of complaints. They emphasized attendees make their voices heard at the ballot.
Speakers shared their stories of racial profiling and police brutality, including Ashley Johnson, whose father Tyrone Johnson died after being pepper-sprayed and beaten by Tucson police in 1999.
The city paid Johnson $70,000 to settle a wrongful death lawsuit in 2005 after the officers' trial led to a hung jury.
Johnson said she's hopeful that the nationwide protests following Floyd's death will finally spur police reform.
"There's just so many things happening all at once that we can change this," she said.
Attendee Kimberly Smith of Tucson said systemic racism goes beyond interactions with police, it also manifests in the underfunding of Arizona's schools.
"The majority of our people of color are in public education, and when you don't fund that, that's where everybody gets their start," she said.
The vigil dispersed before the statewide 8 p.m. curfew imposed by Gov. Doug Ducey Sunday. A small group of protesters unaffiliated with the NAACP took to the stage after most attendees departed, garnering signs that said "Jail Killer Cops," chanting "the system cannot be reformed," and urging more violent protests like those in Minneapolis.
The group eventually departed without incident.