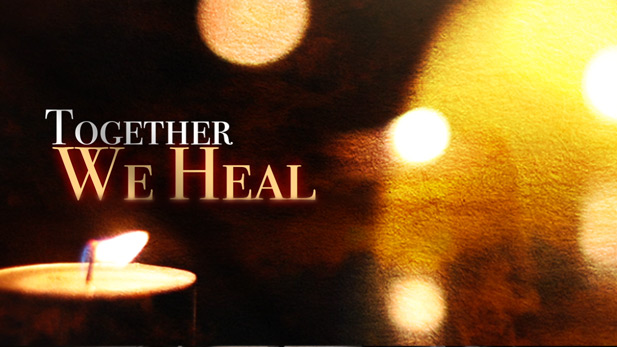 Together We Heal, a one-hour special documenting the healing of Tucson and Tucsonans affected by the Jan. 8, 2011 shooting tragedy, debuted Jan. 5, 2012 on PBS-HD6. See it here.
Narrated by national correspondent and Tucson native, Savannah Guthrie, Together We Heal features 36 in-depth interviews with victims and their families, members of U.S. Rep. Gabrielle Giffords' staff, and the doctors and nurses who treated them.
Interviewees include John Green, Christina-Taylor Green's father; Ross Zimmerman, Gabe Zimmerman's father; Giffords' staff members Ron Barber and Pam Simon, former staff member C. J. Karamargin and others; good Samaritans; staff members from the UMC Trauma Center, Intensive Care Unit and UMC Surgeons; and therapist Maggie Morton.
Congressional District 8 Staff
Ron Barber
Pam Simon
Mark Kimble
Joni Jones
Pam Harrington
Patty Valera
C.J. Karamargin, former Giffords' Staff
Daniel Hernandez, Giffords' Intern


University Medical Center Trauma Nurses
Wanda Larson
Carl Talent
Jessica Laplant
Kathy Bartholme
WendiCooper
OrlandoLittle
AngieWestergard
CarlBinger
MichelleZiemba


University Medical Center Intensive Care Unit Nurses
Robert Bresser
Kimberly Haas
Catherine Lee
Kevin Storey


University Medical Center Surgeons
Randall Friese
Peter Rhee
Bellal Joseph
Rainer Gruessner


University Medical Center Memorials Docent
Stephen Brigham, UMC Administration


Victims Families
Ross Zimmerman, Gabe Zimmerman's Father
John Green, Christina-Taylor Green's Father
Phyllis Rautenberg, Phyllis Schneck's Daughter


Good Samaritans
Faith Salzgeber
Roger Salzgeber
Nancy Bowman, RN
David Bowman, MD
Patricia Maisch


Therapist
Maggie Morton, LCSW Therapist


National Institute for Civil Discourse
Together We Heal, Thursday, January 5 at 8 p.m and again Sunday, January 8 at 6 p.m. on PBS-HD 6. Join us for stories of healing.