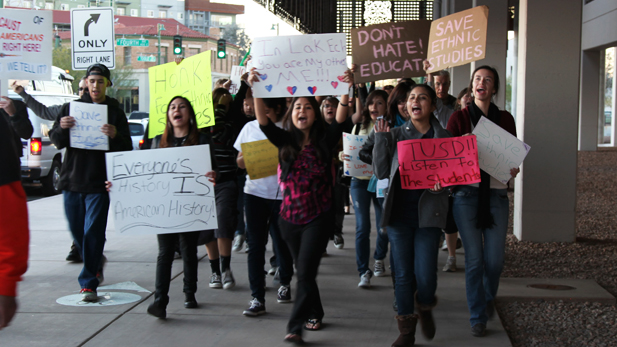 PHOTO: Fernanda Echavarri, AZPM
Students and supporters of TUSD's Mexican American Studies program protest before the Jan. 10, 2012 Governing Board meeting.
The Tucson Unified School District's abrupt cancellation of its Mexican-American Studies program under state pressure has left students and community leaders upset. Some say the move by the district is unconstitutional.
On Jan. 10, the TUSD governing board voted to shut down the classes immediately after Arizona Superintendent of Public Instruction John Huppenthal ruled the district was in violation of the law and would lose up to $15 million in state aid if the classes continued.
Some students have walked out of classes and others say they are planning a to stay home on Jan. 24 to protest the district's decision. Students picked that date because, they say, it is the 100th school day this academic year when schools count the number of students enrolled in order to determine state funding.
The state looks at the number of students enrolled that day as a way of measuring how much aid school districts get, said Andrew Le Fevre, a spokesman for the Arizona Department of Education.
The school board voted to follow Huppenthal's ruling and end the classes immediately but agreed to look at revamping ethnic studies classes to be more comprehensive and include all ethnicities. Mark Stegeman, TUSD's governing board president, said school staff will take the next several months to review the program.
"My goal is to have a social studies core that is more inclusive and gives more attention to Mexican-American viewpoint history and culture," Stegeman says. "That way every student will see it instead of the very small number of students who took the Mexican American studies courses."
The chair of the Mexican American Studies Community Advisory Board does not think generalizing the program is a good idea.
"I think 'McDonaldising' the curriculum is not the answer because it's going to be like a mini slavery for African Americans, mini genocide for Native Americans, mini civil rights for Chicano studies, and that doesn't work," board chair Raul Aguirre says.
Aguirre says he plans to fight the constitutionality of Huppenthal's ruling in court and is willing to "take it to the Supreme Court."