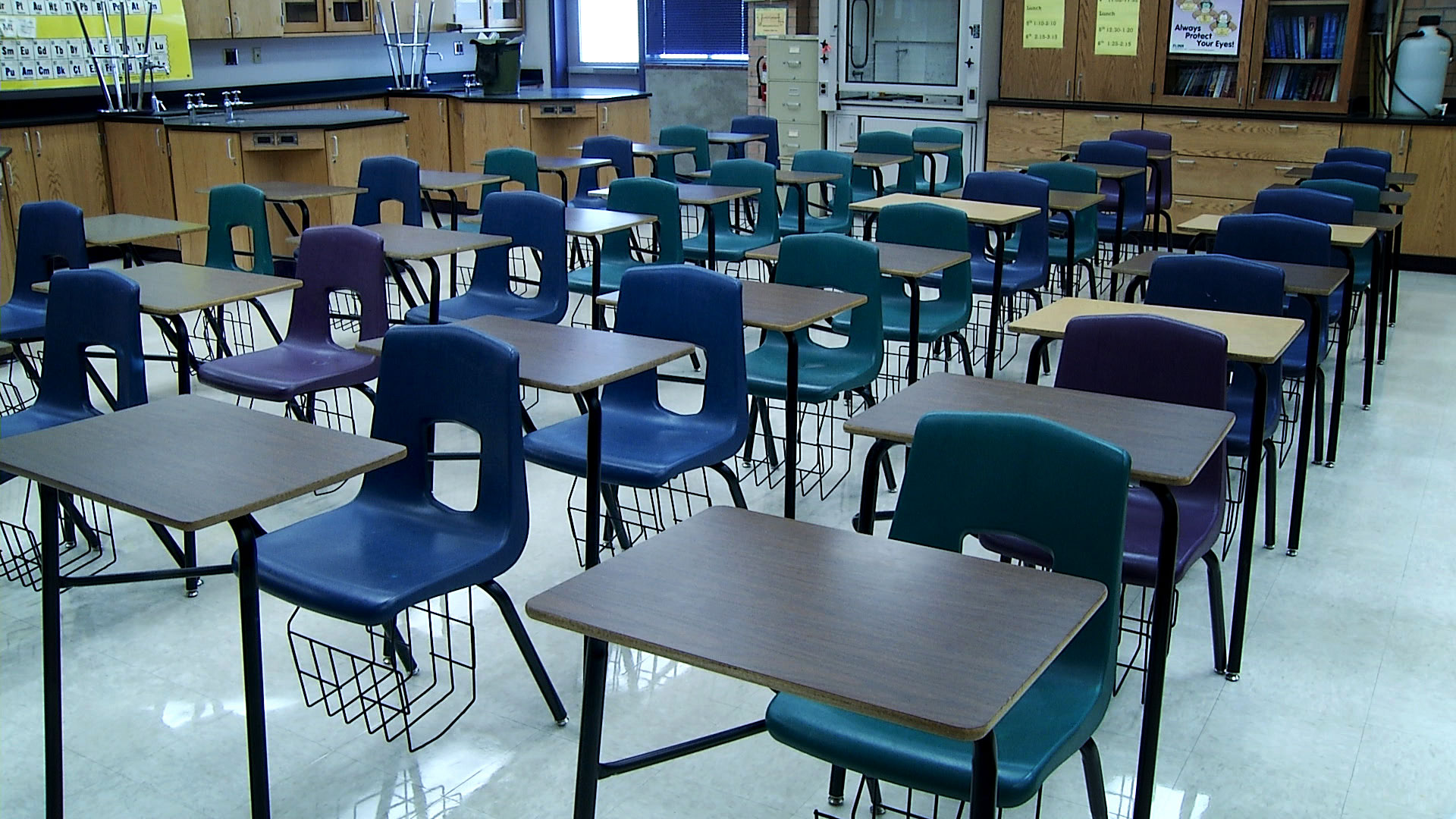 File image of an empty classroom at Sabino High School in Tucson.
AZPM Staff
Current reopening plans by school district
AZPM will update and expand this list to include the latest information about Southern Arizona school districts' plans for the upcoming school year.
Amphitheater Unified School District: The district will begin remote-learning classes on Aug. 10. Families can request to have their students learn online for the full year. Otherwise, students will return to in-person learning once schools are deemed "safe to open." Until that time, all learning will be remote.
Catalina Foothills Unified School District: Classes will begin on Aug. 17. Students will have the choice between in-person learning and remote learning. Schools will have certain health and safety measures in place, like mandatory face masks, improved ventilation and social distancing when feasible. Those who wish to choose the remote learning option for their students are asked to do so by July 26. People may transfer to a different learning model at certain times in the school year, based on grade level.
Flowing Wells Unified School District: All schools in the district will begin classes on Aug. 6. In-class learning is not available for the beginning of the school year, but will resume when it is determined to be safe. Students can choose between two remote-learning options. One offers classes with a "real-time" schedule for students to work. The other offers more flexibility for students to complete work on their own schedules.
Marana Unified School District: Classes will begin Aug. 5. All learning will be done remotely until Aug. 17 at the earliest. In-person learning will resume once the district determines it is safe to do so. Students will automatically be enrolled in remote learning classes, which will be more structured and collaborative with other students and instructors. Students in fifth grade and above can opt for a more flexible distance learning option.
Sahuarita Unified School District: The district will begin distance learning classes on Aug. 10. On Aug. 17, in-person learning will resume. Face masks will be mandatory, routes will be set for walking around campus and signs will be posted to promote social distancing. School areas will also be cleaned on a frequent schedule. Parents have the option to have their child complete the full school year online.
Sunnyside Unified School District: Online learning classes will begin on Aug. 5. Classes will feature real-time lessons with teachers as well as complete schoolwork on their own time. Young children will be given iPads, while students in second grade and above will get Chromebooks.
Tucson Unified School District: Classes will begin on Aug. 10 and will feature remote learning with teacher-led instruction and set schedules. Families can choose to send their children to in-school classes once safe conditions can be established, where they would continue to take online classes. Class sizes have been reduced and cleaning schedules made more frequent. Families will have the option during the school year to change their mode of instruction.
---
School district in the Tohono O'odham Nation beginning school year online
AZPM
Baboquivari Unified School District (BUSD) in the Tohono O'odham Nation will begin the 2020-21 school year online Aug. 3.
The district serves 1,100 students, approximately 350 of whom live in the Sells, Arizona, where BUSD is based, but the majority of the student population lives on average 1.5 hours away from Sells in surrounding Tohono O'odham communities.
Superintendent Edna Morris said last spring when all schools began virtual classrooms, many of the students did not have reliable or any internet access at home, so the Tohono O'odham Utility Authority set up approximately 40 hot spots across the Tohono O'odham Nation, which covers about 2.8 million acres, a space the size of the state of Connecticut. But she said the hot spots couldn't handle small groups of kids logging on at one location. The district is working with the utility authority in order to make sure that all students have access to their online education.
---
Trump administration rescinds rule on foreign students
AP
BOSTON — The Trump administration has rescinded a rule that would have required international students to transfer schools or leave the country if their colleges hold classes entirely online this fall because of the coronavirus pandemic. The decision was announced at the start of a hearing in a federal lawsuit in Boston brought by Harvard University and the Massachusetts Institute of Technology.
The announcement brings relief to thousands of foreign students who had been at risk of being deported from the country, along with hundreds of universities that were scrambling to reassess their plans for the fall in light of the policy.
The University of Arizona was among more than 20 schools suing the Trump administration over the policy.
---
UA applauds repeal of ICE ban on online study for foreign students
AZPM
A controversial directive that would have barred foreign students including those from the University of Arizona from attending online courses in the U.S. has been repealed.
Last week Immigrations and Customs Enforcement (ICE) said international students would not be allowed to enter or stay in the country unless they attended in-person classes. Several universities and colleges had already laid out plans to remain fully online for the fall semester in the wake of the coronavirus pandemic.
The policy was met with a series of legal challenges from institutions across the country, including the University of Arizona. All three of the state's public universities joined onto a group suit this week.
But the fight came to an end Monday, when a Massachusetts District Court announced the Trump administration has agreed to walk the policy back ahead of the first hearing against it.
In a statement, UA President Robert Robbins said the the university was happy with the decision.
---
Mandatory COVID-19 tests await UA students in dorms
AZPM
University officials are still waiting to make a final decision about in-person classes, but UA President Robert Robbins said most likely classes will fall into four "modalities."
"There's the in-person modality, which we will have some in-person classes. Second will be an engaged Zoom, digital, remote learning, three would be sort of an asynchronous version, and then four would be simply you just watch some videos," said Robbins.
UA Provost Lisa Folks sent a letter to the campus community on Thursday which said the final decision about how open campus will be will come within the next few weeks.
Robbins said no matter how that decision turns out, he does not think higher education will ever look like it did at the beginning of spring classes in January.
---
Arizona teachers want school closures as virus cases rise
AP
PHOENIX — Several Arizona teachers voiced fears from their cars about returning to school in a state that continues to be ravaged by the coronavirus. Nearly 20 cars with painted messages like #Return2SchoolSafely traveled in a short procession Wednesday in central Phoenix.
It was one of six "motor marches" organized by members of the Arizona #RedforEd group calling on Gov. Doug Ducey to close schools until case numbers trend downward. Currently, public schools are ordered to delay the start of the classes at least until Aug. 17. State health officials reported an additional 3,257 confirmed COVID-19 cases and 97 deaths.
---
Start date for in-person classes may be delayed again, Hoffman says
Cronkite News
Arizona Superintendent of Public Instruction Kathy Hoffman said Wednesday during a conference call that she and Gov. Doug Ducey are reconsidering the Aug. 17 deadline for schools to have an option for parents who wish to send their students to in-person classes.
Given the state of COVID-19 cases in Arizona, Hoffman said she is "not optimistic" about the Aug. 17 return date.
Ducey already pushed back the deadline to return to in-person learning once. It was previously Aug. 10. Hoffman said the announcement of a new deadline may come some, but a second delay has not officially been decided.
---
Charter and private schools receive millions in small business loans, public schools not eligible
Arizona Daily Star
Private and charter schools across Arizona, including those in Pima County, have secured millions of dollars in Paycheck Protection Program loans, funding which public schools did not qualify for.
These loans, meant to help small businesses struggling during the pandemic, do not have to be paid back. Unlike small businesses, charter schools receive funding from the state and have continued to do so during the pandemic.
Many of these schools also qualified for emergency funding set aside for learning institutions.
---
3 school teachers in Winkelman get COVID-19, one later dies
AP
PHOENIX — Three school teachers in the small eastern Arizona community of Winkelman tested positive for the coronavirus last month and one of them died. Phoenix TV station ABC15 says Kimberley Byrd shared a classroom with two other teachers at Leonor Hambly K-8 last month. The three were using classroom tools to teach their summer school students online when all three got sick.
Jesse says he wasn't allowed to be at his wife's side when she died June 26 after being hospitalized for almost two weeks. Family members said 61-year-old Kimberly Byrd had preexisting health issues including asthma, lupus and diabetes. She was a teacher for nearly 40 years and came out of retirement to help more students.