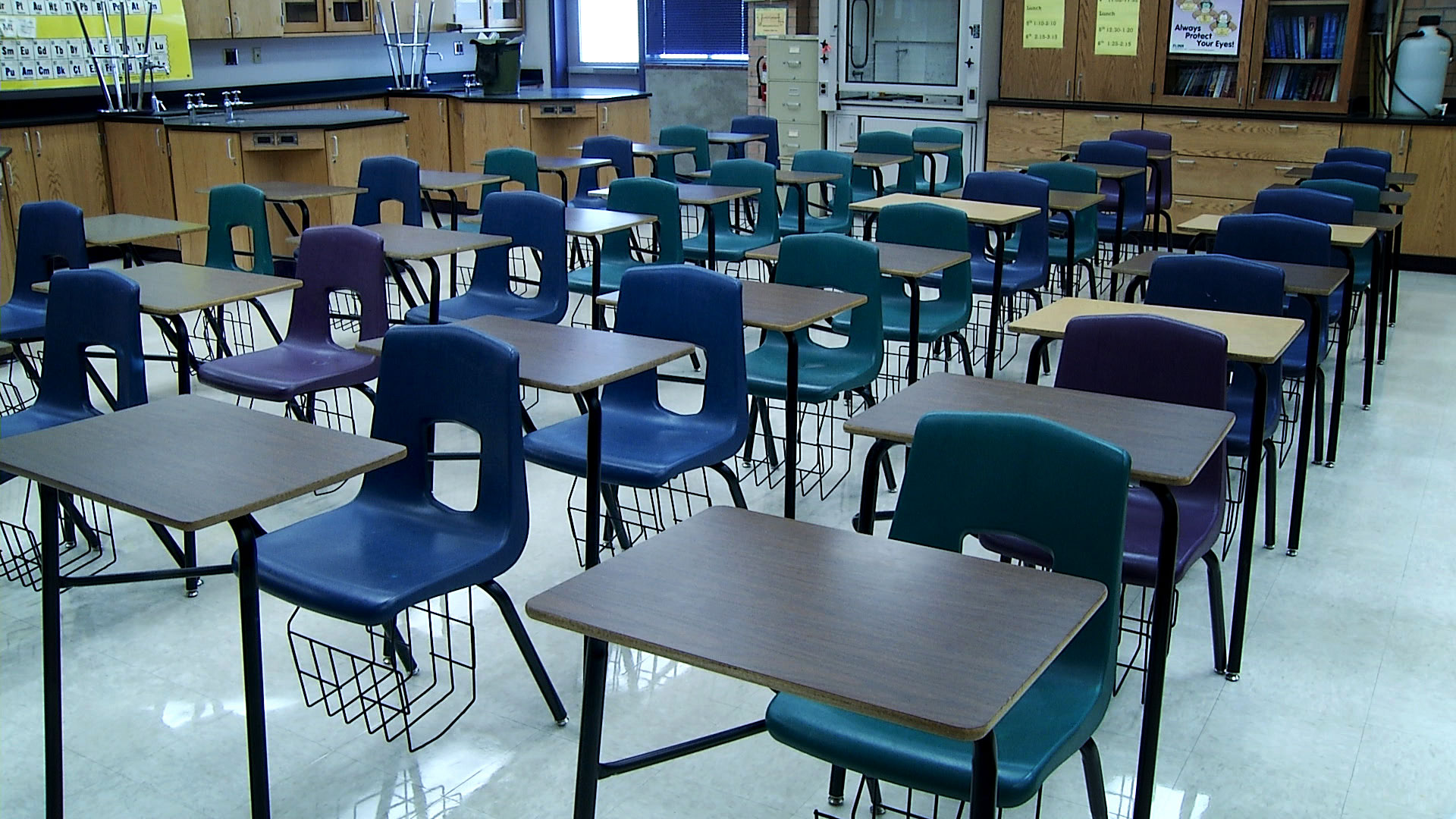 File image of an empty classroom at Sabino High School in Tucson.
AZPM Staff
Gov. Doug Ducey announced Thursday that schools will have "data-driven benchmarks" to consider when determining when to reopen for traditional, in-classroom learning. However, schools will also have to offer free, on-site learning spaces to give students a place to go if needed.
The decision on when to return to in-person learning is in the hands of local school leaders, Ducey said, underlining that there would be options and flexibility.
Educators had been asking for the state to issue safety-conscious guidelines for weeks prior to the announcement. Organized "motor marches" were held statewide on Wednesday to call for reopening plans that would not put teachers or students at risk. The state says it will release the benchmarks by Aug. 7.
Earlier this week, Arizona Superintendent of Public Instruction Kathy Hoffman publicly pushed for schools to rely on public health data when determining how to offer in-person classes. She voiced her support for the governor's new plan during the Thursday press conference.
Most schools in Pima County have not yet changed their reopening policies after Ducey's new plan for benchmarks were announced. Many already emphasized that their plans were malleable and subject to change based on further state guidance. Prior to Ducey's announcement this week, some schools had included language in their plans that classes would only be in person when it was safe to do so.
The Tucson Unified School District, which had already planned to have on-site learning options for students, will hold a virtual town hall on Facebook Monday, July 27, to get feedback and answer questions from Spanish-speaking families. A similar meeting for English-speaking families was held on Thursday, June 23, shortly after Ducey's announcement.
Most other school districts in the county will be holding regularly scheduled governing board meetings in the upcoming weeks. With the "data-driven benchmarks" for reopening not set to be released until Aug. 7, after the first day of classes for some local districts, it remains to be seen if Ducey's announcement will cause major changes to the plans already in place.
---
Back to school, one step at a time
The Buzz
Teachers across Arizona have said for weeks it's not safe to return to the classroom in August. Many have protested and asked state leaders for more guidance and funding to ensure safety for educators, students and staff. On Thursday, Gov. Doug Ducey announced that schools will have "data-driven benchmarks" to follow when determining how to reopen for traditional classroom learning.
But academic learning is only part of what classrooms offer students. This week, The Buzz talks with teachers and administrators about what they think is the best path forward and how to balance the needs of students with safety.
To hear this week's episode of The Buzz, click here.
---
University of Arizona officially announces in-person classes
AZPM
University of Arizona President Robert Robbins made official what he has hinted at for weeks, the university will have in-person classes for the fall semester beginning Aug. 24. Not all classes, though, will be taught in-person.
"In-person, flex in-person, live online, and our 'I-courses.' Students are choosing class schedules that best meet their needs. Currently more than 50% of our classes have some in-person component to them," Robbins explained during a briefing Thursday.
University officials said the downward trend in various COVID-19 indicators allowed them to make the decision to allow in-person classes for the fall semester. Robbins said many students and faculty members have told him they want to come back to campus. But he does acknowledge not everyone feels that way.
---
UA expands antibody test, educators eligible
AZPM
Thousands of Arizonans who work in education, child care and other fields can now get a COVID-19 antibody test from the University of Arizona. A small portion of those people will also be part of a long-term immunity study.
The free antibody test, originally targeted toward first responders and health care professionals, is now available to people in 15 areas of work involving potential exposure to the virus. Those include educators, child care workers, agriculture, grocery and food service workers, hospitality employees, solid waste collection workers, transportation services workers, and members of the National Guard.
People who sign up for the test can also opt into a year-long immunity study through the UA's College of Public Health.
---
Sonoran students to start school year online; no timeline for return to classrooms
Fronteras Desk
While schools in Arizona and across the U.S. are grappling with how and if to send students back to classrooms, officials in neighboring Sonora, Mexico, have decided against a return to in-person schooling for now.
Sonoran officials announced July 20 that there is no indication that it will be safe to reopen classrooms this fall. Instead, students across the state will attend school virtually starting in August.
Sonora's director of preventative health, Gerardo Álvarez, during a virtual press conference Monday said that there are still high numbers of coronavirus cases and deaths in the state, and sending children back to school can only be done safely once spread of the virus is better controlled.
Education authorities also laid out a three-phase plan Monday to prepare school leaders and teachers for virtual learning this fall. There is currently no timeline for a return to in-person classes. But questions remain about access to online schooling for many Sonoran students.
---
Lawsuit seeks education reform at Native American schools
AP
FLAGSTAFF — A lawsuit that accuses the U.S. government of failing to adequately provide for students on a small Arizona reservation is set to go to trial in November. The lawsuit filed in 2017 seeks systematic reforms of the U.S. Bureau of Indian Education. The agency oversees more than 180 schools in nearly two dozen states but operates less than one-third of them.
The case centers on Havasupai Elementary School deep in a gorge off the Grand Canyon, one of the most remote in the continental U.S. and among the lowest performing among the bureau-run schools.
---
Local district leaders react to Ducey's announcement of reopening guidelines
Arizona Daily Star
Gov. Ducey announced that districts will have "data-driven benchmarks" to follow as they determine when to reopen for traditional in-person learning. Until then, schools will have to operate free, on-site learning spaces for parents who wish to send their kids to school by Aug. 17. Under the state plan, it is up to districts to decide when local conditions are safe to reopen.
Educators had been asking for more science-minded guidance from the state for weeks. However, some local educators and administrators feel that the state has not offered enough guidance or clarity.
---
UA students risk discipline, suspension for ignoring social-distancing rules off campus
Arizona Daily Star
University of Arizona president Robert C. Robbins announced Thursday that students who do not follow health guidelines off campus could face disciplinary action, up to suspension.
He made the announcement at a Thursday press conference, after also revealing he was aware of posts on social media to organize parties for UA students during the pandemic. He called such affairs "selfish" and "reckless."