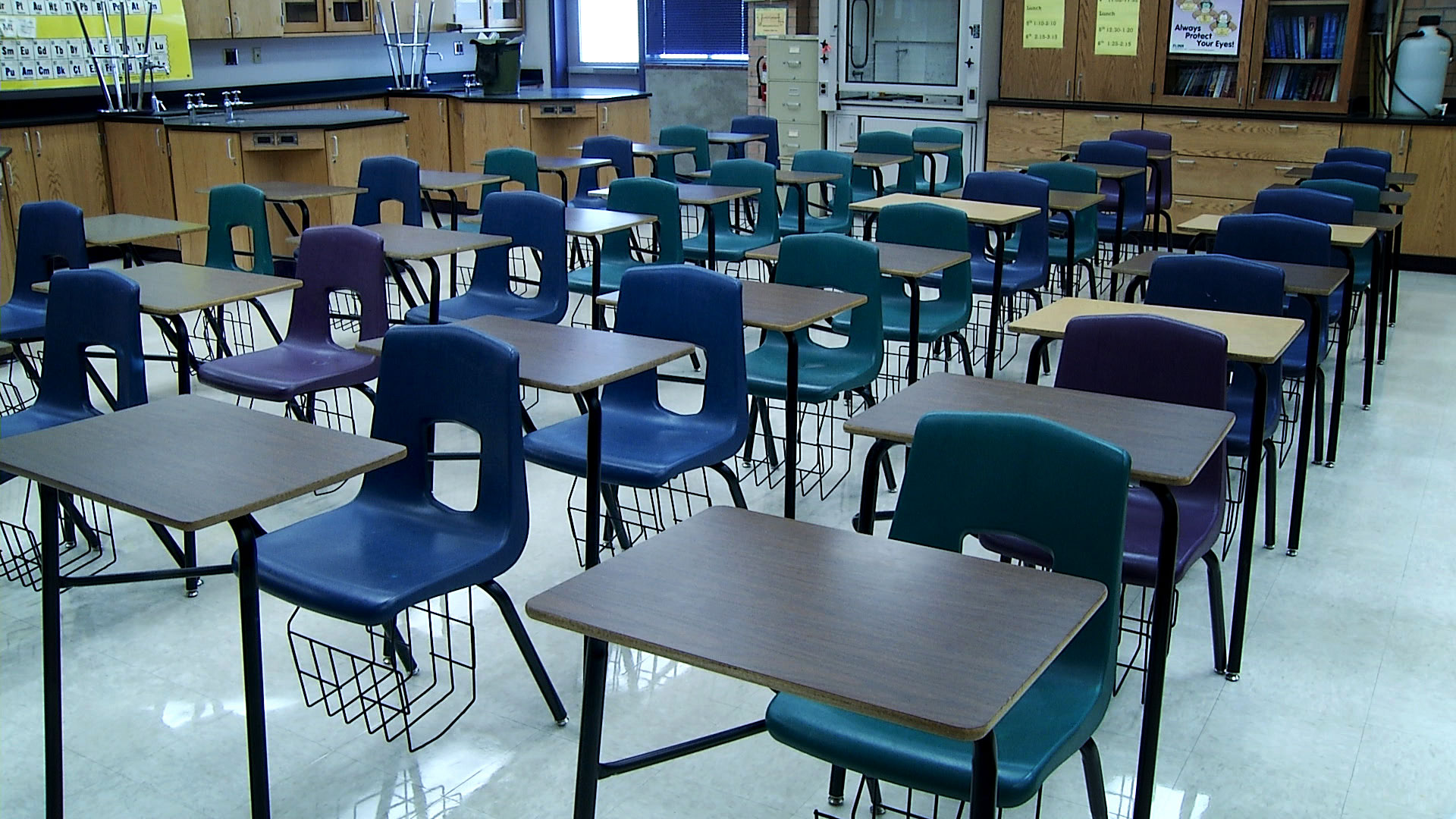 File image of an empty classroom at Sabino High School in Tucson.
AZPM Staff
With the start of the school year rapidly approaching, time is running out for Arizona schools to solidify what education will look like this year. Some have released more detailed plans about how they will operate in a pandemic that is not yet under control.
At the end of July, Gov. Doug Ducey promised "data-driven benchmarks" for assessing the safety of local conditions when it comes to fully reopening. Those guidelines are set to be released next week, but in the executive order, the governor also required schools to provide on-site learning services by the official start date of Aug. 17.
Local schools are already preparing ways to deal with the coronavirus pandemic. Their safety methods may clash with the governor's orders.
This week, the Tucson Unified School District announced that it is asking the Arizona Department of Education for a waiver that would allow them more time before safely opening up at all. Ducey has tied extra funding to the order mandating on-site learning spaces.
Local health officials issued a warning this week that local conditions are not safe enough for in-person learning to take place.
As for higher education, the University of Arizona revealed more details about its own reopening plan, which includes having some smaller classes meet in person, before opening that option up to larger classes.
The university's handling of the coronavirus pandemic has come under criticism for safety concerns by some student and staff groups, most notably the Coalition for Academic Justice at the University of Arizona.
The first day of classes for UA is Aug. 24.
---
Pima County leaders urge schools to stay closed
AZPM
Pima County health officials recommend that schools wait at least until Labor Day, and possibly later, to reopen for face-to-face classes.
The advice came in a letter from County Administrator Chuck Huckelberry to school superintendents Wednesday. It contradicts Gov. Doug Ducey's order that schools reopen at least some of their facilities by Aug. 17.
The governor's order allows districts to apply for a waiver allowing them to open later if local conditions justify it. Huckelberry notes that COVID-19 is still spreading in Pima County, and the effectiveness of the county's mask ordinance is still unknown.
Huckleberry's letter is not binding on local school districts. However, it was a result of a meeting last week between county staff and officials from several districts in the county.
---
University of Arizona preps for reentry amid pandemic risk
Arizona 360
Former U.S. Surgeon General Richard Carmona, who now heads the campus's Reentry Task Force, discusses how the university has spent the last few months preparing to offer in-person classes next month. Lorraine Rivera also hears from UA Athletic Director Dave Heeke about how the department intends to let sports continue while protecting student athletes from the virus.
We also hear from UA School of Journalism professor Celeste Gonzalez de Bustamante who's part of the Coalition for Academic Justice. The group includes students, faculty and staff and has publicly criticized the university's furlough plan.
Tony Paniagua reports on how international students are affected by additional mandates implemented by Immigration and Customs Enforcement.
To see this week's episode, click here.
---
UA announces phased plan for bringing students back to campus
AZPM
University of Arizona classes resume August 24, but only a few students will be on campus. Provost Liesl Folks wrote in an email Monday that so-called stage one classes will be limited to laboratories, performance, or medical subjects, where students must be physically present. Later, when conditions allow, the university will go to stage two, with in-person classes for up to thirty students. Once those are proceeding without complications, Folks says the university will start to phase in larger classes.
Folks says the transition from each stage to the next will be guided by the progress of the fight against the COVID-19 pandemic.
---
UA to have full-size classes after Labor Day
AZPM
The first day of class at the University of Arizona is Aug. 24. All classes, except labs and some performing arts, will be online at that time.
The following week, in-person classes with 30 or fewer students can begin meeting, and on Sept. 8 all classes, no matter the size, can meet in person.
UA President Robert Robbins said during his weekly briefing that he feels that is the best plan.
"We discussed this idea of going slowly to move the campus forward. I've chosen to go faster than because I think we've hit a lot of the things that the experts have told us that we needed to do," Robbins said.
---
Arizona universities preparing to reopen amid pandemic
AZPM
Arizona's three public universities are preparing to reopen their campuses next month amid coronavirus concerns.
Arizona Board of Regents Chair Larry Penley says the University of Arizona, Arizona State University and Northern Arizona University will require masks and promote effective social distancing. He notes all three schools are determined to make learning as safe and effective as possible.
"No place is completely safe until we get a vaccine," said Penley.
Penley added the universities are prepared to cope with COVID-19's spread. All three campuses have designated spaces, residence halls or contracts with hotels where they can isolate individuals who are infected.
---
Delays, some spectators possible as UA plans for fall sports
AZPM
The University of Arizona is building plans for athletic competition this fall.
Athletic director Dave Heeke says it's likely football, women's volleyball and women's soccer will be delayed by a few weeks to put protocols in place to deal with the ongoing pandemic. Plans may allow some spectators at the games.
"We've planned for everything from no fans to about a 50% capacity. We don't see anything larger than that at this point." Heeke said. "As we're trending today it would be considerably less than 50% capacity if we were to bring fans into the stadiums and arenas."
The University brought back 85 student-athletes during the summer for conditioning and strength training. Heeke says further announcements on the fall sports schedule can be expected in the next few weeks.
---
Education funding initiative removed from ballot
AZPM
The initiative to increase funding for Arizona's schools by raising taxes on wealthy Arizonans, known as Invest In Ed, was removed from the November ballot Friday.
A Maricopa County Superior Court judge ruled that the 100-word description of the measure available to people who gave their signatures to get Invest in Ed on the ballot was misleading because it left out important facts. Therefore, the signatures collected for the measure were invalid.
In the [decision][https://www.documentcloud.org/documents/7011810-CV2020-007964-926-07312020-Pdf-2.html), Pima County Superior Court Judge Christopher Coury wrote that teachers and students were caught in the middle of a larger debate around public school funding.
Invest In Ed plans to appeal the decision. In a statement, the group called the decision "political" and Arizona Education Association president Joe Thomas denounced it as "shameful."
---
TUSD finalizes back-to-school plan
Arizona Daily Star
The Tucson Unified School District has a plan for physically reopening schools, however when that plan will be implemented remains in question. The district plans to ask the Arizona Department of Education for permission to delay opening onsite learning spaces when it submits the plan for approval. An executive order by Gov. Doug Ducey requires schools to operate onsite facilities for students in order to receive full funding.
---
Arizona teacher who resigned over COVID-19 fears faces fine
AP
PHOENIX — A Phoenix-area music teacher who resigned after being told he'd have to be on campus to teach virtual classes amid the pandemic is facing a $2,000 fine. The Arizona Republic reports the Dysart Unified School District is set to charge Tavious Peterkin, a music teacher at an El Mirage school, to release him from his contract.
Such a fee is common in Arizona school districts because of a long-running teacher shortage. District spokeswoman Renee Ryon says the district can be flexible with the fee in the case of a medical situation. But, it must enforce the fee if exceptions don't apply, even in a pandemic.
---
Regents voice support for Ducey's bar closure
Arizona Daily Star
The Arizona Board of Regents, which governs the state's three public universities, filed legal paperwork to formally support Gov. Doug Ducey's decision to keep bars closed. The board joins numerous other supporters of the closures, including local chambers of commerce, health care organizations and Maricopa County.
Dozens of bar owners are challenging the constitutionality of the governor's decision to keep bars closed.