Macho Man, a once-abused horse, now helps Yaqui children work through their own hard times.

Gisela Telis
In a dusty arena near the southern fringe of the Pascua Yaqui Reservation, children lead horses through temptation.
The tempters are hay, hula hoops and traffic cones, but they represent other things: unhealthful habits, peer pressure, drugs, violence.
For the 12-to-18-year-old regulars in the Sewa Uusim equine program Wednesday afternoon session, these temptations are a fact of life.

"There's kids who have grief, kids who have abuse issues … there's bullies and kids who get bullied, fighters and shy ones," says Tamagni, a licensed counselor and equine therapist who has worked with the tribe on and off for 10 years. "But you take them out into the arena, and it all goes away."
Out in the arena, a different kind of therapy happens. On some days, the horses represent ideas or people in the children's lives; on others, they become partners in solving a problem.
Before they enter the arena, the youngsters take part in a talking circle, sharing their experiences with the issue—temptation, for example, or the importance of respect—that Tamagni raises that day. They reconvene afterwards, as well, to write down their thoughts about the session.
Every step in the process has a purpose, but it's the herd that draws the kids back day after day.
Some of the horses are rescues, taken in by Tamagni or by the tribe when their owners abused or abandoned them. There's Sonny, a tiny burro, and well-behaved workhorse Junior; there's Chocolate, who bears scars from a run-in with a rattlesnake, and Macho Man, whose past trauma has made him fearful.
The horses' experiences mirror the children's, Tamagni says, and that makes those experiences easier to address.
"When you see a client in a traditional setting, it takes months to build trust," she says. "But when you have a horse there, it happens almost instantly."
--
The Yaqui Sewa Uusim program, funded by the Substance Abuse and Mental Health Services Administration (SAMHSA), isn't the first to incorporate the horse's unique ability to help people through hard times. Equine-assisted psychotherapy programs have been around since the 1990s, and demand for the service is steadily rising.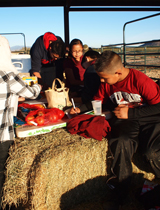 The kids in Tamagni's Wednesday afternoon session, who range in age from 12 to 18, come early and stay late to spend more time with the rescue herd. (PHOTO: Gisela Telis)
"There's definitely growing interest in it," says Lynn Thomas, founder of the Equine Assisted Growth and Learning Association (EAGALA), which certifies certain kinds of equine therapy programs (but not the Yaqui program). "I think people are looking for new ways to heal, so there's an openness to methods that aren't the ordinary ones."
Thomas, a mental health professional, first worked with horses while employed on a residential treatment ranch for troubled teens. She noticed that equine therapy worked where other approaches failed.
"Horses have an impact that I've just not seen in people otherwise," she says. "We get a lot of clients who have tried everything else, and this is what works."
Thomas attributes horses' effectiveness to their size and their social dynamics. A 1,000-pound therapy partner offers children and adults alike an opportunity to confront their fears, Thomas says, and horses' adeptness at reading body language makes for a more honest connection.
"You might have kids who have a tough mask, and the horses don't respond to that. They respond to what's inside," she says.
--
On the Pascua Yaqui Reservation, the connection between youth and horse has an added dimension: it preserves a deep-rooted Yaqui tradition.
"The Yaqui were farmers in Río Yaqui, and the horse helped them," says Tamagni. "They have horses in their blood. That's one of the reasons we started this program."
In this, the Yaqui aren't alone. Horses hold a special place in many Native American traditions--so, not surprisingly, other Native communities with close cultural ties to horsemanship are starting to turn to equine therapy for their behavioral health needs.
In an equine conference this May, the Yaqui will host 25 other tribes who either have equine therapy programs or want to implement them. They include the Mescalero Apache, who will soon launch a youth program similar to Sewa Uusim with Yaqui mentorship.
Tamagni hopes to expand the program at home as well; she thinks Yaqui adults, particularly those recovering from substance abuse issues, would benefit from this hard-luck herd too.
She won't stop, she says, until there's a large and well-trained generation of young leaders ready to take her place.
"I'll be here doing this until I die," she laughs. "It makes me happy."
--
Like the children and horses she helps, Tamagni has had more than her share of unhappiness.
When her parents divorced early in her life, horses gave her comfort and companionship. They later helped her through the death of her husband, a rancher and rodeo cowboy killed in an accident while Tamagni was still in her 30s.
Tamagni was a construction worker at the time, and watched a coworker die in an accident just a few years later. It was then that she decided to go back to school and find a new profession, one that would combine her love of horses with her desire to help others.
In her daily meetings with Yaqui youth, that help is a measurable thing. Kids flock to the sessions, sometimes arriving as much as two hours early to clean stalls or otherwise pitch in.
"They come here and feel like they belong," says 18-year-old Andrez Rhodes, who is part of the Sewa Uusim youth leadership group. "Most of these kids don't feel that way where they come from."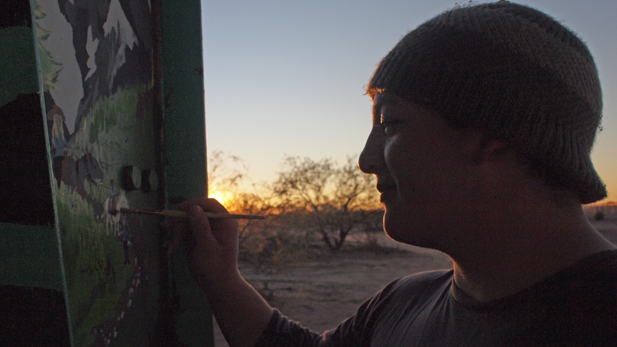 "Working around horses lets you see where you need happiness and calm," says Andrez Rhodes, an aspiring artist and leader-in-training who mentors younger participants in the equine program.

Gisela Telis
The youth leaders, who are required to stay in school to be part of the program, learn to mentor the younger children and work with the horses more extensively.
On Wednesday afternoon, they mix with the younger kids, helping them with harnesses and leads or offering advice as they tackle this week's project: building an alley where they can lead their horses away from the bad things that tempt them.
The horses keep eating the hay. The hulas keep shifting around. They're still trying different approaches as the sun dips behind the mountains, but they manage it, finally, when they begin to work together.
When they leave, Tamagni is left with her other team, the horses who make her work possible. She must still drive back to her Red Rock ranch, where more horses are waiting for her. She'll feed and tend to her herd of 16, get what rest she can, and then make her way back once more to the little arena behind the Pascua Yaqui Tribe Wellness Center the next day, ready to begin again.
"You do what you can in this life to help make other people's lives a little better. That's what I believe we're here for," she says. "But it isn't me, really. It's those horses who help."
--
Arizona Public Media visited with Dori Tamagni in 2008. Watch that video here: