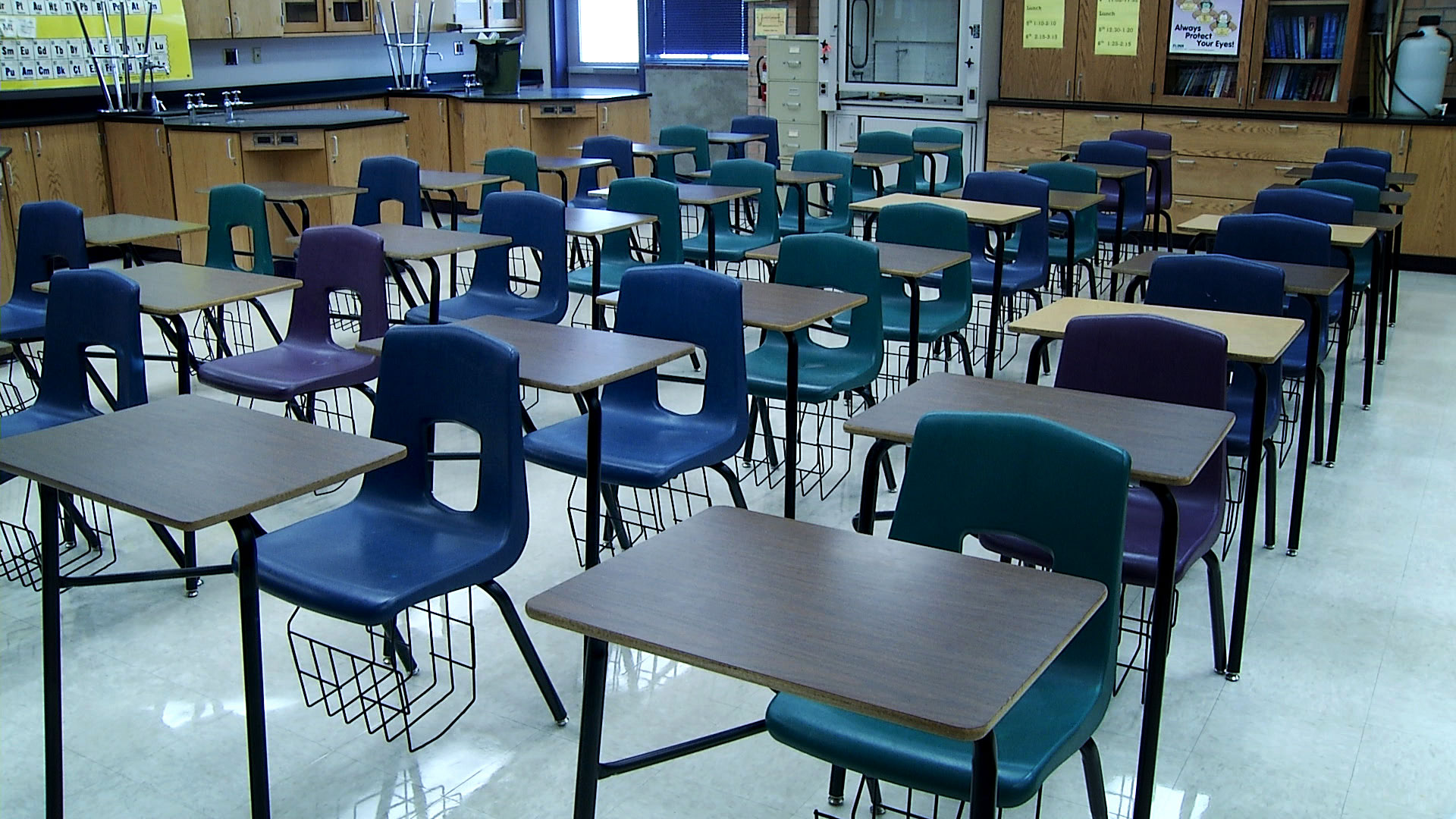 File image of an empty classroom at Sabino High School in Tucson.
AZPM Staff
Arizona's eagerly awaited "data-driven benchmarks" for returning to in-person learning were released Thursday. The plan, which was designed with flexibility in mind, features just three public health goals for communities to meet before moving forward with resuming in-person instruction.
Similar to the the the state's earlier Roadmap for Reopening Schools, which was released in June, the benchmarks are guidelines rather than strict requirements. Districts are also in charge of determining when local conditions meet the benchmarks, leaving quite a bit of reopening power in their hands.
Districts are still expected to offer on-site learning spaces for families in need of child care to send their children.
It was also an eventful week in the world of local higher education. Changes are afoot at the University of Arizona. The Coalition for Academic Justice at the UA (CAJUA), a group of faculty, staff and students that formed in response to the school's handling of the COVID-19 crisis, announced their intention to unionize.
So far, UA President Robert Robbins has not objected to this idea. That doesn't mean CAJUA does not object to some of the administration's actions. The UA's furlough plan, which CAJUA argues is unfair for lower-paid employees, will go into effect next week.
Though Wildcat fans may have trouble watching sports live this year, there will be plenty of other matches to keep an eye on in the fall.
---
Arizona releases guidance for returning to classrooms
AZPM
Arizona on Thursday outlined its promised benchmarks intended to help guide schools' decisions in returning to classrooms during the pandemic, focusing on county-level COVID-19 targets.
In a briefing, State Superintendent of Public Schools Kathy Hoffman and Health Department Director Cara Christ said counties should meet three benchmarks before schools resume all in-person instruction:
1) A two-week decline in weekly average cases or two weeks below 100 cases per 100,000 people
2) Two weeks with diagnostic test percent positivity below 7%
3) Two weeks with less than 10% of hospital visits due to COVID-like illness Hoffman and Christ said these are not requirements, but recommendations.
---
Arizona schools chief anticipates delays to in-person learning
Arizona 360
The new school year began entirely online, just as it left off last spring. Days before the announcement of reopening benchmarks, Arizona Superintendent of Public Instruction Kathy Hoffman released a statement that cast doubt on schools being able to safely reopen by Aug. 17, which is the soonest they can begin to offer such options. Hoffman spoke to Lorraine Rivera about her concerns and recommendations.
Watch the full segment here.
---
Poll: Majority of Arizonans uncomfortable sending kids back to school
AZPM
Fifty-seven percent of Arizona voters are not comfortable sending children back to school for in-person classes, according to a new poll from OH Predictive Insights in Phoenix.
The poll found that number changes if more safety measures are implemented, like daily cleaning, daily temperature checks for staff and students, and mandatory mask wearing.
The poll also found that only 38% of people are satisfied with the way Arizona officials are handling COVID-19's effects on education.
The state released its guidelines for reopening schools the day before the poll was published.
---
UA will start furloughs Monday, despite pushback
AZPM
The University of Arizona will continue to explore loans and credit lines to deal with the financial crisis stemming from the COVID-19 pandemic, but employee furloughs will go on as planned, starting Monday.
That's the gist of an email UA President Robert Robbins sent to the university community Friday afternoon. The university faces a potential $250 million shortfall because of drops in revenue from tuition and other sources.
Robbins said he appreciated suggestions drawn up by a faculty committee, but the university cannot borrow money without approval from the legislature, and a line of credit would require approval from the Arizona Board of Regents. Robbins says the UA is pursuing both approaches, which have been suggested by students, faculty and staff critical of the university's approach.
---
UA group critical of university's pandemic response wants a union
AZPM
The Coalition for Academic Justice at UArizona (CAJUA) said Tuesday morning that they plan to form a union at the University of Arizona.
The announcement came as a result of dissatisfaction with the university's plans for furloughs and layoffs as well as the reopening plan.
"I am unhappy, I'm disappointed with the decision-making that's been happening, even prior to the current leadership. This has been going on for decades and it's time that we wake up, step in and push back on this," said Gonzalez de Bustamante.
The group is in the process of collecting commitments from faculty, staff and graduate students to form the union.
---
UA President Robbins says he doesn't oppose a faculty union
AZPM
A threat of unionization on a university campus is often met with hostility by administrators, but University of Arizona President Robert Robbins said he has no problem with the idea.
"I've been accused of hating the faculty. I love the faculty. The faculty are why our students come here, for the programs and the knowledge that they impart to our students. Yeah, I'm all for it. Whatever the faculty thinks is best for them, I'm for it," said Robbins.
His comments came after being asked about a proposal by the Coalition of Academic Justice at UArizona (CAJUA), which said it plans on forming a union at the university.
---
University of Arizona to acquire online school
Arizona Daily Star
The University of Arizona announced Monday that it will acquire the for-profit online school Ashford University. The purchase is a part of a plan to expand UA's non-profit Global Campus, according to the Arizona Daily Star.
The university had been seriously considering the acquisition since spring. Ashford University has about 35,000 students, with many of them older that the traditional undergraduate student population.
Learn more here.
---
Eller faculty warned UA purchase of for-profit university would be 'catastrophic'
AZPM
The University of Arizona's acquisition of a for-profit university would cause "irreparable damage" to the university's reputation, risk lawsuits and harm relationships with donors and faculty, according to a letter faculty at the Eller College of Management sent to university leaders in June.
The UA announced Monday a deal to acquire Ashford University, an online for-profit university with over 35,000 students. The venture is intended to bolster UA's online offerings and would create a new nonprofit dubbed University of Arizona Global Campus. The letter, sent to the Arizona Board of Regents, UA President Robert Robbins, and other administrators June 19 and obtained by Arizona Public Media, resulted from a faculty review of Ashford's assets.
---
Arizona schools' insurance to cover COVID-19 issues
KOLD
Arizona School Risk Retention Trust, the company that insures over 200 school districts and colleges in Arizona, will give schools the option to add coverage for claims related to COVID-19.
The price of coverage will depend on the school or district's size and must follow the safety guidelines released by the governor's office. The trust also requires schools to have students' families sign waivers before returning to in-person learning.