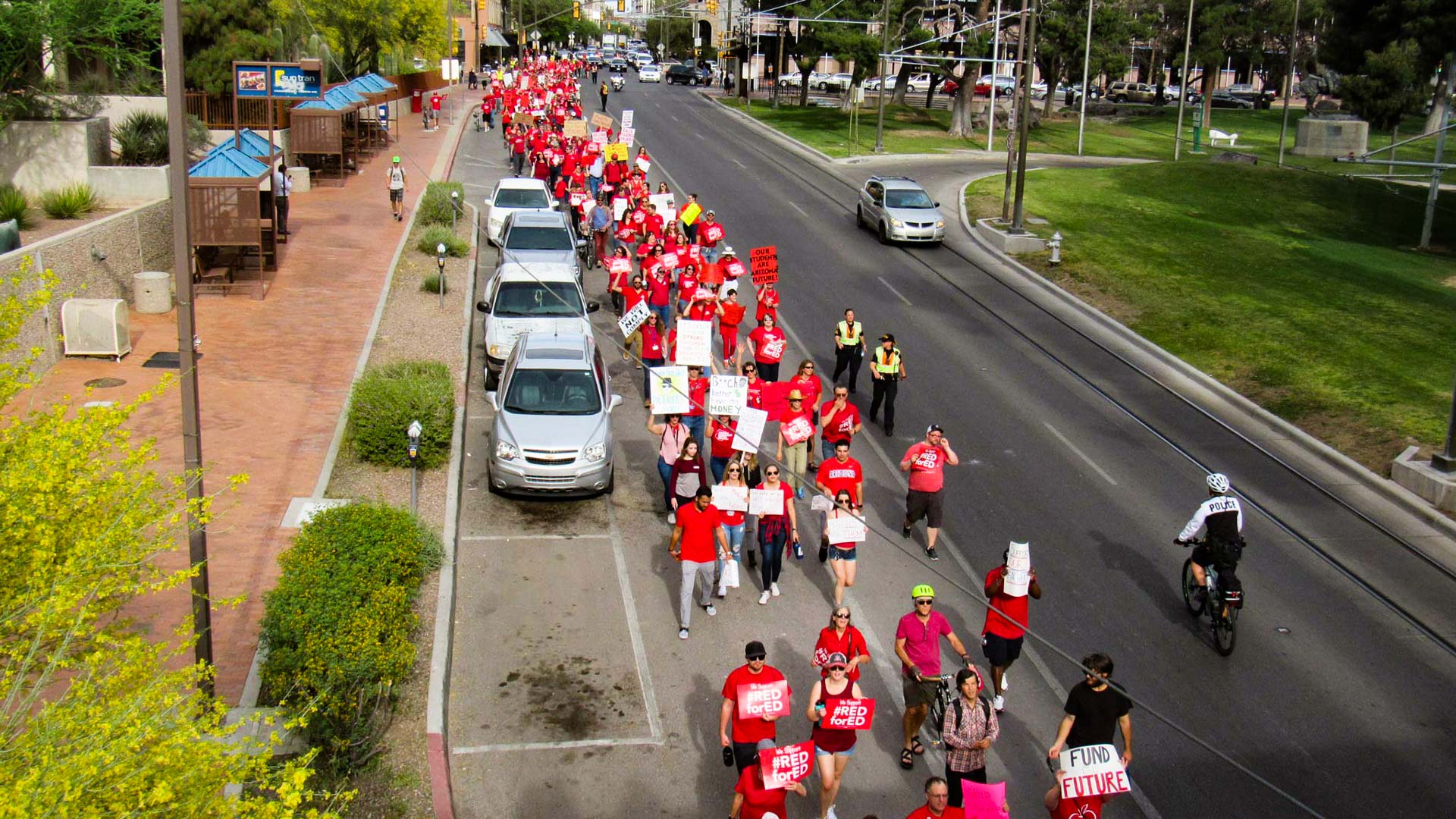 Educators march in downtown Tucson in 2018 calling for better teacher pay and education funding in Arizona. This year's Proposition 208 aims to make up for lagging education funding in the state by taxing the wealthy.
Brandon Mejia/AZPM
Arizona voters will finally have the chance to weigh in on the so-called "Invest in Ed" ballot measure this November after the Arizona Supreme Court knocked it off the ballot two years ago.
Teachers unions and education advocates are campaigning hard for Proposition 208, which they say will help address Arizona's teacher shortage. The measure aims to make up for lagging state funding with a tax on the wealthy.
If voters approve the measure, high earners would see a 3.5 percentage point increase on their income tax starting next year. The tax would apply to income over $250,000 for a single person or married person filing separately, and to income over $500,000 for a married couple or someone filing as head of household.
The collected revenue would go into a special fund for public school districts and charter schools. Half the money would go to schools to use for hiring teachers and increasing teacher salaries. A quarter would to to schools to hire and increase pay for student support services personnel such as counselors, bus drivers and cafeteria workers. The rest would be used for teacher training and retention programs.
Lisa Millerd, an English teacher at Amphitheater High School and president of the Amphitheater Education Association, said that money would be a lifeline to districts like hers, which is struggling to retain teachers and bus drivers.
Arizona is consistently ranked near the bottom of states in per-pupil funding, tying Oklahoma for 48th, according to the U.S. Census Bureau's most recent numbers, which are based on spending during the 2018 fiscal year. Only Idaho and Utah spent less per student.
Prop. 208 supporters point to cuts made to education during the Great Recession that still haven't been fully restored — which led teachers to take to the streets for the 2018 #RedforEd protests.
"Basically, funding cuts equals pay cuts. There isn't another way around it, because the bulk of a budget in a school district is people," Millerd said. "If we don't increase the funding, we are going to continue to lose people out of the profession, we're going to continue to not be able to get new people into the profession. And of course, the impact on that is students are not getting quality, professional, well-trained educators in classrooms."
Over a quarter of the state's teaching positions are vacant, according to a survey released last month by the Arizona School Personnel Administrators Association. Of the positions that are filled, half have someone who does not meet standard teaching requirements, meaning a long-term substitute or an existing teacher working overtime.
The Prop. 208 tax is estimated to generate about $827 million in its first year, according to the Joint Legislature Budget Committee. That's about 13% of what the state spent on education this year.
But Prop. 208 opponents question whether those predictions are accurate and argue that the measure would make a tiny fraction of taxpayers disproportionately responsible for funding public education.
"There's no other state in the union that takes the most volatile tax bracket, and says we're going to dedicate this portion of it to K-12." said Sean McCarthy, a senior research analyst for the Arizona Tax Research Association, a watchdog group that advocates for efficient government fiscal policy.
"There's this notion that there's a lot of persistent millionaires, and that's who's paying the tax. And that's not accurate. Who shows up into these brackets are successful businesses who have had a particularly good year, and you never know who that's going to be," he said.
McCarthy said taxing high earners isn't a reliable way to fund education. He pointed out that during the Great Recession, tax collections from the top individual income tax bracket dropped by a third in a single year because thousands of small businesses in the state file under the individual tax rates.
He said those same small businesses would pay a higher rate than corporations on income above the $250,000 threshold. If Prop 208 is approved, Arizona's top individual income tax rate would rise from 4.5% to 8%. The Arizona corporate income tax rate is 4.9%.
"The way that you address funding issues as you grow your economy," he said. "In one year of solid economic growth, you can easily increase state revenues more than a billion dollars, he said.
The law would be very difficult to change if 208 is approved. State law requires a three-fourths vote by the state Legislature to amend a voter initiative.
A strong economy helped fund Gov. Doug Ducey's "20 by 2020" plan approved in 2018 to raise teacher salaries by 20% by the 2020-21 school year. State funding for education increased to $6.5 billion this year from $5.3 billion in 2018.
However, not all of that money made it to teachers, according to a report from the Arizona Auditor General earlier this year. Teachers were promised a 10% raise in 2019, but the average teacher saw an 8% pay increase, the report found. The Legislature didn't mandate the extra money go to teachers, so many districts spent it on other things.
Millerd, the Amphi English teacher, said without quality pay, Arizona students will continue to miss out on a quality education.
"There isn't another funding source. We know that funding has eroded in the state of Arizona and this was the only avenue left for educators," she said.
Ted Maxwell, president of the Southern Arizona Leadership Council, agrees education in Arizona needs more funding but opposes the measure. He said the new tax will make growing the economy more difficult at a time when the coronavirus pandemic has hampered the state's economic growth.
"Arizona's economic growth has been driven in large part by companies moving from higher tax states to Arizona. And our concern is that that's just taking one of the advantages we have over many other states to continue to drive our growth," he said.
Arizona voters appears willing to take that risk. A Monmouth University Poll last month found two-thirds of registered voters support Prop 208, including majorities of Democrats, Republicans and independents.
Maxwell said he understands why voters might be sympathetic to the measure.
"In part, it's the Legislature and the business organizations that can be blamed for having this as the option on the ballot, because we've been unsuccessful in getting anything through," he said. "However, this is not the way to increase funding to our education system and very well may do harm to future funding and revenue."