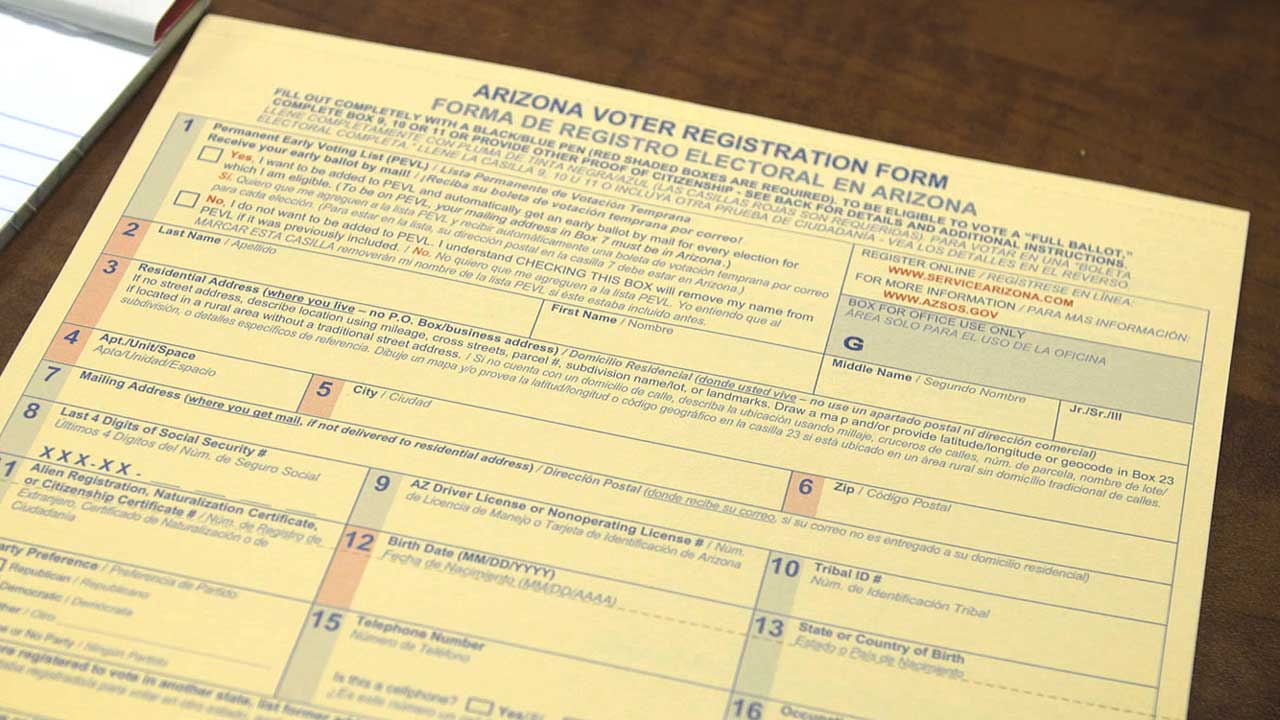 File image of an Arizona voter registration form.

AZPM
A federal judge ruled Monday night that Arizona must extend its voter registration deadline to 5:00 p.m. Oct. 23.
The ten-page ruling from U.S. District Judge Steven P. Logan came less than four hours before the midnight deadline for Arizona voters to register.
The case was brought by Mi Familia Vota and the Arizona Coalition for Change. They told the court that restrictions put in place earlier this year to curb the spread of COVID-19 made it more difficult for them to register voters.
They told the judge that before the restrictions they were registering about 1,200 people a day. Once the restrictions went in place, they said that number dropped to fewer than 300 a day. And once the restrictions were lifted the numbers rebounded.
The state argued that citizen initiatives were able to get the necessary signatures to get on the ballot and those groups did not have the option of getting electronic signatures.
Attorneys for the state pointed out that Arizona residents can register to vote in person, over the phone, or online.

The judge did not agree that was enough. In his ruling Logan wrote, "the Court is also cognizant of the large population of Arizona that lacks access to the internet. Registering to vote has never been easier for some, though others are not so fortunate. Ballot access is an extremely important right, and it has been restricted during this unprecedented time."
The state also argued that moving the registration deadline closer to Election Day will make checking a voter's legal residence more difficult. The judge pointed out that Arizona residents must present proof of residency at the polls in the form of a state ID. He also wrote, "31 other states have later voter deadlines than Arizona, many of which allow voters to register when they show up to vote on Election Day."
The state argued that voter registration is significantly higher this year than it was for the last Presidential election in 2016. The plaintiffs countered that the increased numbers are due to more people living in the state and that the percentage of registered voters has not increased significantly.
Mi Familia Vota had asked for the registration deadline to be extended to Oct. 27, but the judge set the new deadline as Oct. 23, the last day voters can request an early ballot.
Secretary of State Katie Hobbs said she will not appeal. However, the Republican National Committee and the National Republican Senatorial Committee did file appeals with the U.S. Ninth Circuit.

Read more coverage of national, Arizona, and local elections at our 2020 elections portal,
Your Vote 2020
.