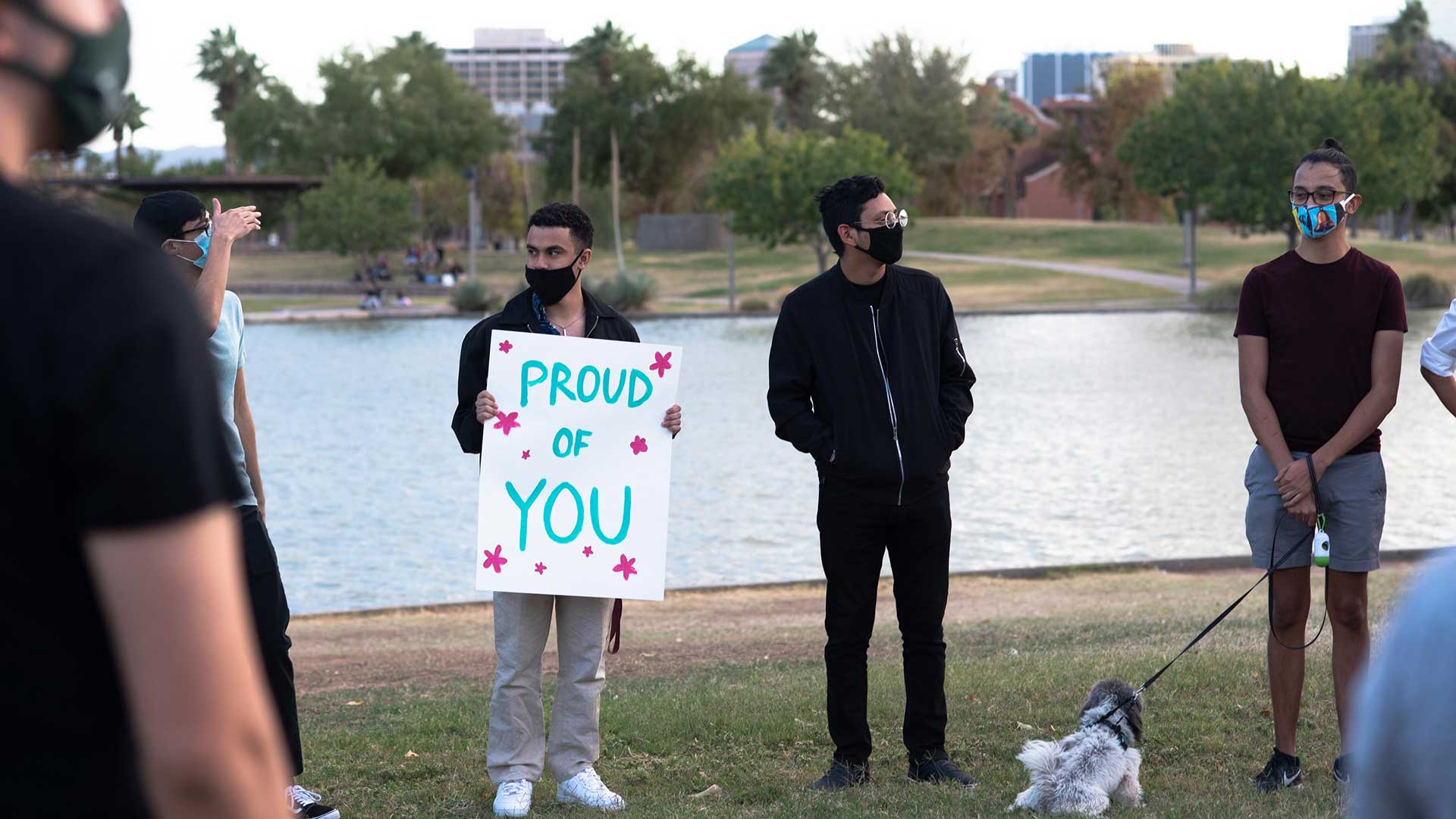 Mixed immigration status students gather in downtown Phoenix for a celebration of Joe Biden's presidential victory on Nov. 7, 2020.
Alisa Reznick/AZPM
A case challenging the Trump administration's efforts to curtail the Deferred Action for Childhood Arrivals program, or DACA, was in court again Wednesday.
This hearing was to decide the next steps of a district court ruling that said changes made to DACA by Acting Secretary of Homeland Security Chad Wolf were unlawful.
In July, Wolf issued a memo barring new DACA applicants and shrinking the amount of time current recipients could retain status to one year instead of two. The memo also limited advanced parole, which allows DACA recipients to travel abroad.
Last week, Judge Nicholas Garaufis ruled those changes were unlawful because Wolf's appointment was unlawful.
But Mayra Joachin, a staff attorney at the National Immigration Law Center who represents the case against Wolf, said the ruling doesn't stipulate whether the government is required to change course now.
"The court was not able to go a step further and say the government is now required to start accepting applications because the statute doesn't provide for relief."
Established by executive order under President Barack Obama, DACA gives some undocumented immigrants brought to the U.S. as children protection from deportation and a work permit.
Almost 700,000 people are DACA recipients today, but an estimated 300,000 more who would have been eligible were blocked from applying when the Trump administration moved to cancel the program in 2017.
This summer, the Supreme Court ruled against those efforts and ordered the program be restored in full. But the Wolf memo introduced new curbs despite that ruling. Joachin said Judge Garaufis' ruling last week was a step closer to changing that.
"The court noted that as a result of the government's failure to start accepting and processing applications based on the 2012 DACA memorandum, the lives of many, many individuals have not had the closure that they might have otherwise had." she said.
In court Wednesday, Judge Garaufis gave plaintiffs until Nov. 24 to file motions explaining the relief they seek. Accusing Homeland Security of "running down the clock" until Joe Biden is inaugurated, he gave the government until Dec. 1 to hand in their opposition.