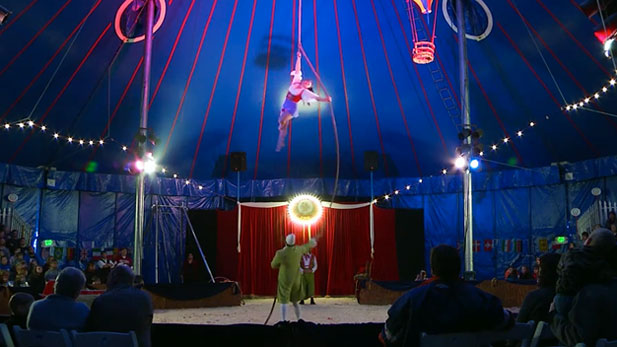 The Zoppé family circus has existed for 170 years. Sixth generation performer Giovanni Zoppé plays Nino the Clown.

AZPM
Giovanni Zoppé is fortunate to be alive after nearly falling to his death in 1990. A crucial mistake on the high wire during his famous clown act sent him tumbling end over end to the center of the ring. After four months in a coma and a painful rehabilitation, Zoppé returned to the ring.
After his father Alberto died in 2009, Zoppé was next in line to lead the Zoppé Family Circus. He is the sixth generation of this troupe of performers; his son Julien extends it to seven. Even with his new role, Zoppé continues to recognize his father as the patriarch.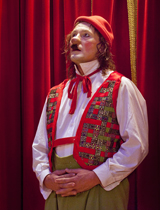 Giovanni Zoppé in character as Nino the Clown (PHOTO: Cooper James)
"The reason why we're doing this is because of him." His father's empty chair sits empty by the curtain entrance during each show. "And that chair has been there every day, every single moment since the day he passed away."
The Zoppé Circus began in 1842, when a French street performer named Napoline Zoppé fell in love with an equestrian ballerina. The pair founded the circus that still bears their name.
The unique old-world traditions of this one ring circus are handed down from generation to generation. Zoppé says that teaching and learning the ways of the circus is an ongoing part of the family's everyday lives.
"We're with our children all day long. Our children are part of our life, continually. When they get up in the morning, the first thing they do is they start playing with juggling clubs or walking on little wires or doing tumbling. That's their games; they play like children play."
UA Presents brought The Zoppé Circus to Tucson earlier this year where they played to sold out crowds. Giovanni Zoppé says they will be back again next year.
AZPM's Mitchell Riley goes behind the scenes for an intimate portrait of Giovanni Zoppé and the Zoppé Family Circus. The still photograph of Alberto Zoppé was taken by photographer Rick Purdue.
Mitch Riley brings us a behind-the-scenes look at the Zoppe family and their circus in Italy that has been existence for 170 years. The seventh generation is now in training. UA Presents brought The Zoppé Circus to Tucson recently. AZPM takes us behind the scenes where we get an intimate glimpse of this multigenerational troupe of circus performers. Giovanni Zoppé who plays Nino the Clown shares his perspectives on life in the circus. Established in 1842, the unique old-world traditions of the Zoppé Circus are handed down from generation to generation. (VIDEO: AZPM)