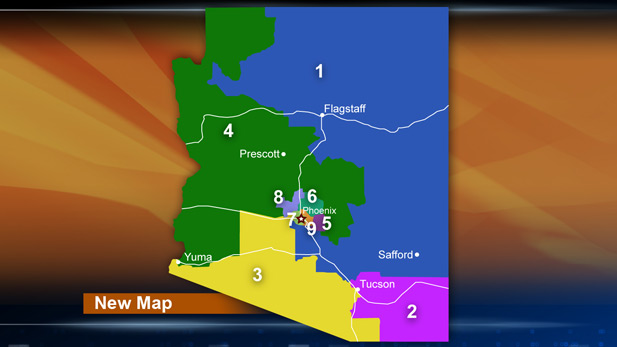 Arizona congressional districts, approved in 2012.
The Arizona Senate Appropriations Committee on Tuesday approved $1 in supplemental funding for the Arizona Independent Redistricting Commission.
Commission officials say they will run out of money on March 16 if state lawmakers don't approve a bigger appropriation.
When the Senate Appropriations Committee took up SB 1533, it was far from smooth sailing.
The original proposal had no fixed amount of money attached, so Sen. Ron Gould, R-Lake Havasu City, amended the bill to put $1 in the commission's budget. He said he couldn't give the commission a blank check.
Senate Republicans have opposed the redistricting commission's makeup and work from its early formation last year, saying it is biased toward the Democratic Party in its decisions, including the drawing of new congressional and legislative district lines.
Listen here:
Commission officials say they are out of money because they have had many legal bills in taking various conflicts with the governor and the Legislature to court. Specifically, the commission went to court over the governor's and Senate's attempt to fire chair Colleen Mathis and over an attempt by Attorney General Tom Horne to investigate it for Open Meeting Law violations.
If the Legislature does not give the commission the money it needs, commission lawyers are preparing to go to court to get it, commission Executive Director Ray Bladine has said.