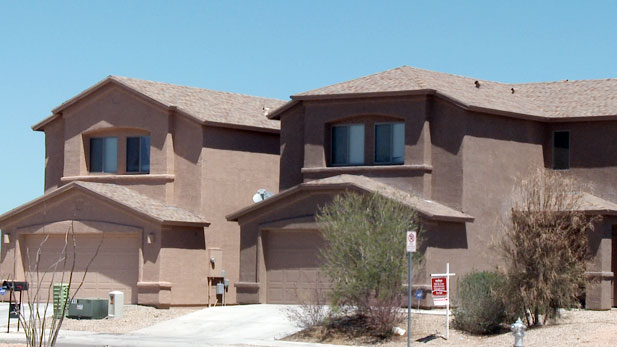 PHOTO: AZPM Staff
Arizona home foreclosures declined sharply in February from the same month a year ago, totaling 9,131, says the monthly report from RealtyTrac.
The report released Thursday shows that February foreclosures in Arizona were 41.0 percent lower in February than the same month one year ago, but 4.4 percent higher than in January. Read the report here.
It also shows that the Phoenix metro area recorded 6,951 home foreclosures in February, a 42.9 percent decline from February 2011. The Tucson metro area had 1,055 February foreclosures, down 36.3 percent from a year earlier.
Phoenix February foreclosures were 4.4 percent higher than in January, and Tucson February foreclosures were up 5.1 percent from the previous month.
Despite the year-over-year decline in Arizona, the worst may not be over, according to the RealtyTrac report.
Nationally, RealtyTrac reported that February foreclosures declined slightly, 8 percent from February 2011, the lowest annual decrease since October 2010. The report also showed one in every 637 U.S. housing units with a foreclosure filing during the month.
"February's numbers point to a gradually rising foreclosure tide as some of the barriers that have been holding back foreclosures are removed," RealtyTrac CEO Brandon Moore is quoted as saying in the company's report. "Although national foreclosure activity was pushed lower by decreases in a handful of larger states, 21 states posted annual increases in foreclosure activity, the most states with annual increases since November 2010."
More states will post year-over-year increases in the coming months, Moore predicted.
RealtyTrac, an Irvine-Calif., company that serves the real estate industry, reported that Phoenix remained one of the worst cities nationally for foreclosures, ranking third among major metro areas with one in every 259 homes in foreclosure. The Tucson area was reported to have one in every 418 homes in foreclosure.
Friday's Arizona Week will cover the Arizona foreclosure and residential real estate scenario in-depth, including interviews with a RealtyTrac executive analyzing the numbers, an Arizona State University professor who studies the industry and representatives of home builders and real estate resale organizations. Watch at 8:30 p.m. MST on PBS-HD6, or online.