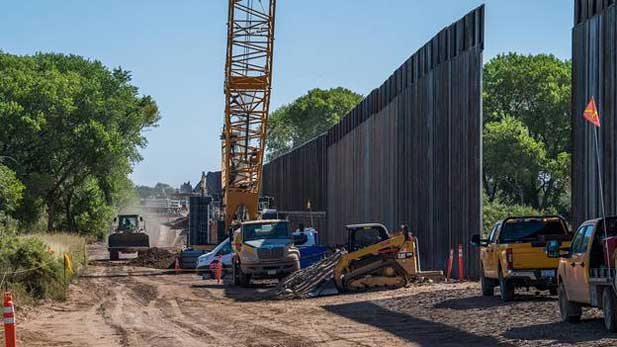 Construction nears the end on the wall section across the San Pedro River in October 2020.

Courtesy Robin Silver.
Last week, Customs and Border Protection Acting Commissioner Mark Morgan said the Trump administration had completed 450 miles of border wall by the end of 2020. And while President-elect Joe Biden has pledged not to build any more, Congress just approved nearly $1.4 billion in new funding for 2021.
The change has a lot of people opposed to the wall wondering what border infrastructure will look like under Biden. Paulo Lopes with the Center for Biodiversity said there's some wiggle room in the details.
"[The bill says] $1.375 billion for, and I quote, the construction of barrier system along the southwest border,"

Unlike in the past, the 2021 bill doesn't use the word "wall." Lopes said that could be an opportunity.
"I think we could argue that converting to a shorter wall such as vehicle barriers would be legal," he said.
The Trump administration's 30-foot, steel bollard wall replaced miles of squat metal vehicle barriers along some areas of the border. Environmentalists say those more permissible to wildlife and water, and could be used in sensitive areas damaged by the current wall.
Lopes said there's still a lot of questions about how and if restoration could happen in environmentally-sensitive areas that were damaged. But if the new Congressional money must be used on construction, he hopes it starts with replacing the wall with something more less destructive.