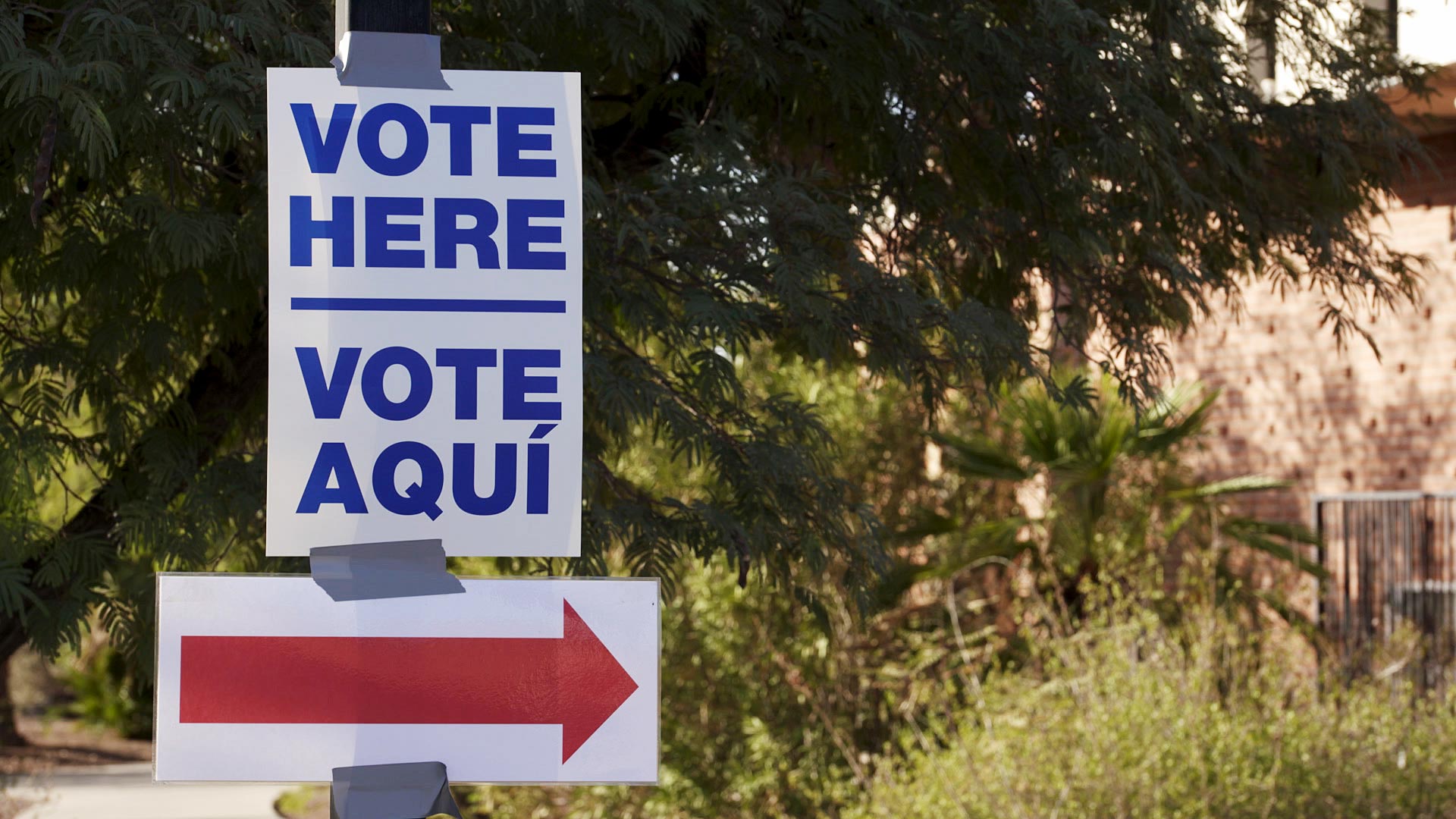 A sign directs voters to a polling site set up at Temple Emanu-El in Tucson on Nov. 3, 2020.
John DeSoto/AZPM Staff
Arizona state lawmakers have introduced various bills this year that would change how residents vote and the state counts ballots. Critics say some are a response to President Joe Biden's win in the state last November.
Julia Shumway is Senate reporter at the Arizona Capitol Times. She said there are an unusually high number of election bills introduced in the legislature this year, even when compared to other post-election years.
Shumway pointed out that support or opposition for most of these election bills is divided along party lines.
Republican state Rep. John Kavanagh drew criticism for his remarks to CNN about how Democrats value the quantity of voters and risk fraud, while his party would rather adopt security measures. He said "everyone shouldn't be voting."
Shumway said that Rep. Kavanagh gave voice to an implicit theme in this year's proposed legislation.
"That is definitely a tension that is under a lot of the bills that we see this year — who should be voting and do we want everyone in Arizona to have the ability to vote and to vote easily?" Shumway said.
In Arizona, voting early and by mail is part of the fabric of the state's elections. According to the Secretary of State's Office, 88% of Arizona residents who voted in the 2020 general election cast their ballots early and most of them by mail.
The pandemic most likely added to the number of ballots cast by mail last year. But in 2018, 80% of ballots in the general election were cast early and in 2016, the year President Donald Trump was elected, 75% of Arizona voters cast early ballots.
The permanent early voting list (PEVL) allows Arizona voters to get an early, mail-in ballot without having to request it for every election, but Republicans in the legislature are trying to change that via a bill that would remove people from the PEVL, if they do not cast a vote in two consecutive election cycles.
Democrats argued that taking people off the permanent early voting list will only hurt turnout.
According to the Pima County Recorder's Office, out of the 451,000 permanent early voters that received ballots in the November 2020 election, 86% of them were voted.
This year's bill proposing changes to the PEVL passed the Arizona Senate on a narrow party line vote. It still faces votes in the House where the Republicans hold a two-vote majority.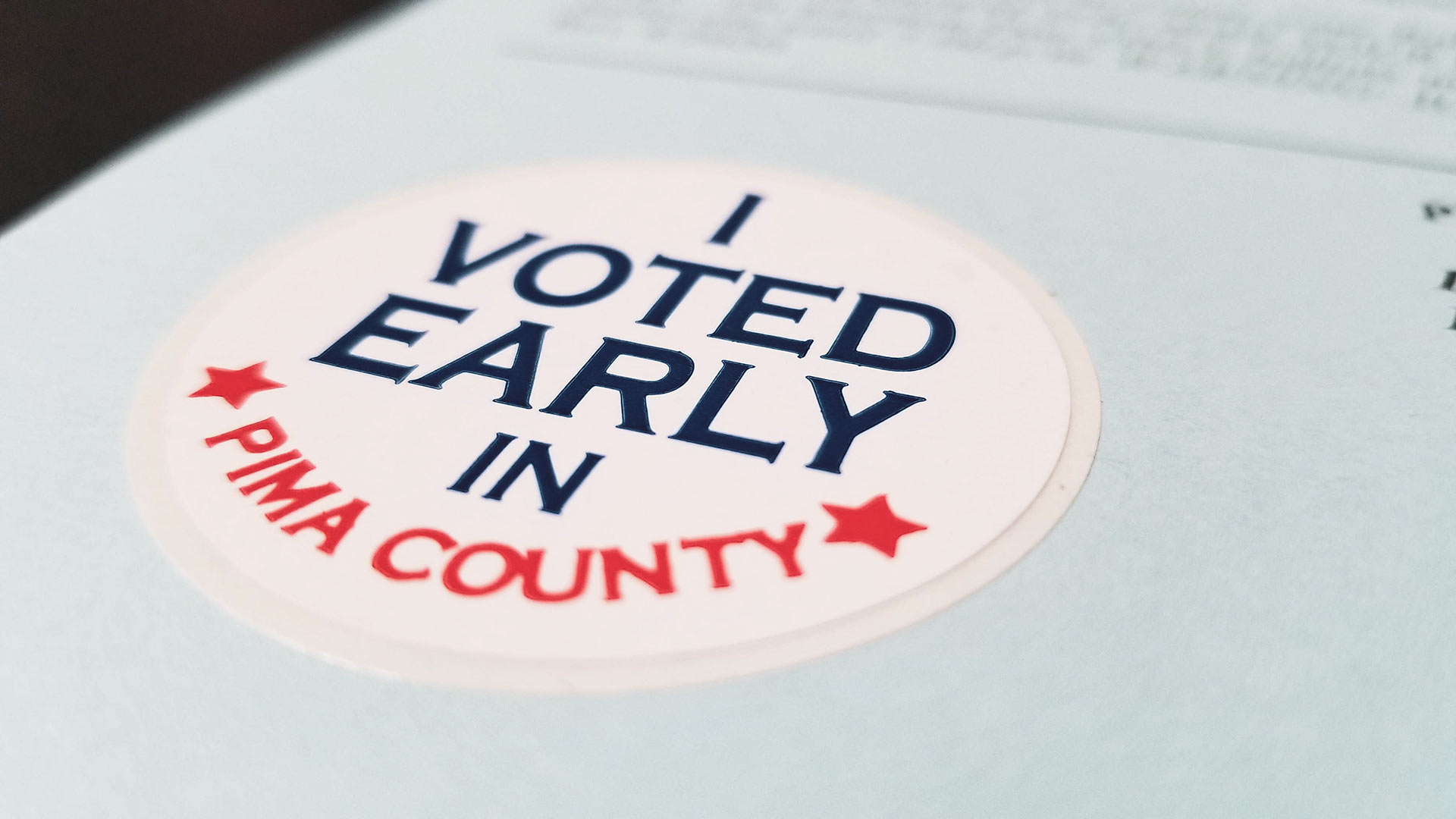 An early voting sticker included in a 2020 election ballot envelope for Pima County.
AC Swedbergh/AZPM
---
There's also a federal effort to widen voting access, known as HR 1. It passed the U.S. House and was backed by Southern Arizona Democratic Rep. Raúl Grijalva. He penned an op-ed in the Arizona Republic urging its adoption, saying it will stop efforts like the ones in the Arizona Legislature by standardizing how federal elections are conducted.

The proposal, which also includes campaign finance reform, faces an uphill battle in the U.S. Senate.
Pinny Sheoran is state advocacy chair for the Arizona League of Women Voters and metro Phoenix president-elect for the league.
Sheoran said that the league's work consists of expanding voter participation through registration, and providing information on candidates and issues. She said it advocates to protect democracy.
She said she sees some of the proposed changes making it harder to vote by mail, adding ID requirements or changing the window in which ballots are accepted.
"We believe every single one of those is a deliberate attempt to make it harder for people to vote," Sheoran said.
Members of the league tend to be very involved with the elections process, Sheoran said, from volunteering at polling places to helping with audits.
"None of the bills that we have been monitoring really address any known problems with elections," Sheoran said.

The Buzz
airs Fridays at 8:30 a.m. and 6 p.m. and Saturdays at 3:30 p.m. on NPR 89.1. You can subscribe to our podcast on
iTunes
and NPR One. See more from
The Buzz
.