Arizona ranked worst in the nation in rate of home foreclosure filings for March, RealtyTrac reported Thursday.
The foreclosure tracking and statistical service, based in Irvine, Calif., said in its monthly report that Arizona's rate moved it ahead of Nevada on the list of worst states for foreclosures.
Nevada had been No. 1 for each of the previous 62 months, extending back more than five years to the beginnings of the nationwide home mortgage and financial crisis.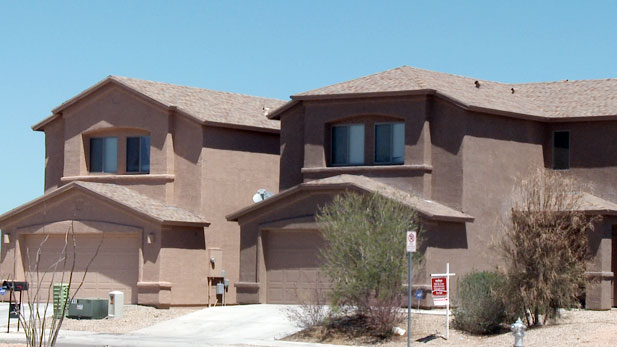 PHOTO: AZPM Staff
Foreclosure filings in March touched one in every 300 Arizona housing units, or 9,497 filings. Nevada's rate was one in every 301, and California ranked third with one in every 303.
March filings in Arizona were 4 percent ahead of February but 39.5 percent below March 2011.
Nationally, foreclosure activity was down 3.9 percent from February to March, with 198,853 March filings. The national rate fell 17.1 percent in March from the same month last year.
"The low foreclosure numbers in the first quarter are not an indication that the massive reservoir of distressed properties built up over the past few years has somehow miraculously evaporated," RealtyTrac CEO Brandon Moore said in a company press release.
Moore warned that while new foreclosure starts were down slightly overall, there is a buildup occurring that likely will be reflected in deteriorating numbers later this year.
"The dam may not burst in the next 30 to 45 days, but it will eventually burst, and everyone downstream should be prepared for that to happen — both in terms of new foreclosure activity and new short sale activity," Moore said in the press release.
Read the full report on RealtyTrac's website, www.realtytrac.com.