Ron Barber spent five years watching Gabrielle Giffords represent Southern Arizona's Congressional District 8. And after she resigned in January, Barber says, it felt natural to run to replace his former boss in the nation's capital.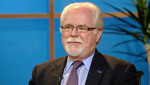 The decision to run for the open seat in CD8 did not come without consultation, though. Barber says he sat down with his family and doctors before deciding to enter the race. He also heard from his former boss, who encouraged him to run.
Giffords and Barber were wounded in the Jan. 8, 2011 shooting on Tucson's northwest side in which six other people were killed and another 11 wounded. Giffords resigned to recover from the debilitating effects of a bullet wound in the head. Barber's wounds also were critical -- he was near death at the hospital -- but because he wasn't hit in the head, his mental faculties were unaffected.