Local Republicans, including former Tucson Mayor Bob Walkup, former state Rep. Peter Hershberger, builder John Wesley Miller, and Tucson City Councilman Steve Kozachik, are backing the campaign of Democrat Ron Barber to complete U.S. Rep. Gabrielle Giffords' term.
Barber, Giffords' district director since 2007, was twice wounded in the January 8, 2011 rampage that left Giffords seriously injured.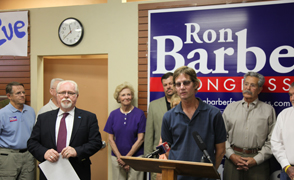 Kozachik, who has spoken out against his party before, said it should not be seen as naïve that a politician crosses the political aisle to get things done. And he isn't alone: in all, more than a dozen Republicans have thrown their support behind Barber.

One of those backing the campaign is Bruce Dusenberry. His support is of particular note because he was a financial backer of Dave Sitton in the Republican primary for CD 8. A review of campaign finance records shows that Dusenberry does have a long history of giving to both Republicans and Democrats.