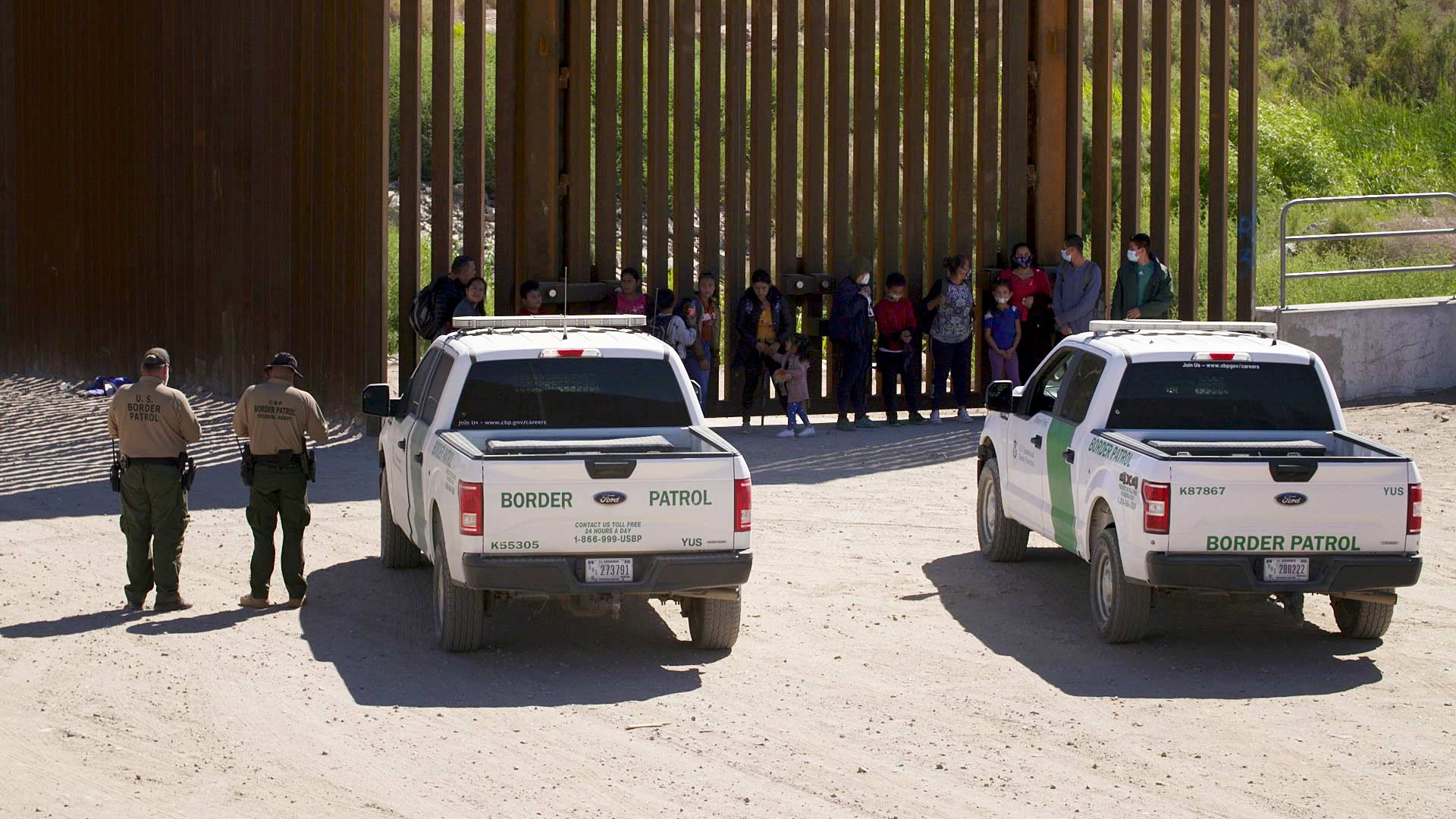 A group of migrants and Border Patrol agents along the border fence in Yuma County. June 2021.
Nate Huffman/AZPM News
This week the Biden administration announced it is renewing Title 42, the public health protocol that allows Border Patrol agents to send migrants back across the border to Mexico almost immediately.
That news got a swift response from the ACLU, which says it's resuming a lawsuit against the policy.
Title 42 was enacted by the Trump administration at the onset of the pandemic in March of last year. Federal officials said it would help curb the spread of COVID, but human rights advocates argue the policy essentially closes the border to asylum and leaves migrants stranded.
Stephen Kang with ACLU said his organization first sued to stop the policy in January, arguing it used the guise of a public health protection to sidestep immigration law and asylum obligations, but agreed to put the case on hold when the Biden administration asked for negotiations.

"And so we've basically been in those talks for 6-7 months and they've been extensive negotiations," he said. "But the parties have now reached an impasse, and our view was that we had no choice but to restart the litigation."
Unaccompanied children and some families are no longer subject to Title 42 under Biden. Kang said the current ACLU suit looks to end its use for all migrant families.
Title 42 suit

View at Google Docs
|

Download File
"I think we're going to do our utmost to move that injunction as fast as we possibly can, given the urgency that's being faced by families on the ground," he said.
More than 900,000 removals have been carried out under the policy since its implementation.
Dora Rodriguez, an aid worker in Tucson who makes weekly trips to different ports across Arizona, said many are still in ports like Nogales, Sonora. More are returned there everyday.
"Hundreds and hundreds and hundreds of people waiting to see if someone's going to listen to their case, overwhelming shelters... there's not enough services for these people," she said.
Rodriguez said an aid group called the Kino Border Initiative is serving meals to some 800 people. The San Juan Bosco shelter, one of the largest in Nogales, is regularly well over-capacity. The facility received 380 people in a single night last month.
An order out this week from the Centers for Disease Control Prevention says Title 42 is still needed to safeguard public health. Its next review is in 60 days.
Seven migrants tested positive in the San Juan Bosco shelter in Nogales, Sonora. The shelter received 380 people last night, @barron_cesar reports. https://t.co/S7MlJdQ1vw

— Kendal Blust (@ktblust) July 30, 2021