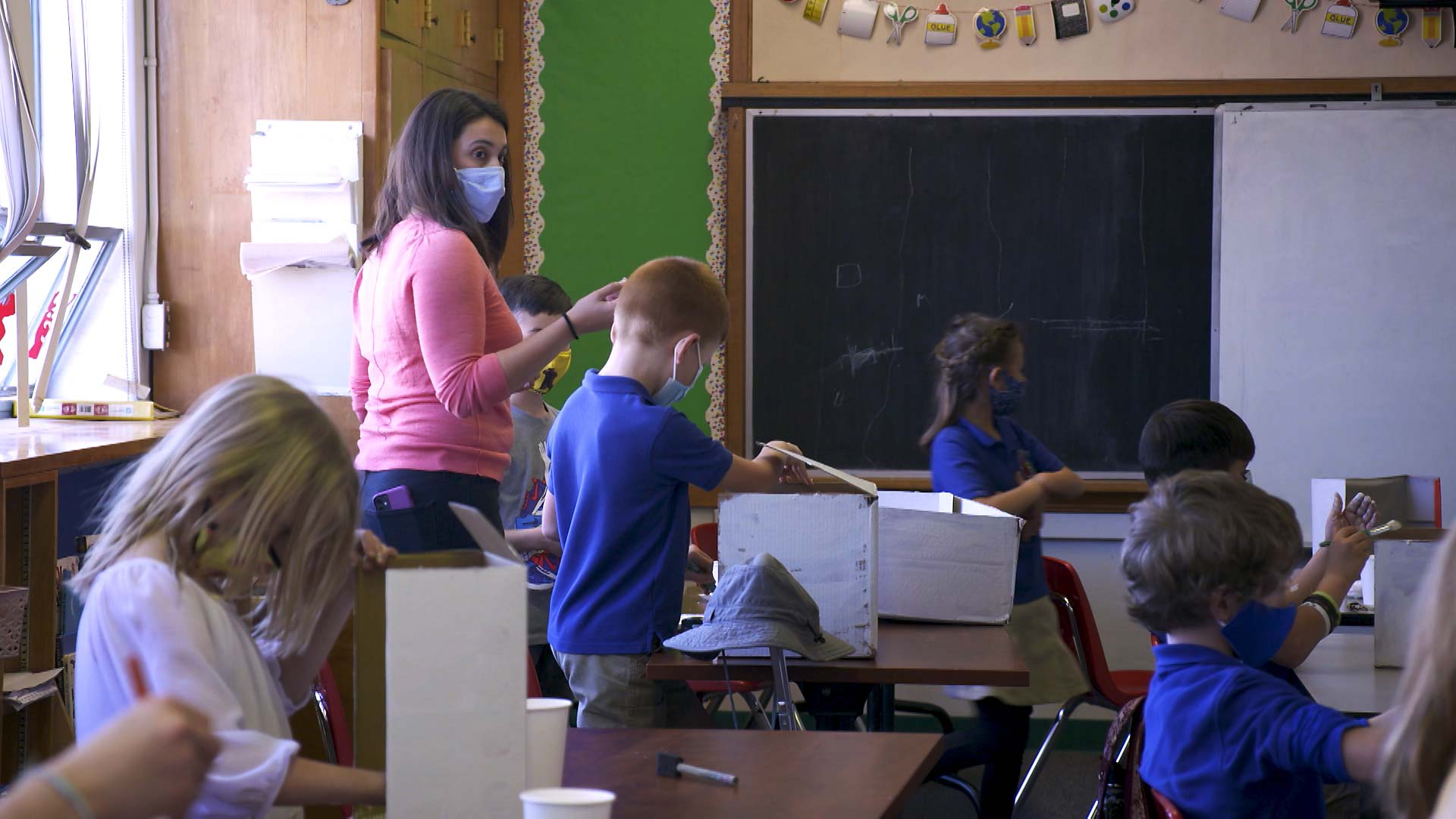 A teacher and students all wear masks while in the classroom at the International School of Tucson. February 2021.
AZPM Staff
Two more Tucson area school districts are requiring masks indoors starting Tuesday amid an increase in COVID-19 cases.
Amphitheater Public Schools and Catalina Foothills School District announced the change in policy after a court in Phoenix upheld a similar measure on Monday.
Though the Arizona Legislature voted this year to ban schools from adopting such policies, a Maricopa County Superior Court judge confirmed the ban does not take effect until September 29.
"We understand that masks are a hot topic and even a divisive issue, and I have certainly received many differing thoughts on the matter," Amphitheater Public Schools Superintendent Todd Jaeger wrote in a letter to parents and staff. "At this point, the steep increase in cases, coupled with the current and clear balance of public health guidance, instructs us that the best way to ensure we can keep students and staff in class, learning to their best ability, is to require masks so long as the law allows and/or until our community spread and cases in schools are well-managed."
Further south, the Nogales Unified School District announced it would also require masks on campus until further notice.
The district said a survey of parents and families found 87.6% supported requiring masks. The district said 90% of staff also favored the idea.
Meanwhile, Governor Doug Ducey announced Tuesday that $163 million in grants for schools will only be awarded to districts that follow the new ban on school mask requirements.
The Pima County Health Department reported Tuesday that there has been a threefold increase in the number of COVID-19 cases in the past two weeks.
The department said it is seeing an increasing number of pediatric cases where COVID-19 is seriously affecting young children.
Hospitals are also seeing more patients who are sick for reasons besides COVID-19, leading the county to warn in a new public health advisory that hospital capacity is "stretched very thin" and "a growing cause for concern."
Arizona health officials reported 2,661 new cases of COVID-19 across the state on Tuesday and three new deaths.
The number of hospital beds occupied by COVID-19 patients also continued to climb, reaching 1,704 as of Tuesday -- the highest level since mid-February.
Credit: Nick O'Gara/AZPM. Sources:
The New York Times
, based on reports from state and local health agencies, Census Bureau. Case reports do not correspond to day of test.