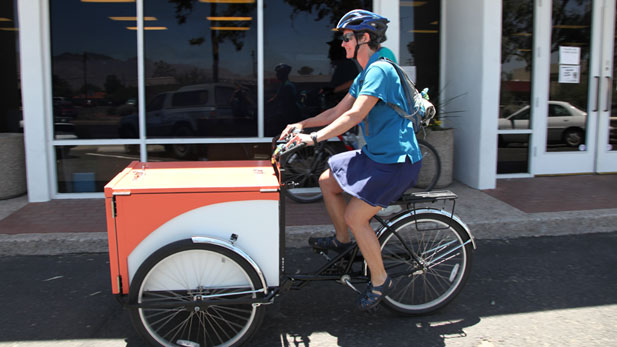 Librarian Sandy White rides the Pima County Public Library's Boobike

Robert Rappaport
The Pima County Library's Bookbike is rolling around Tucson, handing out free books to anyone who wants them.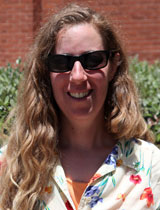 Karen Greene is Adult Services Librarian for the Pima County Public Library (PHOTO: Robert Rappaport)
"The Bookbike is an adult, three-wheeled tricycle that has a specially-created box in the front. When you open it up, it has bookshelves and it can hold hundreds of books," says Adult Services Librarian Karen Greene, who modeled the program after one she first heard about in Chicago. "We take the Bookbike out to different locations to give away the books, to give away library cards, to give out information about library programs and literacy projects, as well as bike maps and bike programs," she says.

The Bookbike, which weighs about 200 pounds when fully loaded, always has a volunteer with the librarian on duty.

"I find the whole process gratifying, of assisting people with information," says Steve Zupcic, who volunteers with the program. "The kids find this really valuable that somebody is giving them something they could be interested in."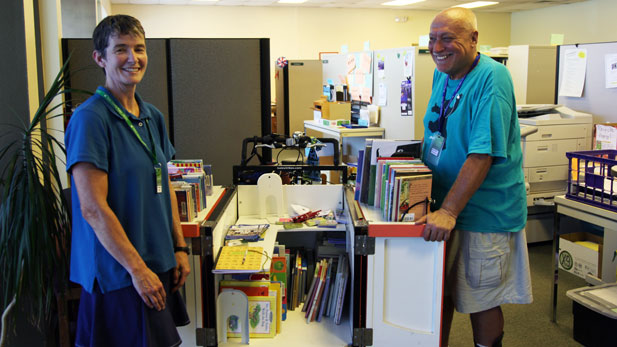 Librarian Sandy White and Bookbike volunteer Steve Zupcic hand out free books during a recent visit to Literacy Connects.

Robert Rappaport
People have different reactions to the Bookbike, often wondering if the donated or library-retired books are indeed free. When those people learn there's no catch involved, they lighten up a bit and start browsing the cart.
"I think it's a great idea," says Dwight Greene, who was leaving the Himmel Park Branch Library while the bike was parked out under a tree in front of the building. "Anything that brings literacy to the public…is one of the best things."
Sandy White, Managing Librarian at the Flowing Wells Branch Library, is a frequent rider of the Bookbike, which launched earlier this year. When somebody takes a free book, they are offered the opportunity to sign a guestbook, she says. One of her favorite notes:
"It's nice that they donate books to us. I hope something good happens to you for being so nice."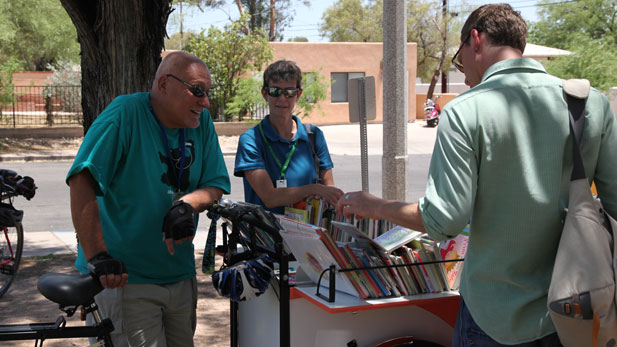 The Pima County Library's Bookbike visits Himmel Park, in front of the library.

Robert Rappaport
Haley Tricycles of Philadelphia built the Bookbike, at a cost of $2,500. The money came from a one-time grant from Arizona's State Grants in Aid program.