Chick Arnold has been worried for a while now.
The Phoenix-based attorney has stood watch over Arizona's mental health landscape since the 1970s, seeing it grow and change as lawmakers and budget crises came and went.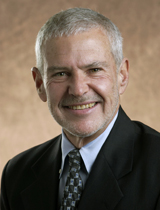 Phoenix-based attorney Chick Arnold filed a class-action lawsuit that has become the basis of Arizona's behavioral health system. (PHOTO: Courtesy of Chick Arnold)
In 1979, while Arnold was serving as the guardian of 600 people with serious mental illnesses, he drafted a statute that required the state to provide community-based behavioral health care. When the state failed to provide those services, Arnold filed a class-action lawsuit on behalf of seriously mentally ill Arizonans, known as Arnold v. Sarn.
The suit, filed in 1981, became the basis of the state's behavioral health system.
In the past four years, Arnold has seen that system lose about half its funding—more than $60 million—and a number of important services for patients who don't qualify for the state's Medicaid program.
Two years ago, the state also suspended Arnold v. Sarn. It's been a difficult ride, says Arnold, for patients, their families and the stewards of the system.
"I think the people who run our system are good people trying to do the right thing," he says, "but they're constrained by finances and the state government's philosophy."
Now some of those constraints are set to slacken, if only slightly.
Gov. Jan Brewer's proposal to restore $39 million in behavioral health funding survived budget negotiations in early May, and a new agreement over Arnold v. Sarn was signed just two weeks later.
But what will the turnaround mean for patients? Even the Arizona Division of Behavioral Health isn't sure.
"We're not just reinstating the services that were cut back just like that," says Claudia Sloan, a spokeswoman for the Division. "This is an opportunity to innovate and be creative."
To do so, the Division is meeting with patients, families and health care providers across the state, listening for the services they have most needed during the cutbacks. With less money to work with than has been cut in recent years, the Division is forced to pick and choose based on sometimes conflicting feedback.
Sloan offers an example: case management. Along with access to brand-name medication, housing and transportation support and vocational therapy services, case management was lost when legislators last slashed the mental health budget.
Some patients have said they've suffered without case management, while others feel they have become their own case managers and found more independence as a result, Sloan says.
To compromise, the Division may restore case management for some patients and not others; housing and employment support, respite care and some medications may also be restored.
"We're listening and we're taking this very seriously," says Sloan, whose Division must decide on service and policy changes in time to implement them July 1st.
The Regional Behavioral Health Authorities (RBHAs) that actually administer behavioral health services will then put the changes into practice.
"We're going to try to make this money go as far as we can," says Neal Cash, CEO of the Community Partnership of Southern Arizona, the RBHA serving Pima County.
CPSA serves more than 30,000 people, and will receive 23 percent of the restored funding. Cash says the infusion is "wonderful," but will nevertheless preclude some key services.
"We still won't have inpatient benefits, therapy, or residential treatment," Cash says. "This isn't a magic bullet, but it's a tremendous step in the right direction."
But the new Arnold v. Sarn agreement may not be, says Arnold.
"The new agreement just pushes the can down the road," he says. "It puts off developing requirements for the state because they want to wait and see what happens with the federal health care plan."
In the meantime, the state and the plaintiffs in the case must agree to standards of care and measures to monitor the state's performance. That's where Arnold wielded the greatest influence—an influence he didn't expect to have.
Just a week before the agreement's signing, Arnold got a phone call.
It was Anne Ronan, an attorney for the Arizona Center for Disability Law who now represents the plaintiffs in Arnold v. Sarn (Arnold was involved until the suit's suspension two years ago).
There's a new agreement on the lawsuit in the works, Ronan said, and the governor, who is a friend of Arnold's, wanted Arnold to support it.
"I said, 'Send it to me. I need to see it first,'" Arnold recalls. "And then I wasn't able to support it, because it said the health department would provide its own monitoring. I don't have confidence that the health department can monitor itself."
Arnold refused to back the agreement unless it provided for independent review of the state's performance in meeting the needs of its mentally ill residents. The agreement was redrafted the night before the signing to win over Arnold's approval, and he was there on May 17, standing alongside the signers.
Now he, like the state's residents and health care providers, is waiting to see what the change will mean for the people who need it most.
"It's going to be an interesting few years for our state's mental health system," he says.
In this web exclusive, Neal Cash discusses the impact of recent budget cuts on mental health care in Pima County and how his organization has weathered the storm: