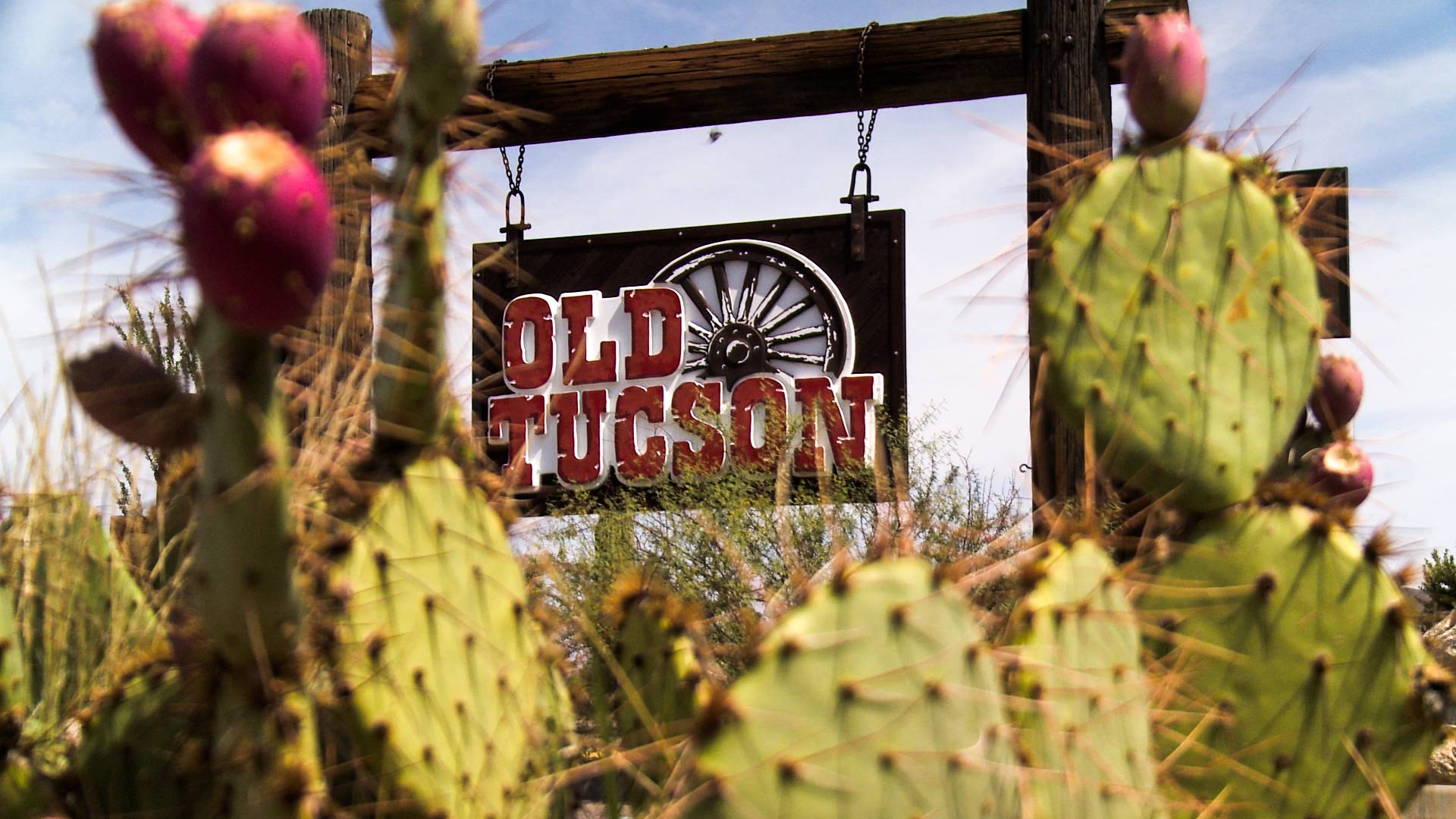 The sign for Old Tucson.
AZPM Staff
It was big news when the HBO series Duster announced it would film in Tucson.
It was also big news when it announced it would pack up and move to New Mexico.
While New Mexico offers generous incentives to filmmakers, Arizona does not.
But state Sen. David Gowan, a Republican from Sierra Vista, is proposing to change that. He is sponsoring Senate Bill 1708, which would give qualifying productions 15-20% tax credits and get production facilities built in the state.
"We know New Mexico gets a lot of filming because they have bills in place to do this. The state of Georgia — even Oklahoma is doing this now," said Peter Catalanotte, director of Film Tucson. "The thing that makes this bill a little bit different is it creates an infrastructure component, which encourages developers to come in and build sound stages and post production facilities. And in this way, it's a bill that creates brick-and-mortar jobs."
Catalanotte said Tucson mostly attracts reality TV shows these days, along with fashion shoots, commercials, music videos and independent films that are not relying on incentives.
"If we want to get an entire film or an entire TV series, we have to get incentives. It's how the game is played," he said.
But Tucson has a rich film history.
"There were some really interesting movies that used — and this would be in the early 20s — downtown as an exterior location and used Teatro Carmen on Meyer Street as an interior filming location, all the way back in the mid to late 20s," said Dr. Jennifer Jenkins, associate professor at the University of Arizona and author of "Celluloid Pueblo: Western Ways Film Service and the Invention of the Postwar Southwest."
Still, the golden age of film in Tucson really began in the region's boom after World War II and would include a slew of Westerns shot at Old Tucson, she added.
The attraction is obvious for Alex Cox, director of films including Repo Man and Sid and Nancy.
"The state — not even just the south but the state itself — has so many diverse looks that you can shoot just about any part of the United States or North America and shoot it in Arizona and pretend you're in the big city, or the desert, or the mountains, or a cornfield," he said. "It can be found. Maybe not a beachfront. Maybe not the waterfront. But everything else."
Andrew Jara at Film Las Cruces said the same of New Mexico, though.
"There are so many different terrains. If you need snow, you can go up to Santa Fe. Of course, we have the desert," he said.
Perhaps the biggest difference for filmmakers: incentives.

The Buzz
airs Fridays at 8:30 a.m. and 6 p.m. and Saturdays at 3:30 p.m. on NPR 89.1. You can subscribe to our podcast on
iTunes
and NPR One. See more from
The Buzz
.