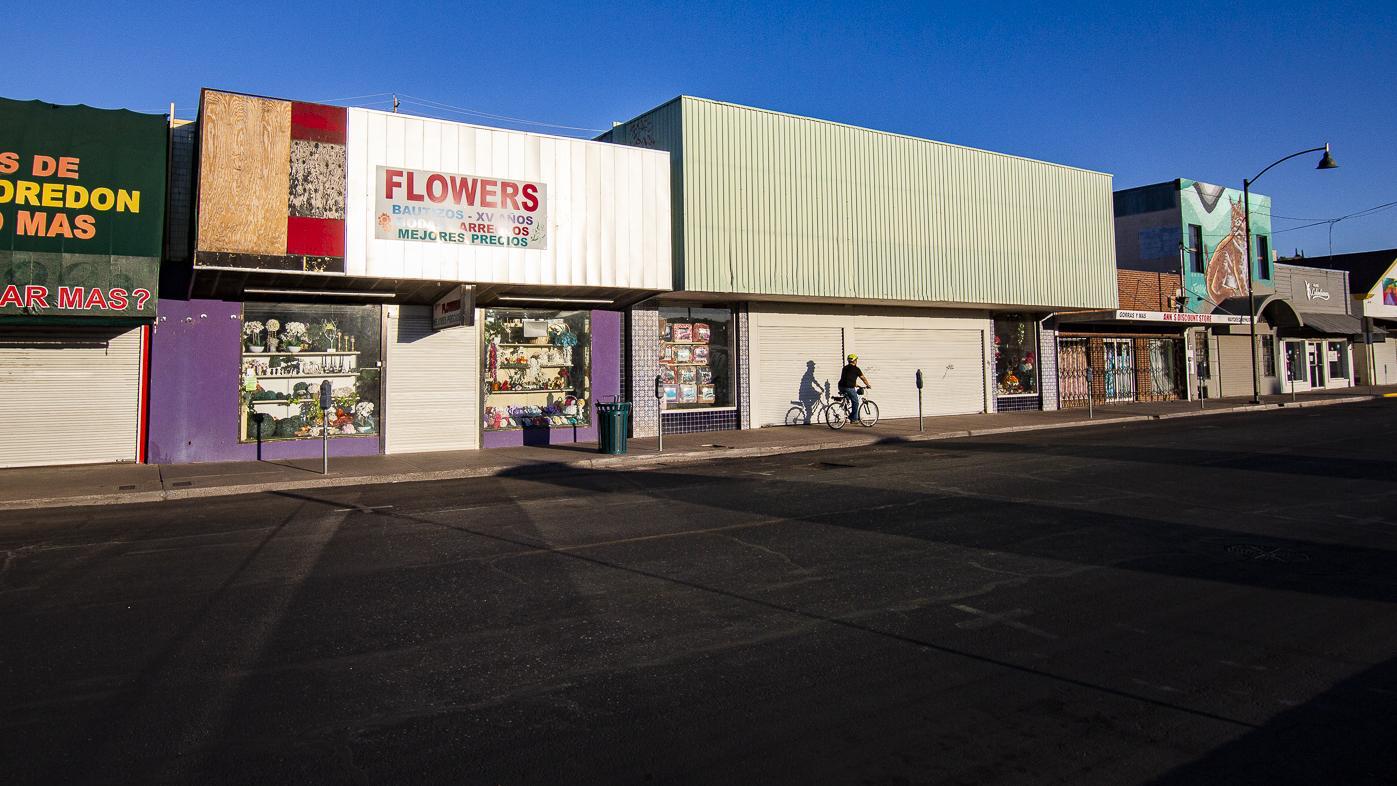 A bicyclist rides along Morley Avenue in downtown Nogales, Arizona, on a recent weekday afternoon.
Murphy Woodhouse/KJZZ
The pedestrian port of entry on Morley Avenue in downtown Nogales, Arizona, was shuttered and silent for nearly two years — from March 2020 until November 2021, when restrictions on so-called nonessential northbound border crossings were finally lifted.
On a recent weekday, a slow but steady stream of people was making their way through the turnstiles and into the United States. Many — like Nogales, Sonora, friends Graciela Perez and Victoria Salazar — were crossing from Mexico to shop along the avenue, the Arizona border city's historic heart of retail.
"In pajamas," Victoria joked about how she spent much of the pandemic.
"In pajamas, and shut in," Graciela echoed, adding that "there was no way to cross over here."
Before the restrictions, Victoria says she crossed upwards of three times a week, to shop for clothes and do errands of all kinds. Asked why so often, she pointed to a discount rack sporting dresses, shirts and other items, all $1 a piece.
"Look at the price," she said, before both broke into laughter.
"That says everything," Gabriela added.
A mural on Morley Avenue in Nogales, Arizona. With new grant funding for a number of local nonprofits, some hope to create an informal downtown arts district.
Murphy Woodhouse/KJZZ
A final blow
For years, stores along Morley and elsewhere downtown have catered to shoppers walking across from Mexico, like this lighthearted pair. That model was struggling before the pandemic, and nearly 20 months of one-way crossing restrictions were a final blow for many who depended on it.
Even with the restrictions lifted, Victoria said she's crossing far less — about weekly — and is now used to getting what she needs in Sonora. And with so many stores still closed on the Arizona side, Graciela chimed in that it's a long walk to find what you're looking for.
Federal data suggest they are not alone: While vehicle crossings through Nogales are up, pedestrian crossings are still lower than pre-pandemic figures. This April, the most recent month available, fewer people walked across than in April 2021, months before restrictions even ended.
'Not 100%'
Sales have "been increasing, but not to 100%," said Margarita Bolivar, a manager at the children's clothing store Kids Club, just a short walk from the port of entry.
At best, they're around 70% of pre-pandemic levels, and she doesn't expect a full recovery for a couple years. In addition to the factors behind lower crossings cited by the two friends, Bolivar said that many of her customers have said they're crossing visas have lapsed and they've had trouble renewing them.
Despite the challenges that her shop is facing, she said there's potential for downtown. Many of the stores that remain sell the same sort of things, but she thinks different businesses could thrive, and for her the prospect calls to mind the more bustling, dynamic Morley of her youth.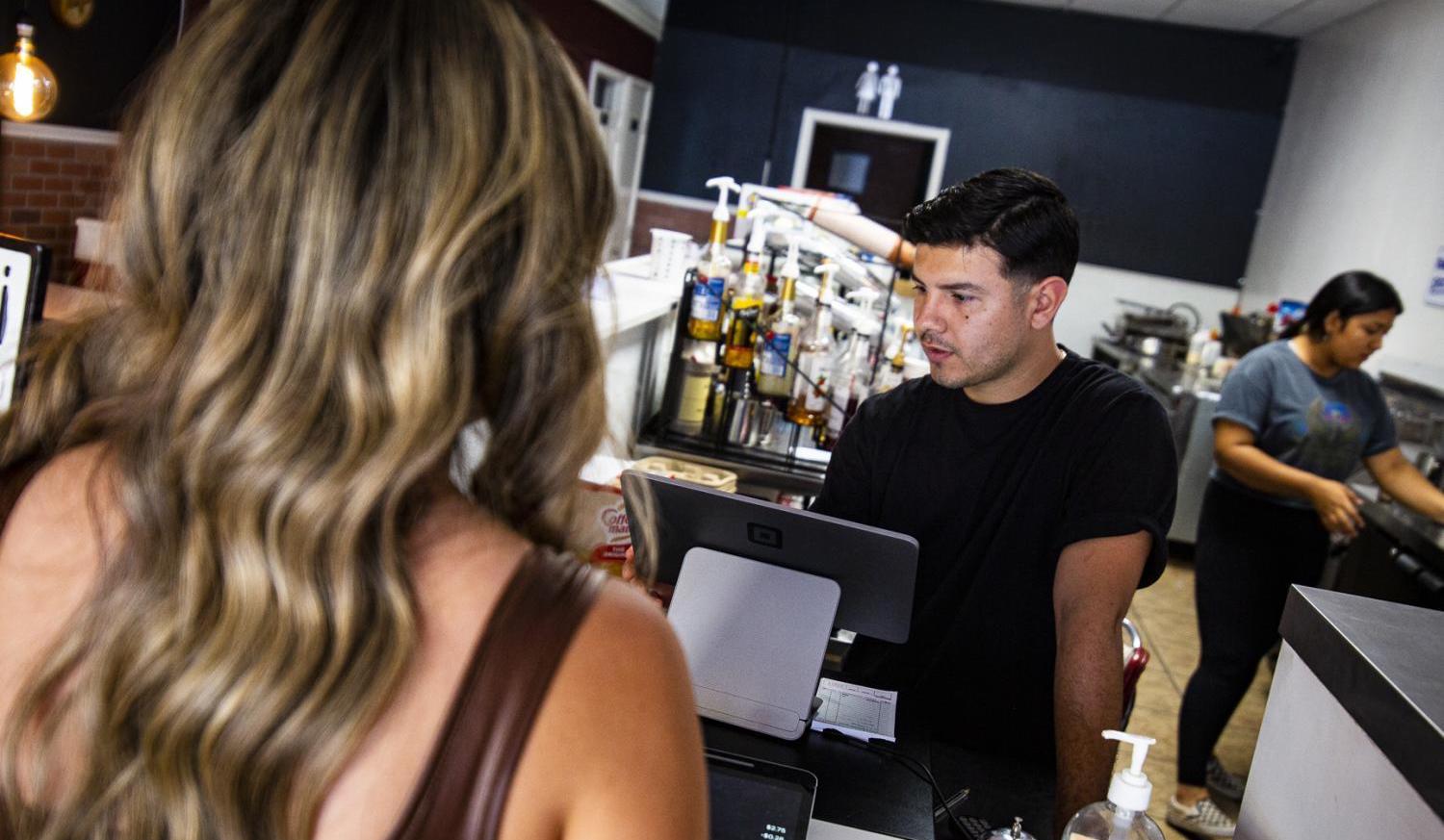 Moqah Coffee & Beyond owner Francisco Ruiz takes an order.
Murphy Woodhouse/KJZZ
'Just do it!'
Around the corner on Morley, the new café Moqah Coffee and Beyond is doing steady business. A coffee shop may not seem like much of a novelty, but for a downtown long dominated by retail, it very much is.
"So many businesses of the same stuff closing down, and now having all of these available buildings for rent and stuff like that, I think it's opening doors to new opportunities, to different business opportunities to what we're used to," said owner Francisco Ruiz.
After a bumpy start at another downtown location that didn't pan out, Ruiz said Moqah's clientele is now growing steadily. But that's not the only attention it's attracting.
"There's been a lot of people, a lot of people interested," he said. "They come here, and ask me, 'hey, how do you do it over here? How difficult is it to open up a business over here? What if I wanted to open up a bar? What if I wanted to open a pizzeria?' You know what man, it's always going to be difficult, just do it! I'm trying to encourage people to open more businesses over here."
Many of Ruiz's friends left the border town to seek their fortunes in bigger Arizona cities or beyond. But with historical charm, and Mexico just a few steps away, Ruiz sees the possibility of something like a Bisbee, or a Tucson Fourth Avenue taking root here, and drawing people from both sides of the border.
"I want to stay here forever, and see that change, be able to see the changes in this street. I want to see new businesses opening up every month," he said. "I want to be here when that happens."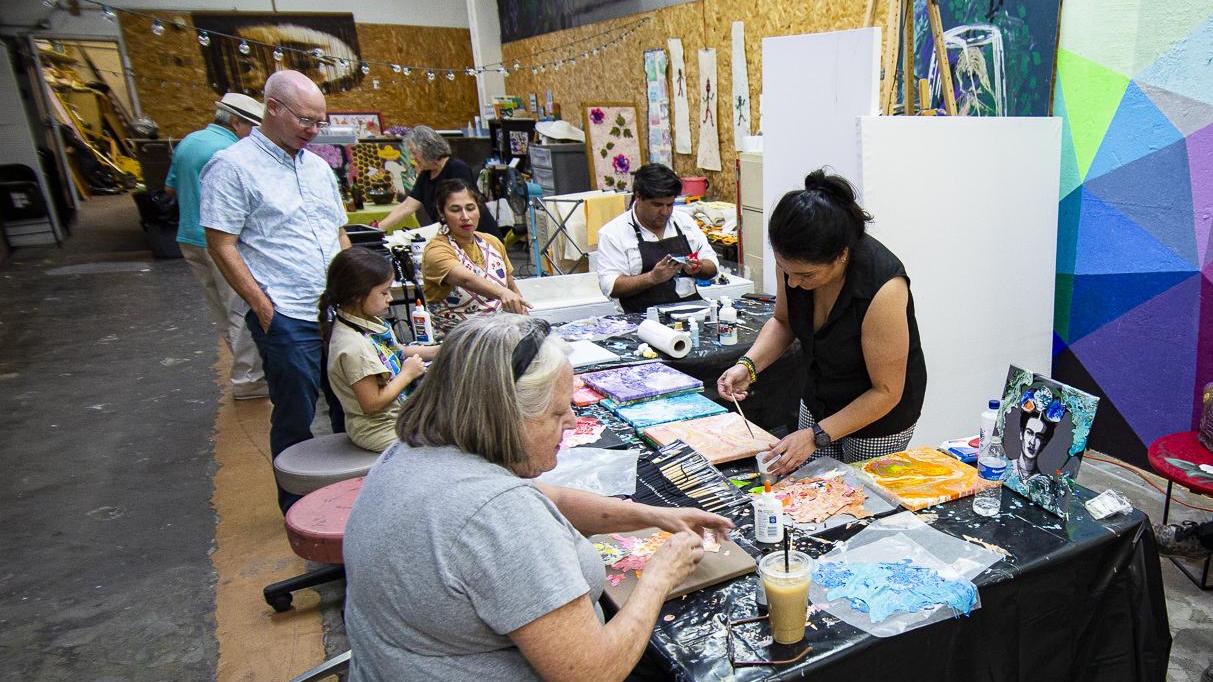 Every month. the downtown Nogales, Arizona, arts studio La Línea holds an open studio night, where members of the community are invited to enjoy out music, workshops and other activities.
Murphy Woodhouse/KJZZ
Reinvest in downtown
Across the street at the La Linea gallery and art space, local, binational band Los Nasdrovia was warming up for the monthly open studio night.
"They say we are a soft rock band. I say the same because after they told us that I realized it was true and I liked it. It's OK to be soft, right?" said lead singer and guitarist Kevin Martinez.
Aissa Huerta, the studio's director, said the inspiration for La Linea — or the line, a common term for international boundary — was the concertina wire strung up on the border wall by the federal government in 2019. Many felt it sent an ugly, unfair message about the community.
"A lot of people were coming from other areas in droves, to take tours, to just kind of come and gawk at the wall and how atrocious it looks, and how dangerous this community must be that it has to be so heavily protected," she said. "In the process of having the studio we've really given artists and local people an opportunity to rewrite that narrative."
La Linea has also come to serve as an informal hub for new ideas for downtown and has helped organize outdoor movie screenings and exhibitions, regular events that give "a lot of people opportunities to kind of reinvest themselves in this area of town," Huerta said.
And recent federal funding for a number of local nonprofits is opening the door to what could be an informal downtown arts district, according to her and others involved.
"I think we've suffered a lot as a community and there's been a lot of losses and a lot of devastation for small businesses," she said of the last few years.
Now, at least, there's also much to look forward to.

Fronteras Desk
is a
KJZZ
project covering important stories in an expanse stretching from Northern Arizona deep into northwestern Mexico.