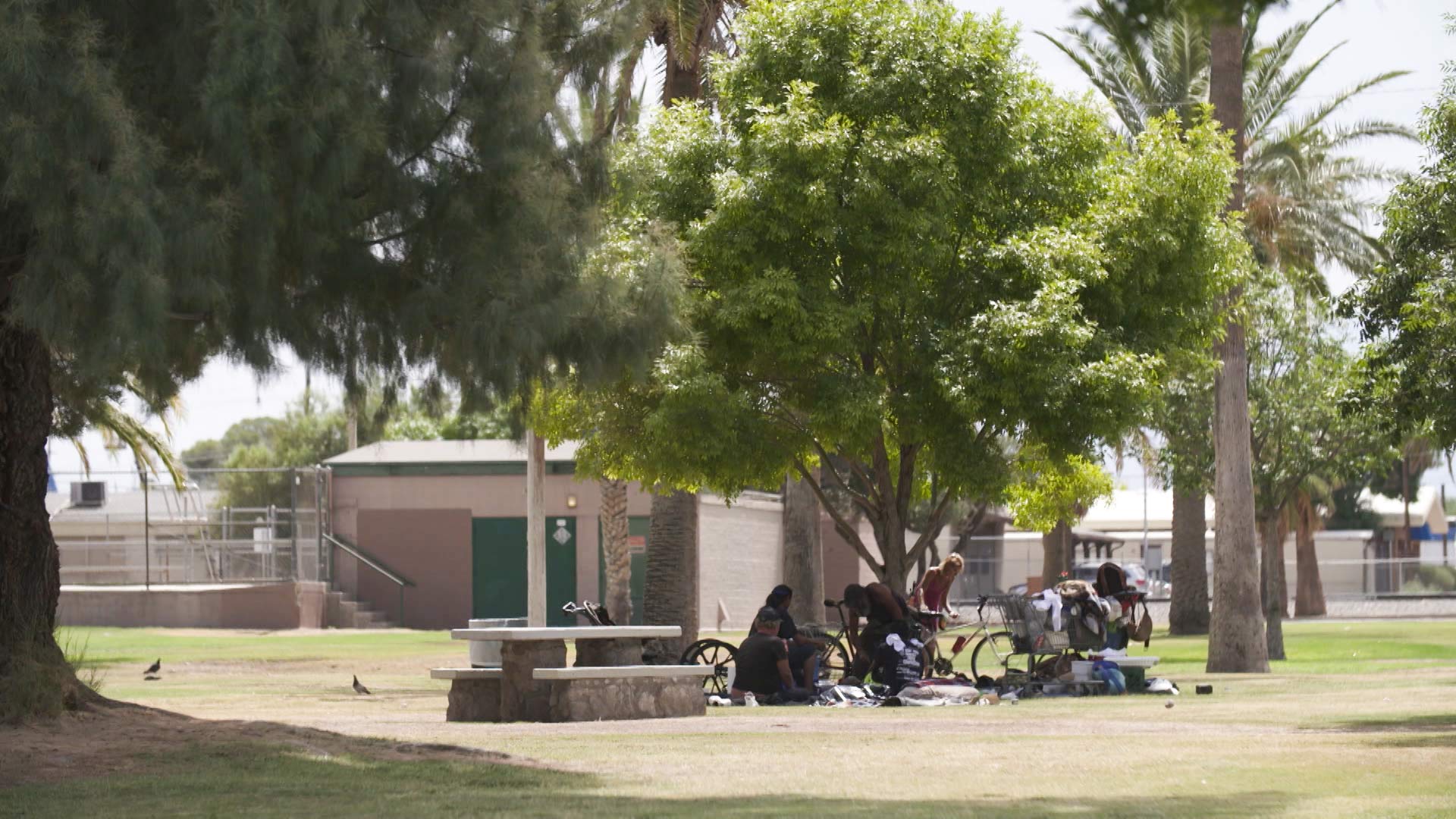 A group hangs out in the shade in Santa Rita Park in Tucson.
AZPM Staff
While an exact number of unhoused people in southern arizona is hard to establish, many will say the population is growing
Issues such as increased housing costs and substance abuse are commonly blamed as the cause, and many residents routinely complain of encounters with unhoused people that range from less-than-pleasant to dangerous and warranting intervention by law enforcement.
Such encounters led to the founding of Tucson Crime Free Coalition, a group whose leadership includes engineer Kevin Daily and restaurateur Josh Jacobsen.
"Our elected officials did not have a plan and do not have a plan to deal with the humanitarian crisis that's happening on the street," said Daily. "The fentanyl situation is something we've never seen before. I started asking questions of our city leaders back in June, and everyone just kind of looked at each other and said, 'we're doing this. We're doing that,' but it was all silos."
"We've got people that come in and they might be urban camping nearby, and they make demands or they get combative," said Jacobsen, referring to instances he has dealt with at his restaurants. "I personally have been assaulted by people when I ask them to leave the property. I've got a manager that's been assaulted. We've got theft of utilities that's going on. Business owners are very concerned about the environment that they've got for their employees, for their customers, for their assets."
The group has pushed for a number of proposals, including one that was recently adopted by the Pima County Board of Supervisors. The county will adapt a currently-vacant building into a space that will allow for an increase in pre-trial and probation services.
The hope is that the new center will encourage law enforcement officers to resume making more arrests for illegal acts, and the new center will give those alleged to have committed crimes access to treatment.
"It gives a secure place for people to get treatment options for those that want them because there's a lot of people on the streets who want treatment," Josh Jacobsen. "They just don't always know about how to go and get it."
Or, Daily said, they can choose another option and go into the county jail next door.
This proposal became a talking point at a recent Pima County Board of Supervisors meeting, and was subject of a vote that saw some ideas pass unanimously.
The seven-point proposal that sparked discussion and a vote was put forward by Supervisor Rex Scott.
"If we're going to address these issues, then we need to address them in a holistic way and really get into all of the different areas that come up when you're talking about both crime and homelessness," he said.
The proposal included TCFC's recommendation about using an unused building at the Pima County Jail complex to house increased pretrial and probation services.
"One of the responses that [TCFC] were hearing from people in law enforcement is that there is just not enough available in terms of pretrial and probation services," said Scott. "What we're hearing from the community is that we need to address the burgeoning issue of homelessness, but we also need to address criminal behavior that has also spiked."
While Tucson Crime Free Coalition and local government have focused on those who are homeless and committing crimes, a non-profit group will soon expand its efforts to help homeless families across Southern Arizona thanks to a grant from one of the wealthiest people in the world.
Catholic Community Services of Southern Arizona is among the recipients of a recent round of grants from the Bezos Day 1 Families Fund, a charity run by Amazon founder Jeff Bezos.
CCS, which was approached by the fund, will receive $5 million over the next two years.
"It's a little like drinking water from a fire hose," said Catholic Community Services of Southern Arizona CEO Peg Harmon. "Because we know we have a very short amount of time to get up and running and operational and create the capacity we need with staff, facilities and equipment to do what we say we're going to do."
The money will help CCS expand its programs to help those who have left their homes due to domestic violence, along with its program that helps people who have lost their homes get back on their feet.
"Housing is very expensive these days," she said. "Rents have gone up about 20% in Pima County alone and more significantly in some of our rural communities where we operate. So it's very important that the families have a leg up in first, last deposit, all those expenses."
Harmon said the group plans some level of expansion at its facilities in Tucson, Sierra Vista, Yuma and Douglas, and the grant should allow it to help around 150 families.
MORE:
Arizona
,
Pima County
,
Crime
,
Drugs
,
Government
,
Housing
,
Law Enforcement
,
News
,
The Buzz
,
Tucson
,
U.S.