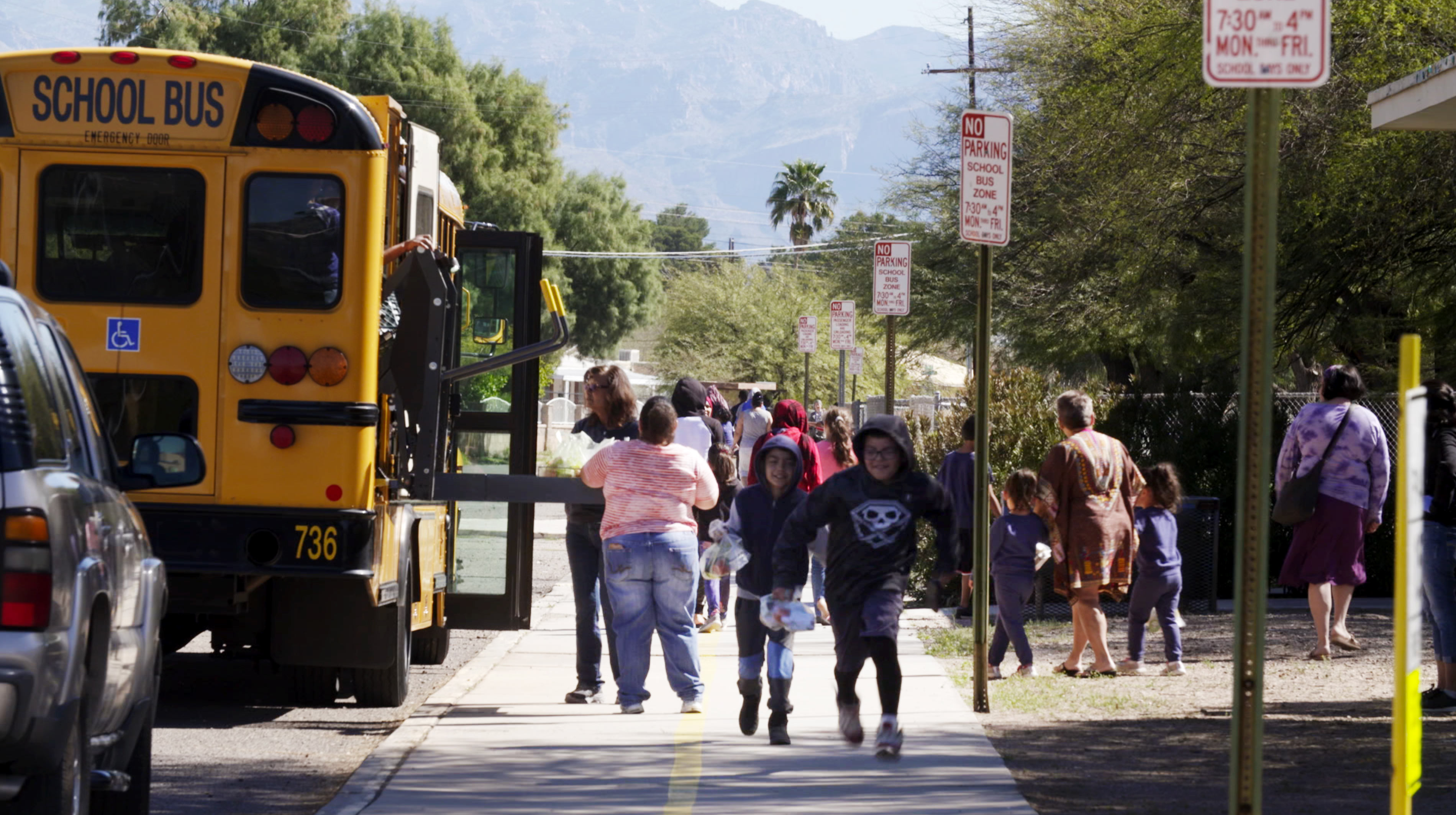 Students and families receive packaged meals from Tucson Unified School District workers who are distributing meals along the district's bus routes during closures associated with the COVID-19 pandemic.
Gage Judd/AZPM Staff
Arizona public school districts are at risk of losing 17% of their annual budget if the state legislature does not lift the state's current spending cap.

The Aggregate Expenditure Limit, which is a constitutional amendment that was passed in 1980, restricts how much K-12 schools are able to spend each year. However, when lawmakers approve a budget that expands further than the expected inflation, legislators will have to override the cap each time.
"It's really an antiquated formula," Ricky Hernandez, the Chief Financial Officer for Tucson Unified School District, said. "It's 42 years old now and it certainly doesn't meet the needs of all school districts."
Hernandez says that schools do not formally know if they have exceeded AEL until October/November, halfway into the first semester. Because of that, when TUSD budgets for the spring, they have to plan for a cut in costs in the event that the limit is not lifted.
School districts around the state have been putting pressure on state lawmakers for months, even calling on then Governor Doug Ducey for a special session that never happened.
TUSD, the largest school district in Southern Arizona, is at risk of losing nearly $71 million. Hernández says that some teachers have called into question their job security, asking if they should look elsewhere for work.
"I mean in one word it would be catastrophic," Hernández said. "We certainly want to keep those cuts as far away from the classroom as possible but everything unfortunately would have to be on the table with a 20% budget cut essentially."
Other school districts have also needed to tackle the issue head on. Sunnyside Unified School District Superintendent Jose Gastelum said in a statement that the, "failure to address the Aggregate Expenditure Limit would threaten our districts ability to cover pay raises, minimum wage increases and funding for capital projects, and would result in a significant reduction in education spending for Sunnyside and districts across Arizona."
Hernandez says that besides reaching out to lawmakers, there is not much they can do, except plan for the worst.
For now, Republican representatives Matt Gress and Timothy Dunn introduced a bill on Monday that would waive the limit. The deadline to override the limit is March 1st.