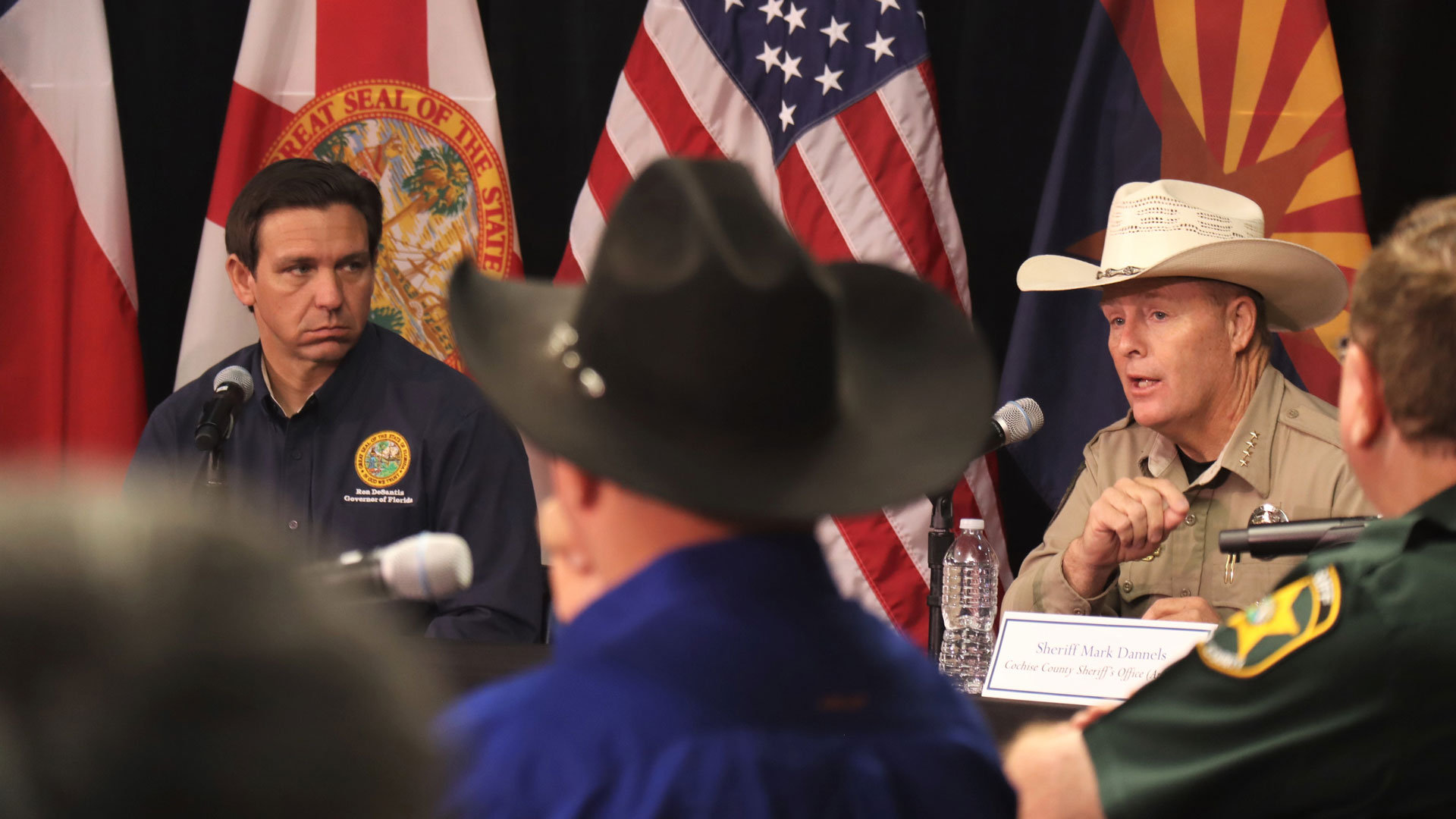 Florida Governor Ron DeSantis (left) and Cochise County Sheriff Mark Dannels (right) convene with seven other county sheriffs at Cochise College's Sierra Vista Campus Wednesday to discuss the U.S. Mexico border. June 7, 2023.
Summer Hom, AZPM
Republican Presidential Candidate and Florida Governor Ron DeSantis was in Sierra Vista Wednesday, as he held a roundtable meeting at Cochise College with county sheriffs from Florida, Idaho, Texas, New Mexico, and Arizona.
DeSantis recommended completely shutting down the border and announced an interstate law enforcement partnership in an effort to propagate Florida's immigration policies and procedures across more border communities.
"First of all, the border just needs to be shut down, need to be telling people 'you're not coming illegally. You're not doing a bogus asylum claim,' you know, 'you're not going to be able to cross the border,'" said DeSantis late Wednesday morning. "We're going to partner with all like-minded sheriffs and governors around the country to create a coalition of people that actually do have the will to fight back against this problem."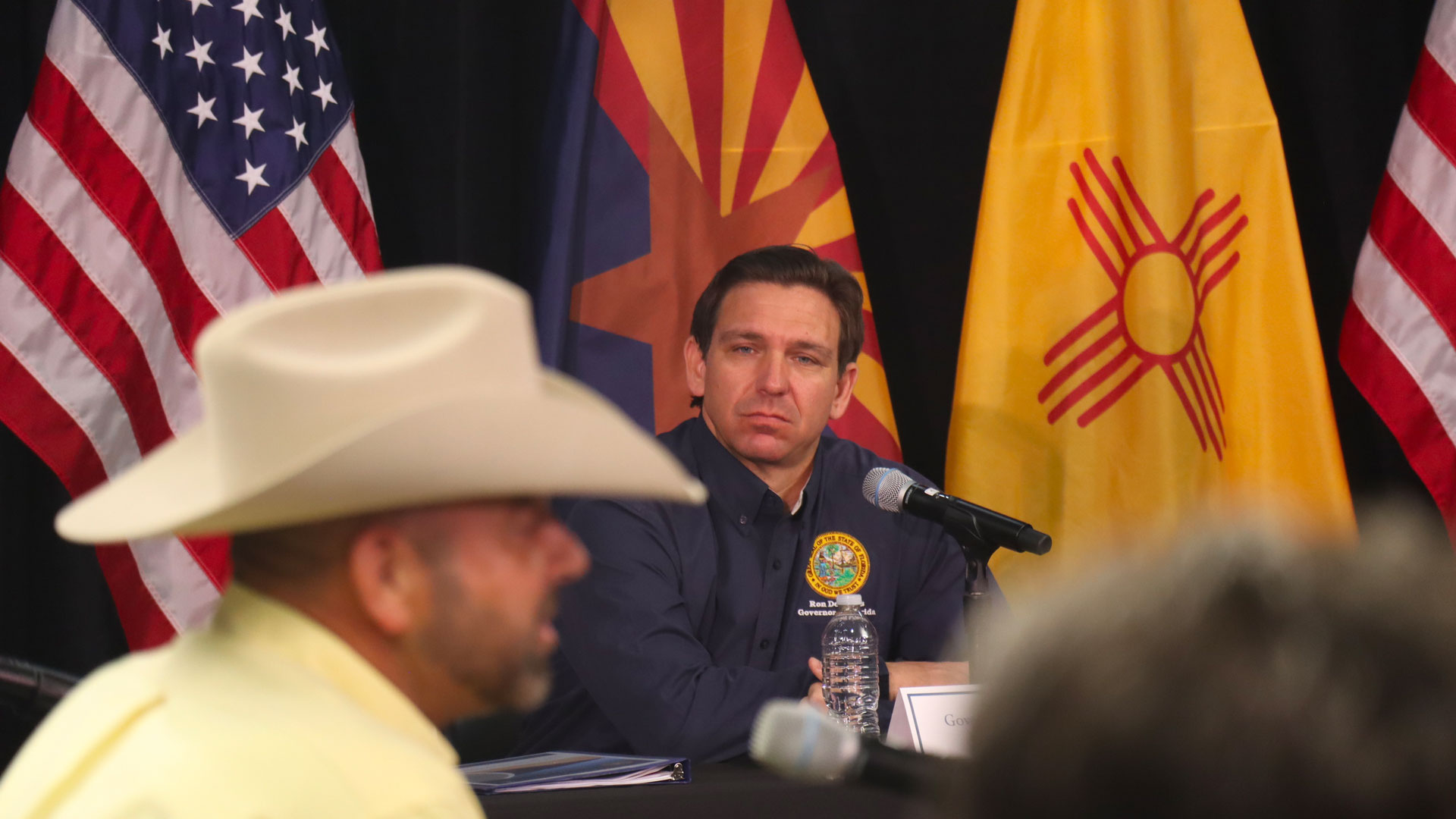 Florida Governor Ron DeSantis listens to Terrell County Sheriff Thad Cleveland talk about the border during Wednesday's round table discussion at Cochise College's Sierra Vista Campus. June 7, 2023.
Summer Hom, AZPM
That partnership entails sharing a training program developed by the Florida Highway Patrol and the Florida National Guard's Counterdrug Task Force with law enforcement agencies across the United States.
Idaho's Canyon County Sheriff Kieran Donahue accused the Biden Administration and the Secretary of the U.S. Department of Homeland Security of lying to the public and for being complicit in addressing criminal acts.
"What we've seen by this presidency and by the Secretary of Homeland Security is nothing but lies to us, lie to the American people," said Donahue, who's also the Vice President of the National Sheriffs' Association. "You're not doing anything other than being complicit in the crimes against the citizens of America."
When DeSantis asked the sheriffs what they need and want to see moving forward, Cochise County Sheriff Mark Dannels said that all borders need to be prioritized.
"We need to prioritize all of our borders," said Dannels Wednesday. "We have failed to do that in Washington D.C. Our borders are the gateway of crime in so many ways … We need to enforce the rule of law as written, we can secure our border with actionable and reasonable consequences. Last but not least, we need enhanced judicial oversight."
U.S. Representative Raúl Grijalva (AZ-D7), who's district covers most of the Arizona-Mexico border, tweeted Wednesday afternoon "DeSantis' hate and fearmongering aren't welcome here."
According to the U.S. Department of Homeland Security, the number of border apprehensions along the Southwest Border has dropped by more than 70% since the repeal of Title 42.
In a Cochise County Board of Supervisors' work session on May 25, Cochise County's Director of Emergency Management Daniel Duchon said that the overall impact of the removal of Title 42 was not as much as expected.
Duchon said the peak number of releases in Cochise County was 320, on May 11 — the last day of Title 42 was in effect. Duchon said that number doesn't fall outside of the norm.
Duchon added there were no unsheltered releases in Cochise County, which means no migrants were released from border patrol custody without pre-arranged transportation or shelter.