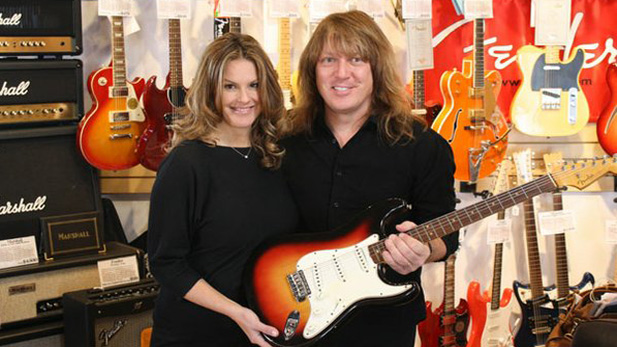 Guitar expert Andy Babiuk helps Elyse Luray determine whether this guitar is the famed guitar Bob Dylan plugged in at the 1965 Newport Folk Festival.

Tom McNamara
In July of 2012, the PBS TV series The History Detectives kicked off its tenth season with a show dedicated to exploring the story behind some artifacts from the world of rock & roll, among them a Fender Stratocaster guitar that may - or may not - have had a rather infamous past.
Was it a guitar that once belonged to Bob Dylan, and was it in fact the same instrument that Dylan had shocked and electrified the folk world with, back in the summer of 1965?
After an exhaustive series of tests, the guitar was declared genuine, and became the most valuable find in The History Detectives' own history. But, the identification has since been disputed by Bob Dylan himself.
To find out more, Mark McLemore talks with Jeff Gold, the owner of Recordmecca, a place in Los Angeles that buys and sells some of the most expensive rock and roll memorabilia in the world. Jeff has also written about the Newport guitar story on his blog, but here he tells Mark how he became involved in the search for Bob Dylan's most infamous guitar...
Listen:
You can watch the video here. The History Detectives airs every Tuesday at 8 pm on PBS-HD Channel 6.