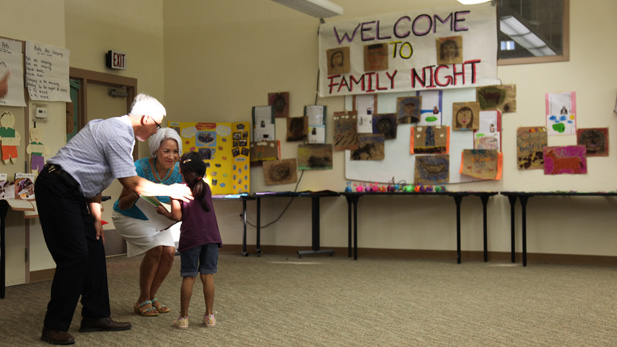 Eddie Islas, Santa Clara Elementary School's principal and reading teacher Lynn Lujan give a certificate of completion to a kindergarten student at the closing ceremony for the San Xavier Summer Reading Program. (PHOTO: Fernanda Echavarri)
A summer program at Sunnyside School District is teaching elementary school students more than academics. Santa Clara Elementary School has partnered with the San Xavier Education Center in the Tohono O'odham Nation to keep tribal traditions alive. At the San Xavier Reading Summer Program students spend half their day learning about math, reading and writing and the rest of the school day learning about O'odham traditions, songs and culture.
The program ended last week and parents attended a closing ceremony where the kids performed songs in O'odham and showcased their art projects. Aric Donahue, 10, lives on the reservation and attended the program last year. He is happy to wake up early during the summer and do it again this year because "it's a lot better than just sitting at home watching TV," Donahue said. He said he liked doing math problems but his favorite part of the summer program was learning songs in O'odham.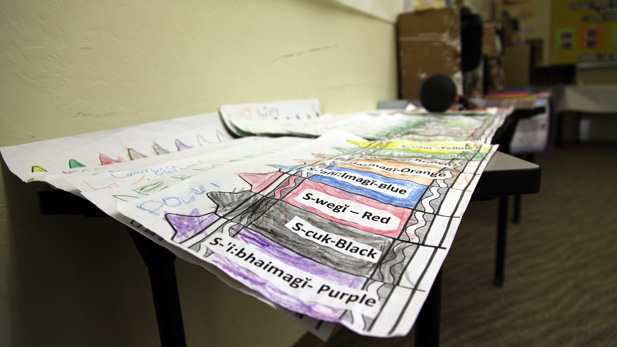 Students in the culture class learned many words in O'odham including colors. (PHOTO: Fernanda Echavarri)
Donahue and about 100 other children ages 5 to 11 had free breakfast at the San Xavier Education Center before riding a bus to Santa Clara Elementary School during the week, then came back to the reservation for lunch and culture class, said Eddie Islas, principal at Santa Clara Elementary School. He says the program gets part of its funding from Sunnyside District's Native American Education Program, part from federal funds known as Title I, and the majority from the San Xavier Reservation.
"It's been a great partnership because we have this physical separation, the reservation is across the freeway on the other side of the river, which is not close to the school so transportation is an issue, it's difficult for the kids to get here," Islas said.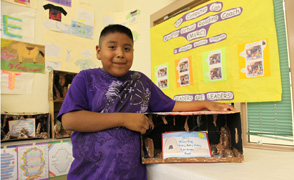 Lemer Nish, 9, shows off one of his art projects at the closing ceremony for the summer program. (PHOTO: Fernanda Echavarri)
About 25 percent of the students at Santa Clara are Native American, making it the school with the highest percentage of Native American students, Islas said. The majority of those students live in the Tohono O'oham Nation yet many are losing some of their traditions, he said.
"It is so important, so vital for them to not lose their language and their customs," Islas said. "I grew up learning both languages and it's really benefited me, and for these kids, this is what we want for them to learn about their heritage, which is the most important."
Parents continue to ask for this program and say they are also learning when their kids come home and share what O'odham words and songs they've learned, Islas said.
To hear about a new Tucson Unified School District summer program that is preparing five-year-olds for their first day of school ever click on this story Jump Start
To hear a story about how the loss of learning during summer affects students in lower-income families click here: Summer Break Widens Achievement Gap
To hear about how English Language Learners in the border town of Douglas fall behind during the summer after speaking Spanish click on this story