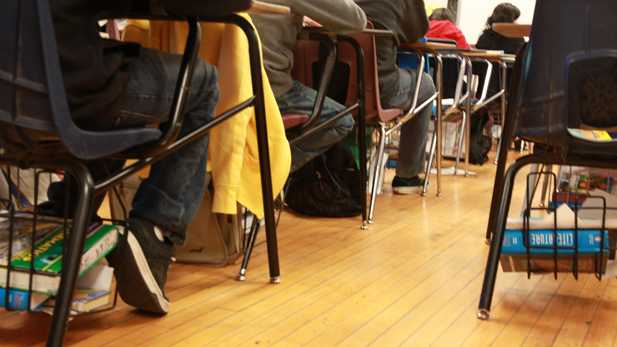 Fernanda Echavarri
Students in the Arizona border town of Douglas are starting school this week, but many will have spent the summer hearing and speaking mostly Spanish, which can be a setback for those in the English Language Development (ELD) Program.
Teachers in the program are likely to have a harder time getting students who did not attend summer school back to the language proficiency they had in May, said Corinna Monje-Moen, the program director for the Douglas Unified School District.
"The first weeks of school are about seeing where you are going to begin with your students, because you have kids who were in summer school and they're ready to move on, and then you have kids who may have done nothing all summer, so it's finding that middle ground that meets the needs of all students," she said. "And with our ELD kids they change so much with their language ability."
The majority of students categorized as English Language Learners in the Douglas School District are American citizens, born and raised in the United States.
These students' parents, friends and other family members speak to them in Spanish, and they watch TV and listen to the radio in Spanish, said Denise Cox, the assistant director of curriculum for the district.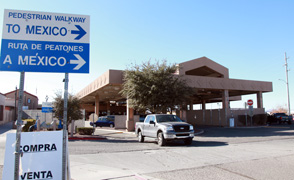 The international port-of-entry in Douglas, Az.

Fernanda Echavarri
"The social language is Spanish, we need to get them to learn the academics, that's where it's hard for most of these kids," Cox said.
Douglas School District has 4,100 students and about 700 of them are in the English Language Development Program.
"We are a border town so everyone assumes there must be large ELL numbers, and that they must be coming straight from the border to come to school here," Monje-Moen said.
But these students were born in Douglas, and speak what she calls "border Spanish." Their parents raised them in Spanish, they were probably never read a book in English growing up, and they have no building blocks in either language, she said.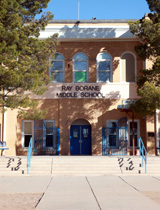 Ray Borne Middle School in Douglas, Az. (PHOTO: Fernanda Echavarri)
The Arizona Department of Education is asking schools for a one-year turnover for ELL students, but Monje-Moen says it takes about three years to get a student to become proficient in English. That could take even longer if the loss of language in the summer adds up.
English Language Development programs are required by the state to have a four-hour block of English every day, which was the case during the summer program for dozens of students.
Language experts have been researching the loss of language skills during the summer, said Sumayya Granger, the assistant director of academic services at the University of Arizona's Center for English as a Second Language.
"This phenomenon is called language attrition and the students that are spending a long time away from a language, are going to lose some of it," Granger said. "The brain is very good at prioritizing so if something is used regularly, the brain is going to keep it going. If it's not being used, those resources would be diverted to other things."
Some researchers use the term "Generation 1.5" to describe young people who are in the same situation as the students in Douglas.
"This is between first generation and second generation; these are not people who have arrived in this country and did not speak English and needed to learn it fully as a second language," Granger said. "Though it's not quite fair to say they don't have native competency in English, they do, they've grown up with it, but depending on how much it's used, and how it's taught, then the final proficiency that they reach in English before leaving school may vary."
During the summer, Douglas School District was able to offer more summer classes than before because of an unusual number of grants received this year. In previous years, federal funds known as Title I paid for summer school, Cox said.
To hear a story about a summer reading program in the Sunnyside School District that teaches Native American students about their culture and language in the Tohono O'odham Nation click on this story: Teaching Traditions
To hear a story about how the loss of learning during summer affects students in lower-income families click here: Summer Break Widens Achievement Gap
To hear about a new Tucson Unified School District summer program that is preparing five-year-olds for their first day of school ever click on this story Jump Start