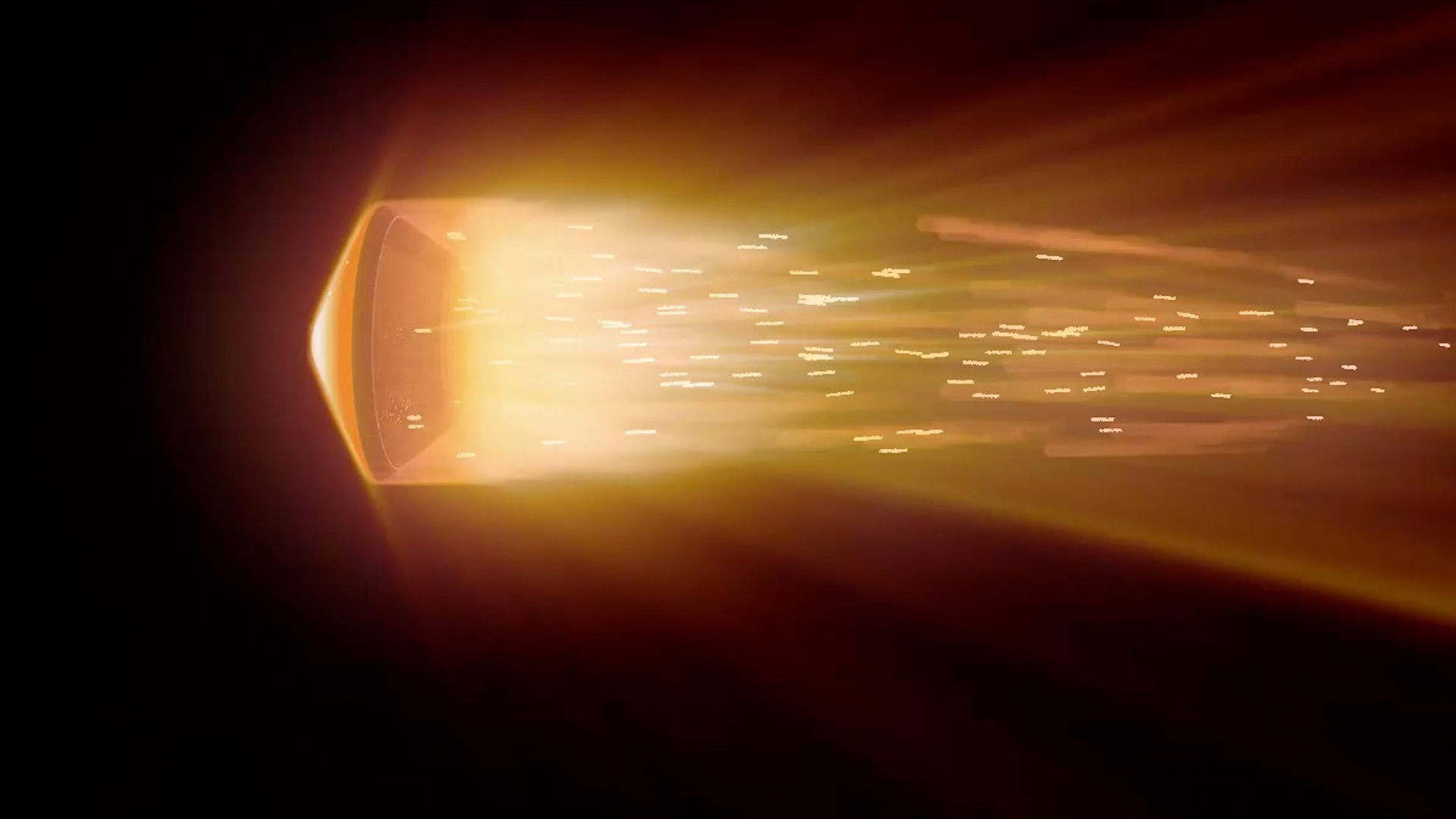 Illustration of Osiris REx sample return capsule re-entering Earth's atmosphere.
NASA
The University of Arizona-backed Osiris REx mission reaches its dramatic conclusion this weekend. A container filled with material from the surface of an asteroid will make a fiery return to Earth Sunday morning.
Almost exactly 19 years ago, TV cameras caught the sight of NASA's Genesis sample return capsule plummeting to the ground after a parachute malfunction.The Genesis mission was supposed to bring back samples of the solar wind, particles released from the Sun's upper atmosphere.
Osiris REx principal investigator Dante Lauretta says Sunday's sample return will follow a similar path, targeting the same general area in Utah for a parachute-assisted landing.
"It's the stuff of my nightmares, that the parachute doesn't open and we have a hard landing contingency," Lauretta joked.
On the flip side of fate, there's Japan's Hayabusa spacecraft, which returned a sample from an asteroid during a mission similar to that of Osiris-REx. An airborne NASA support crew watched its fiery reentry in 2010. It landed successfully after a frightening return phase during which scientists were unsure if they'd get any material to study.
Osiris REx has had its share of tense moments over its seven-year trip to the asteroid Bennu and back. Lauretta notes this might be the toughest one yet.
"You know it's been amazing to look back on this journey and I ask myself how many heart-pounding moments can you have in one lifetime, because I think I might be hitting my limit," he said.
The first thing scientists will do Sunday morning is power up Osiris REx for its important lineup of duties. They will adjust the spacecraft's trajectory and orientation to eject its sample container holding about 250 grams of material it skimmed from Bennu's surface in October 2020.
The return capsule will separate from the rest of the spacecraft and begin its descent to Earth. It will hit the furthermost part of the Earth's atmosphere at 27,000 miles an hour, and experience forces of up to 32 times Earth's gravity.
Then, if everything goes as planned, a series of parachutes will slow the capsule enough to allow a final, main parachute to drop it to a landing site at the Utah Test and Training Range. Lauretta notes it's only then that the crew that's figuratively traveled alongside Osiris REx over the years can finally celebrate.
"As soon as I see that parachute unfurl, I know we've made it," said Lauretta. "We've achieved that mission's success criteria safely, to get that sample down to the ground."
Japanese scientists celebrated the Hayabusa sample return with a mixture of relief and exhilaration in 2010. They also impressed the world with a successful follow-up, Hayabusa 2, with plucked particles from an asteroid and dropped off a sample container in the Australian outback in December 2020.
The Hayabusa program generated so much national pride in Japan that it was the subject of three feature films. Osiris REx may not star in a major motion picture, but it will follow the exploits of its Japanese counterpart. Like Hayabusa 2, it will soar toward a second rendezvous, flying by the asteroid Apophis in 2029.