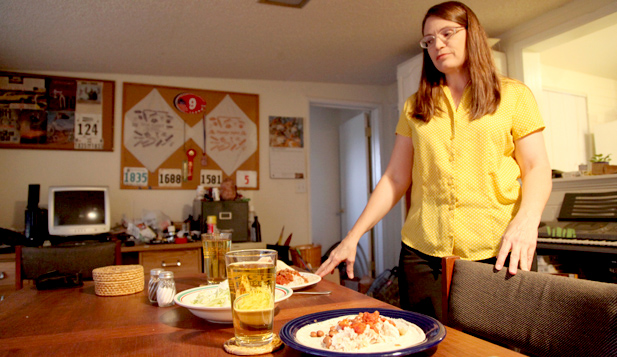 Samantha Dickens, in her dinning room serving dinner for her and her husband. All these food items were purchased as part of the SNAP challenge. (PHOTO: Fernanda Echavarri)
Last week, more than 100 Tucsonans participated in the SNAP Challenge, which asked them to spend $20 per person to cover all food expenses from Monday morning's breakfast to Friday's dinner.
The Supplemental Nutrition Assistance Program (SNAP), formerly known as food stamps, provides about that much money--$20 a week--to help low-income families buy food.
Currently about 46 million people nationwide receive these benefits. In southern Arizona, tens of thousands rely on SNAP every month, said Bill Carnegie, CEO of the Community Food Bank of Southern Arizona.
The food bank brought the SNAP challenge to Tucson for people to experience what it's like to buy food with only SNAP money.
"I think it's important for people to experience what so many of our neighbors have to deal with every day," Carnegie said. "Until we walk in their shoes, I don't think we can understand the decisions that they have to make."
Samantha Dickens wanted to take the challenge. She's an administrative assistant and works full-time, which makes it hard to cook all of her meals at home, she said.
"We think we're so great at stretching a buck," Dickens said. "I know how much we're spending on convenient store coffee, even though I'm not the kind of person who goes out to eat every day at lunch."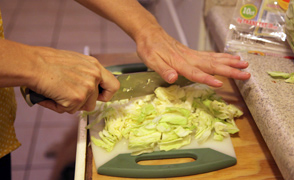 Samantha Dickens chopping cabbage in her kitchen at home (PHOTO: Fernanda Echavarri)
When Dickens came home and told her husband, William, about the challenge, he jumped on board, she said. But in order to make it work with just $40 for food for the two of them, she needed to plan.

Dickens made a grocery shopping list, which is not something she typically does.
"We tend to go to the grocery store more than once a week and chase deals around so we can buy in bulk when things are on sale," Dickens said.
She had to change that habit as well, because during the challenge she could only buy one of each thing she and her husband need.
Some of the things she bought include a whole chicken, rice, beans, vegetable broth, frozen peas, tortillas, butter, oatmeal, milk, eggs and pasta.
As part of the challenge, participants were allowed to use any spice or condiment they already had at home. However, this whole experience has required changes in their daily routine.
"The hardest part was Monday morning at work when I realized I had tea, flavored oatmeal and Snickers bars there that I could snack on," Dickens said. "If I was limited to only $20 a week, I would not be able to afford those snacks."
Tom Clark also took the challenge. He said he wanted to put himself in the place of those who receive food assistance and that it was a learning experience for him.
"I took so many things for granted," he said. "I got home from the grocery store with my noodles, a can of beans and clove of garlic and thought 'OK, well, that's all I have.'"
He likes to eat healthy and tries not to spend too much money on food, but says it is much harder to eat healthful meals when you only have $20 and need to buy food that will make you feel satisfied for a week.
"I ate starchy foods so I wouldn't feel hungry," Clark said. "If I were a student going to bed hungry, and I did wake up hungry once, would I be able to function in class? Would I be able to do the best that I can?"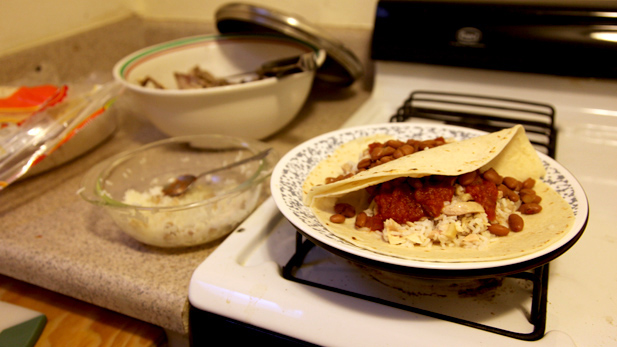 A chicken, bean and rice burrito, made of ingredients purchased as part of the SNAP challange. (PHOTO: Fernanda Echavarri)
What Clark missed the most was coffee. It would have taken too much out of his budget to buy coffee beans for the week. So the first thing he did on Saturday morning when the challenge was over was drink coffee and take his dog for a walk.
For many people in Southern Arizona who receive SNAP benefits, like Samantha Bianchy, the challenge continues.
She is in her mid 20's, has a bachelor's degree and a job that pays just above the minimum wage, she said.
"I eat three meals a day and I cook each one. That's the secret," she said. "It's me and my boyfriend at home so we each get $20 and I guess that makes it a little bit easier to buy groceries for the week."
Bianchy is thankful for the money she gets through the program and says it if weren't for those $20 a week, she would not be eating as healthy as she is now. She goes from grocery store to grocery store trying to buy produce at a good price and tries not to eat at restaurants.
Applying and qualifying for SNAP took months, she said. Most of the time people applying for food assistance have to wait a couple of months while their paperwork is reviewed, their fingerprints are cleared and their finances are examined.
Once on SNAP, they must re-apply every six months.
The Phoenix mayor took the challenge, and many elected officials in Tucson and Pima County also joined.