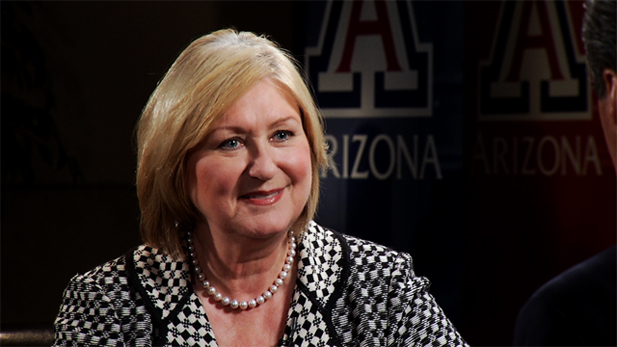 University of Arizona President Ann Weaver Hart. (PHOTO: AZPM)
The University of Arizona will hold an inauguration Friday for its new president, Ann Weaver Hart.
The ceremony will be from 3 p.m. to 5 p.m. and will be free and open to the public at Centennial Hall near the Main Gate to the university.
Hart started working at UA in July after serving as president of Temple University in Philadelphia.
She is the university's 21st president and its first female president. She succeeded Robert Shelton, who left UA after five years to become executive director of the Fiesta Bowl.
"I hope to leave our students, friends, colleagues, neighbors, faculty, regents and distinguished guests with the conviction that to survive is to evolve," Hart said in a story posted on the UA website.
"We will find new ways of building public-private partnerships, identify and develop new revenue sources, and constantly seek ways to be more efficient and effective at teaching, discovery, inspiration and dedicated service to the state of Arizona," her statement said.
A seven-person planning committee is coordinating details for Hart's inauguration, which will be celebrated throughout the afternoon with a luncheon, robed procession, the ceremony itself and a reception.
Among the guests expected to attend the ceremony are Gov. Jan Brewer, members of the Arizona Board of Regents and the mayors of Tucson and Phoenix.
See a July 2012 Arizona Public Media interview with Hart here.