The new AZ Illustrated (pronounced A-Z-Illustrated) premieres February 4th at 6:30 p.m. and features different hosts and topics each night – offering insight and discussion relevant to Southern Arizona audiences. Tapping into the wealth of talent and experience of AZPM's award-winning producers, reporters, and production team, and introducing new specialists from the community, the new AZ Illustrated will feature new voices, new stories and a new focus: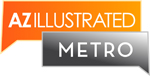 AzPM
Monday's edition covers government, business, education, and the policies that affect our daily lives.

The host for AZ Illustrated Metro is Maria Parham. Maria is the Editorial Page Editor of the Arizona Daily Star and has four decades experience as a writer and editor at the paper. She's covered metro and business stories, edited the feature sections, and served a couple of illuminating years as the paper's reader advocate. Parham is a Florida native who grew up in Albuquerque, N.M., and graduated from the University of New Mexico. Produced by AZPM's Andrea Kelly, Metro will provide a deeper look at many of the decisions and developments that affect the community. Andrea will work with a host of other AZPM reporters to ensure the content on Mondays is current and keeps the audience informed about the economy and public affairs.
Monday, an immigration policy expert sorts through the immigration proposals released last week.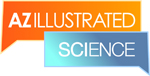 AZPM
Tuesday's edition explores the issues and advances in health, science, and technology.

British-born Jane Poynter, the new host of AZ Illustrated Science, is a Biosphere 2 crewmember, sustainability consultant, author, TV host, speaker, and environmental non-profit and technology company president. Poynter is President and Chairwoman of Paragon Space Development Corporation, which develops technologies for extreme environments, President of Blue Marble Institute, a non-profit dedicated to leadership in science, sustainability, and exploration, and serves on the City of Tucson's Climate Change Committee. Producer Georgia Davis, a journalist, documentary producer and former network news director, brings her wealth of experience to the Science segment.
Tuesday, AZ Illustrated looks at how new technologies that make it possible to study life at the level of the gene are revolutionizing medical and biological research. But such leaps in understanding are also leading scientists to question what they think they know about life itself.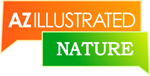 AZPM
Wednesday's edition reports on environmental news and issues unique to our desert landscape.

Host Georgia Davis comes to Arizona Public Media with experience both as a journalist and as a social scientist. As a journalist, she has spent more than a decade working in both commercial and public radio and television where she has served multiple roles, including network news director, radio bureau chief, documentary producer, show producer, and political reporter. Georgia is also a Ph.D. candidate in the University of Arizona School of Geography and Development. The producer for Nature is AZPM veteran journalist, producer, and former Arizona Illustrated host, Tony Paniagua.
Wednesay, AZ Illustrated visits a place in Tucson where people learn about the history, culture and composition of amazing gems and minerals.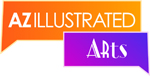 AZPM
Thursday's edition embraces the vibrant cultural community that is distinctly Southern Arizona.

Host Elizabeth Burden is a visual and media artist with a studio in the Splinter Brothers and Sisters warehouse in Tucson. Her installations feature traditional and non-traditional media—painting, sculpture, video, web, and other art forms. Burden is also a consultant who for more than 20 years has worked with non-profit organizations. She holds bachelor's degrees in Journalism from the University of Nebraska and in Studio Art from the University of Arizona.AZ Illustrated Arts producer, Mark McLemore, is a seasoned radio producer and host, having created over 300 episodes of Arizona Spotlight, which airs weekly on NPR 89.1. Arizona Spotlight has given Mark a deep appreciation of Southern Arizona's arts and cultural assets.
Thursday, a look at the enduring power of art to change lives, focusing on a unique writing program that is helping inmates in Arizona's prison system to tell their own stories in their own unique way.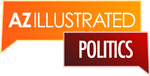 AZPM
Friday's edition provides in-depth analysis of the week's political news.

Jim Nintzel is host and producer of Politics. Having covered politics in Southern Arizona for two decades at the Tucson Weekly, Jim Nintzel has also been part of PBS 6's Friday Roundtable for 15 years, most recently as host of Arizona Illustrated's Political Roundtable. He is Senior Writer for the Tucson Weekly and an adjunct faculty member who has taught government reporting at the University of Arizona School of Journalism since 2001
Friday, the panel will discuss the difficulty in doing background checks on so many gun sales, talk about whether Govenor Jan Brewer will be able to persuade her fellow Republicans to expand Arizona's health care program for the working poor, and look at the likelihood Congress will pass a comprehensive immigration reform package.

Each AZ Illustrated show will begin with a two minute summary of the top local and state news events of the day, anchored by AZPM's Christopher Conover. Many stories will cross platforms to radio, NPR 89.1, and online. Frequently, stories that originate online or on radio will be further explored on AZ Illustrated.