A federal judge ruled Wednesday in the decades-long desegregation case filed against the Tucson Unified School District that the district must teach "culturally relevant courses."
In the 40-page ruling, U.S. District Judge David Bury did not weigh in on the district's plan to close 11 schools as a budget-cutting measure.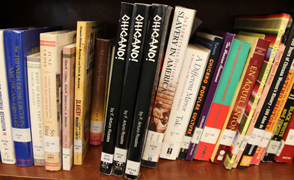 Books from TUSD's defunct Mexican American Studies classes (PHOTO: Fernanda Echavarri)
Although supporters of the now defunct Mexican American Studies classes said this could allow those classes to return, the judge said those classes are not at issue in the case. Bury also said the new curriculum should comply with the state law used to shut down the classes last year.
The desegregation issue began in 1974, when parents of Mexican-American and African-American students sued TUSD for what they called discrimination against their children.
The parents were represented by the NAACP and the Mexican Legal Defense and Educational Fund.
The federal government intervened in 1976 in what became known as the Fisher/Mendoza case. In 1978, the parties reached a settlement requiring TUSD to go under a desegregation order monitored by the U.S. Justice Department.
The desegregation order remained in effect until 2009, when TUSD filed a petition with a local district court to terminate federal oversight of the district.
"The court has acknowledged that the district will operate for the advocacy and equal advantage of every child," TUSD officials said at the time. But the plaintiffs in the original desegregation case appealed that decision.
The 9th Circuit Court of Appeals reversed the district's status and in January appointed an overseer to develop a new plan.
In a court filing Wednesday, TUSD said it maintains all the objections that it previously submitted to a desegregation specialist appointed by the court.
The state of Arizona had asked the judge to reconsider adopting the plan. The state argued for the reconsideration because TUSD's new governing board voted last month to remove a previous objection to teaching optional multicultural curriculum.
The judge wrote that the state's objection on development of multicultural curriculum was not substantive, adding that the district could "integrate racially and ethnically diverse perspectives into standard core courses taught to all students such as social studies."
The state argued that allowing Mexican American Studies classes to be taught in TUSD would be using a "federal court-sanctioned avenue to resurrect this illegal course of instruction."
The objection from state officials called the now-defunct classes "illegal, biased, political and emotionally charged," adding that they "promoted social and political activism against 'white people' and fomented racial resentment."
Fiscal issues were briefly addressed in a document filed by the desegregation specialist, Willis Hawley. He wrote that if, in order to implement changes the school district needs additional financing, it can use federally provided desegregation funds.
"The process for developing the budget for funding the plan is underway in conjunction with the district's annual budgetary process," Hawley wrote.