Video also includes photography by Martín Rubio and Cooper James
For psychologist and professor David Sbarra, it all began with back surgery.
"When I was 19, I had a fairly serious spine surgery," Sbarra recalls, "and I spent most of the summer flat on my back, thinking about how am I going to put the pieces of my life together?"
Sbarra went on to study what it means, emotionally and physically, to put a life back together.
As director of clinical training in the University of Arizona Department of Psychology, he's now part of a new field of research that's changing how people see the connection between physical and mental health.
That connection lies at the heart of what Sbarra and other experts say is a major and often overlooked public health issue.
Right now, 1 of every 4 adults — almost 60 million Americans — are living with some form of mental illness.
For many of these individuals, mental illness will carry a physical cost. People living with mental health disorders are more likely to have heart disease, diabetes and other chronic health conditions. On average, they die 25 years earlier than the general population.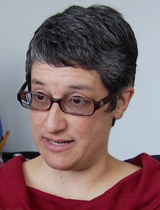 UA researcher Mary-Frances O'Connor.

AZPM
Researchers are only beginning to explore why, in part by studying how people cope with other painful and psychologically stressful experiences, like losing a loved one.
"We know there's something called the widowhood effect—that is, when a person loses their spouse, they're at increased risk for their own morbidity and mortality," says Mary-Frances O'Connor, a UA assistant professor of psychology.
O'Connor has spent years trying to figure out why people who have lost loved ones are at greater risk for illnesses ranging from heart disease to multiple sclerosis.
She has found that loss can change someone's brain activity and immune and stress responses. Levels of the stress hormone cortisol, for example, follow a specific pattern in healthy people—and a different one when we're grieving.
"In the group who were not adapting very well, their pattern was flatter—not a typical pattern—such that in the evening, when most of us have our stress hormones low, these individuals were still having higher levels of the stress hormone," she says. "And in the long run, that's not a very good sign for health."
O'Connor uses bereavement as a case study so she can zero in on the link between mind and body.
Sbarra chose divorce as his case study, and has found strikingly similar results. His work has shown that the experience of divorce and the length of time spent living as a divorced person were both associated with increased risk for early death.
But when it comes to mental illness, stress-induced changes in the body are only part of the picture, Sbarra says.
Lack of financial resources and support networks; alcohol and drug abuse; poor health habits, such as smoking or lack of exercise; significant long-term side effects from medications used to treat mental health disorders; and a greater risk of being the victim of violence all contribute to shorter lives and lower quality of life among people living with mental illnesses.
And then there's one more complicating factor: The fact that the mind-body connection goes both ways. Studies of the link between depression and heart disease, for example, suggest that both conditions may share a common origin in inflammation, and that each condition complicates the other.
"It may well be the case, and I think we're going to see this in the next five or 10 years, that a lot of the psychology is driven from the bottom up," Sbarra says. "So what we're seeing is this sort of breakdown between how people think about what's driving the engine between psychology and biology."
Sbarra and O'Connor admit there's still a lot they and their colleagues don't know about the connection between mental and physical health.
But they plan to keep probing, in hopes that learning more could lead to a new approach for treating mental illnesses—one that aims to heal the body as well as the mind.
Listen to the radio version: